100,000 EVs Have Now Been Registered in the UK
Posted by Roseanne: Jun 07, 2017 • 2 min read
In May 2017, the UK reached a significant milestone when the total number of plug-in vehicles registered since 2012 reached over 100,000. That's almost a 3000% increase over the last 4 years.
The popularity of electric vehicles is rising and it's rising fast. In 2016 there were two million electric cars registered globally, with China, the US and Europe accounting for 90% of EV sales.
Plug-in Vehicle Adoption in the UK
Since 2011 registrations of plug-in vehicle have increased rapidly.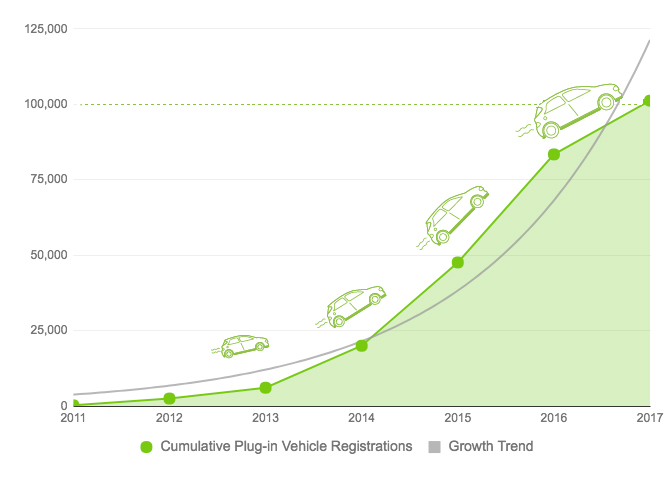 Why is the industry growing so fast?
There are several factors that are causing demand for EVs to increase so rapidly. They include:
1. Lower entry price
Initially, EV's cost a lot more than an internal combustion engine vehicle. However, driven by a decrease in battery cost in recent years, they have become much more affordable and UBS forecasts that the "total cost of consumer ownership can reach parity with combustion engines from 2018".
2. Greater financial backing
With climate change being taken seriously (by most world leaders anyway), governments are backing EVs with huge financial and regulatory incentives.
The UK government has put electric battery development at the heart of its industrial strategy, promising to inject £300m to boost research and development in the field.
3. Greater choice for drivers
There are now over 40 types of EV's to choose from and the majority of automotive manufacturers have made commitments to increase their range of plug-in vehicles.
To put this into perspective, Volkswagen's CEO said in June 2017 that they'll deliver more than 30 electric plug-in models by 2025 while BMW are targeting production of 100,000 electric cars a year.
4. Longer range & battery development
Range in EV's has been one of the fundamental factors preventing mass adoption but we are now seeing cars on the road like the Tesla Model S that can travel up to 400 miles on a single charge.
Audi, Chevy, Tesla, Porsche, Nissan and Volvo are all set to release models with 200 miles range or more over the next two years.
5. Growth of public charging infrastructure
One of the main barriers to adoption has been a lack of public charging infrastructure and while the UK needs more, that's changing quickly.
In 2011, there were only 1503 electric vehicle charging bays in the UK. That figure has grown exponentially by 753% to a total of 12,819 bays in 2017.

To stay up to date with the latest news from Pod Point, follow us on Facebook, Twitter, and Instagram.>