Pod Point Network
Start charging instantly with no subscription fees
at over 9,200+ bays* on our public EV charging network.

Join drivers already charging at locations including:
With the Pod Point Network you can...
Get a great universal charging experience.
---
Pod Point has been voted the most used public EV charging network by UK drivers.
Start charging instantly with no RFID cards.
---
No need for cards or key fobs; simply plug-in and confirm with our app.

Charge your EV at hundreds of locations.
---
We have charge points located at Heathrow, Tesco, Center Parcs and many more places you'll need to charge.
Enjoy fair pricing with no subscription or connection fees.
---
Charge for free at some of our locations - at others, pay per hour or for the energy you use.
Compatible with all plug-in vehicle models.

---
With both AC and DC charging available and compatibility with Type 1 and 2 plug-in vehicles, our network is for everyone to use.
We want to hear from you! Let us know if a location near you needs a Pod Point by tagging the @business and @Pod_Point in your tweet.
How to start charging
1. Plug in your EV
Your charge will start immediately.
2. Select the charger in app
Use the map or search for the chargepoint by name.
3. Confirm your charge
If unconfirmed, your charge will stop after 15 minutes.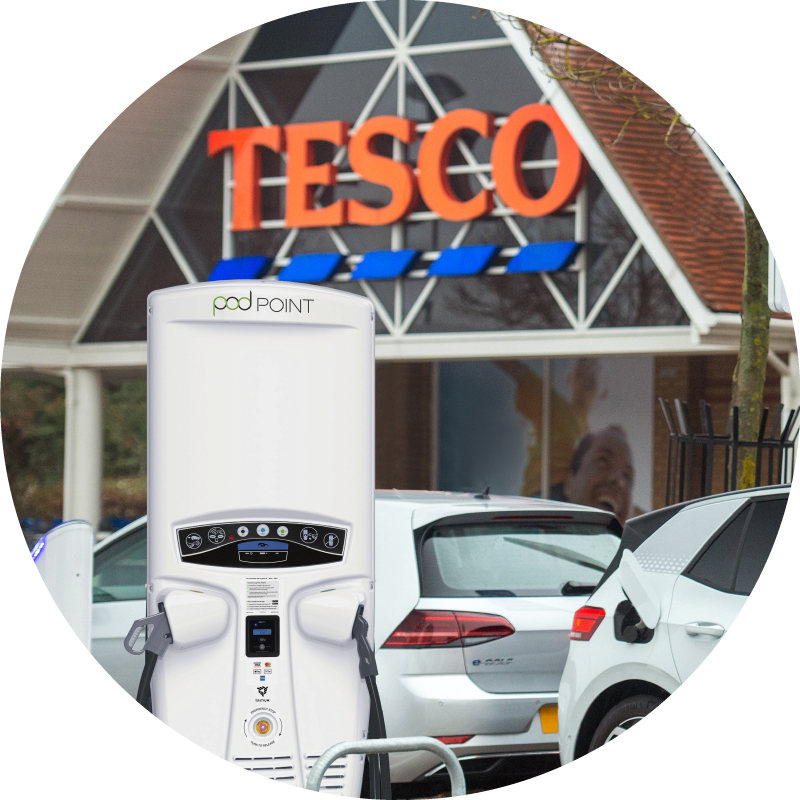 Rapid charging
Get a 50kW charge when you need it.
Our rapid charging locations are growing; charge using contactless payment or the Pod Point App.

Find your nearest rapid charging location.
Learn how to use our rapid chargers.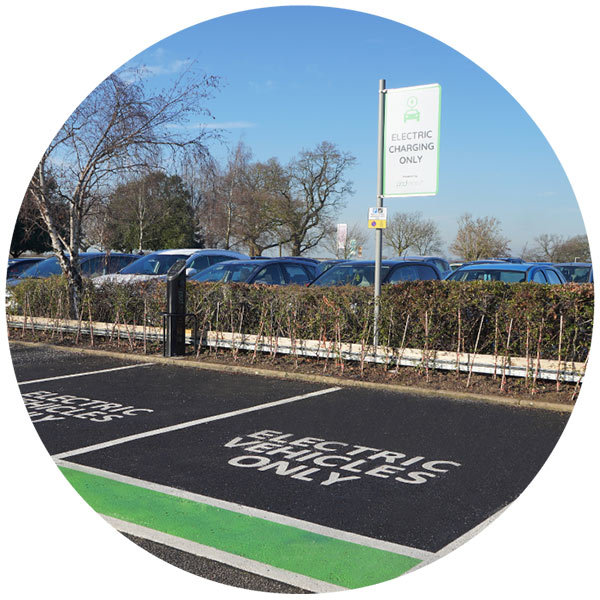 Charging at EV Zones
EV Zones are the new standard in public charging.
They're larger charging sites designed to be available when you need them.
Greater number of bays increases the likelihood of plugging in straight away.
High visibility signage and bay markings make EV Zones easy to find.

ICE-deterrent measures prevent bays being blocked by petrol or diesel cars.
Are you a business interested in offering EV charging? Find out more about installing an EV Zone at your location.
Ready to start charging?
Download our app and join over 781,503 EV drivers.
Find and use thousands of charging bays across the UK with no subscription, whichever plug-in vehicle you drive.

Want to provide public charging?
Looking to attract drivers by installing electric vehicle chargepoints at your location? Our specialist team are on hand to help.
* Network data as of 30th June 2023.