Tesco Volkswagen EV Charging | UK National Rollout
Everything you need to know about the national Tesco rollout
Last updated: Jul 03, 2023 • 30 min read
COVID-19 Update
Before new chargers go live on our app, we complete in-person quality assurance visits but the coronavirus outbreak means this is taking a little longer than usual.
You might see some stores with EV chargers that aren't available for use yet because of this. We'll list any affected stores under "Stores to be QA'd (Quality Assurance)" below and update it fortnightly.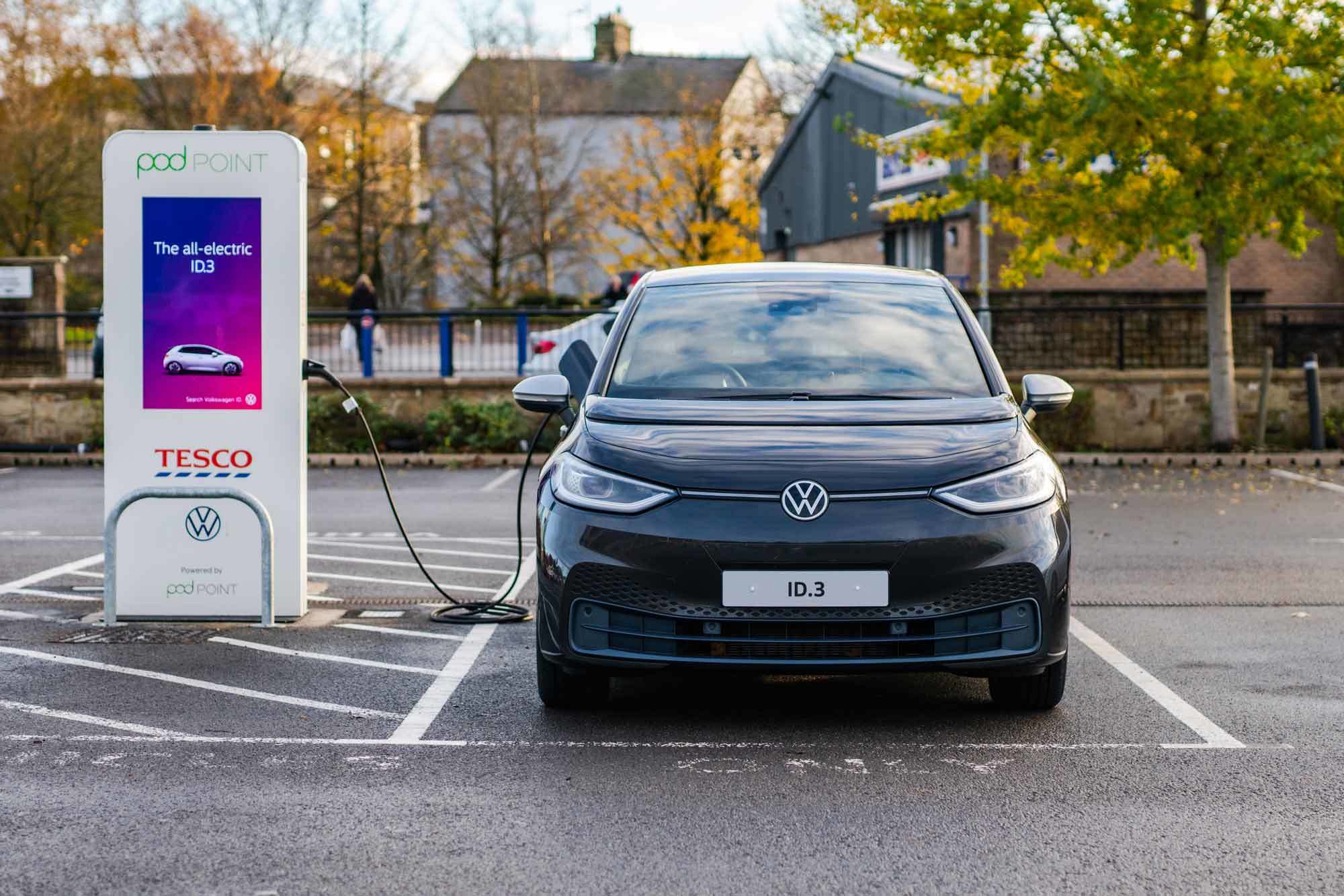 The Details
We're proud to partner with Tesco & Volkswagen to deliver the nations largest retail EV charging network.
The charging bays will be based in Tesco Extra and Superstore car parks throughout the United Kingdom and are made up of:
7kW fast chargers which cost 44p/kWh.
22kW chargers which cost 49p/kWh.
50kW rapids which cost 62p/kWh.
75kW rapids which cost 69p/kWh.


FAQs
The rollout seems to be taking a while...why is that?
This is a large-scale and complex rollout with multiple stakeholders. Each site has different requirements and varying power availability, and as such needs to be surveyed individually. We're working as fast as we can to get chargepoints in the ground. Thanks for your patience!
How have you chosen the locations?
Where possible, we're installing chargepoints in Tesco Extra and Superstore customer car parks.
Are the chargepoints just for VW drivers?
Not at all, our 7kW chargepoints are universal and compatible with all types of EV. At sites where we are able to offer DC rapid charging we will also offer 22kW AC charging for Zoe drivers.
How much will it cost to use the chargers?
7kW charging will cost 28p/kWh. Selected stores will also offer 'rapid' - 50kW - DC charging, which will be priced at competitive rates. These stores will also offer 22kW AC charging.
Will they offer a contactless payment option?
Payment can be made via the Pod Point App, or online guest checkout where available. All of our rapid chargers will have a contactless payment option and will be competitively priced.
Where will the rapid chargers be installed?
Rapid charger locations will be selected based on technical survey results. We'll update you on the locations for these as soon as we can, so watch this space.
What about rapid charging for Renault Zoes?
At sites where we are able to offer DC rapid charging we will also offer 22kW AC charging for Zoe drivers.
Where does the electricity for the charging come from?
The electricity used to charge EVs at Tesco comes from renewable sources. In 2017 Tesco were the first company to announce verified science-based carbon reduction targets aligned to 1.5 degrees and joined the RE100 campaign. You can read more about Tesco's sustainability commitments here.