Pod Point App
Connect to the Pod Point ecosystem.
For home, public and workplace charging.
Manage your home charging activity
Schedule charging, see energy usage and track costs.
Charge on the Pod Point Network
Access over 9,200 charging bays* across the UK.
Access workplace & fleet charging
Find and use your company's chargers.
The Pod Point Ecosystem
One app for all the places you need to charge.
Charge when its cheapest at home.
Schedule charging, view charging activity, and keep track of costs and energy usage from your smartphone.**

When you first pair your charger to the app an overnight default schedule will be automatically applied on weekdays.**
View your charge history, cost, and kWh consumed alongside your public and workplace charging.
Get a detailed guide on the Pod Point App
*As of 30th June 2023.
**Applies to a Solo 3 which must be linked with your Pod Point account in-app. You'll also require a mobile data connection to use the Pod Point App.

Find a place to charge on the go.

Charge fast and rapid at over 9,200+* charging bays nationwide on the Pod Point Network.

Built for your smartphone, download our App for free, with no membership fees or subscriptions to access our Network.
Some of our network is free to use, and for the rest - simply top-up and pay as you charge in-app.
Get the latest chargepoint availability and view public charging tariff information.
Get directions from Google Maps to the nearest chargepoint.
Save your favourite chargepoints, filter by speed and gain access to our EV Zones.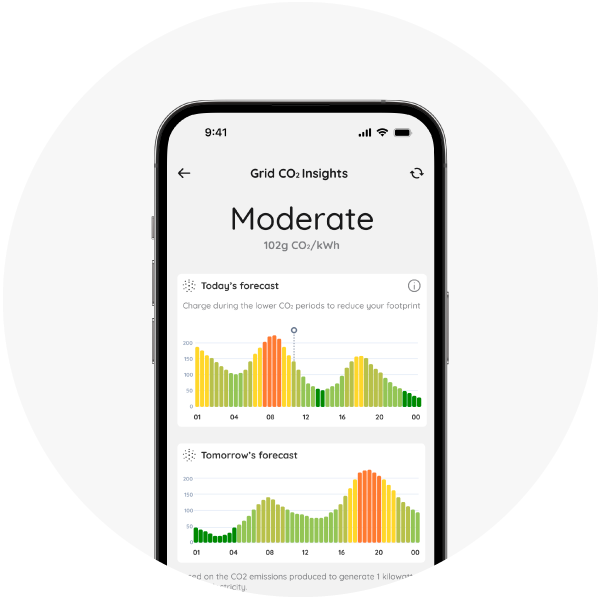 Further reduce your carbon footprint
Make informed decisions on when to charge, by using a forecast of your local carbon intensity, provided by National Grid.
View a 48hr forecast of the National Grid's carbon intensity profile in your region.

Think of it like a weather forecast, but for the magnitude of carbon emitted to meet the demand on the grid.

By charging during periods of lower carbon intensity, you'll be able to further reduce your carbon footprint.
See here for more information on how the National Grid calculates carbon intensity.
Connect to the Pod Point ecosystem.
Download the Pod Point App for your smartphone now.
FAQs
Is the Pod Point Network free to use with the Pod Point App?

Some of the Pod Point Network is free to access and charge. For Pod Point points that do charge for usage, you can pay-as-you-go by topping up via the Pod Point App. Top up your funds available in our App using your debit or credit, download the Pod Point App for more details.

How is my Solo 3 linked with the Pod Point App?

When your home charger is installed, your Pod Point Expert will link your charger to the app via your home Wi-Fi connection. As a second step, find your Solo 3's PSL number (located on the sticker on the bottom of the charger) and enter this into the Pod Point App to connect.

Note: If you did not purchase your Solo 3 via Pod Point.com - you'll have to contact our customer service team in order to link your Solo 3 with the Pod Point App.

How do I see my charge history in the Pod Point App?

Once your Solo 3 is linked and you have completed a charging session - ensure your mobile device has Wi-Fi or a data connection and open the Pod Point App. Tap the "stats" icon at the bottom of the screen in-app to see your charge history.

Please be aware the Pod Point App will only start recording charge history once it has been linked with your Solo 3.

Is my mobile device compatible with the Pod Point App?

The Pod Point App is compatible with Android smartphones running Android OS 7.0 and above (released 2016) and above. For Apple smartphones, the Pod Point App is compatible with iPhones running iOS 13 (released 2019) and above.

The Pod Point App is not currently compatible with tablet devices, or any iOS devices that are incompatible with iOS 13 and above.

What is a Charge Activity Report?

A Charge Activity Report is a report of your charging history with Pod Point. The report itself will typically display the date, location, kWh consumed and the cost of each charging session. This can then be emailed as CSV file and even converted to an excel document if you would like to.

GoElectric tariff disclaimers:
*The benefit of this tariff will depend on when your household energy usage occurs, when and where you charge your car, changes to wholesale energy prices and any future energy price cap changes.
This tariff is variable, meaning prices could change. This may impact cost savings and could mean prices change before your Pod Point is installed, depending on available/chosen installation dates.
The features of this tariff, its availability and any prices or costs displayed were correct at the time of writing according to information provided by EDF but may change in future. Before switching, you should consider the suitability of EDF's GoElectric Tariff for your charging and household needs using the information and support provided by EDF. Pod Point does not take responsibility for your choice of electricity provider."
Applies to Wi-Fi enabled Solo chargers, typically installed after 2018. Requires a strong and stable Wi-Fi connection.
Customers must have a Smart meter to access this tariff, full eligibility criteria can be found here.