Solo 3 for Home
Fast, safe and smart.
From £798, including standard installation. Flexible payment options available*.
Key features
Fast EV Charging
Up to 10x faster than a 3-pin plug.
Over-the-Air updates
Connect to Wi-Fi to unlock new features in the future.
Auto Power Balancing
Charge your EV in harmony with your home.
Compliant with all the latest Smart Charge Regulations.
Your Solo 3
Available with a choice of two connection types.
Universal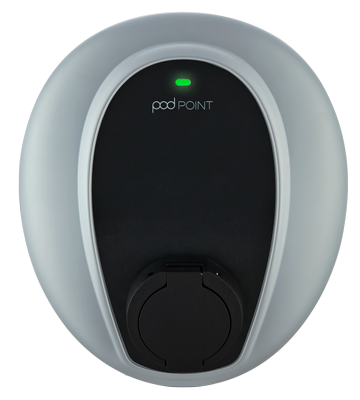 Connects to all electric cars. No cable included.
Tethered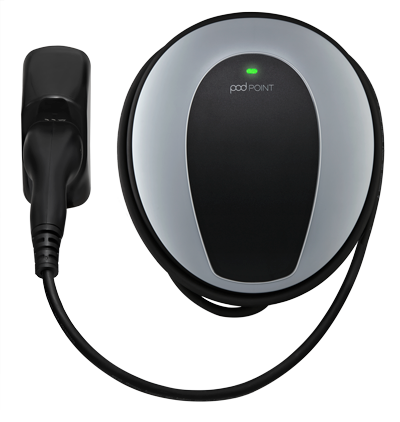 Has a cable attached (Type 1 - 4.8m or Type 2 - 7.5m)
Power ratings & pricing
*The current £350 OZEV EV chargepoint grant is available for people who live in a rented property or own a flat with dedicated off-street parking.
Covered by a 5-year warranty
OZEV approved
Standard installation included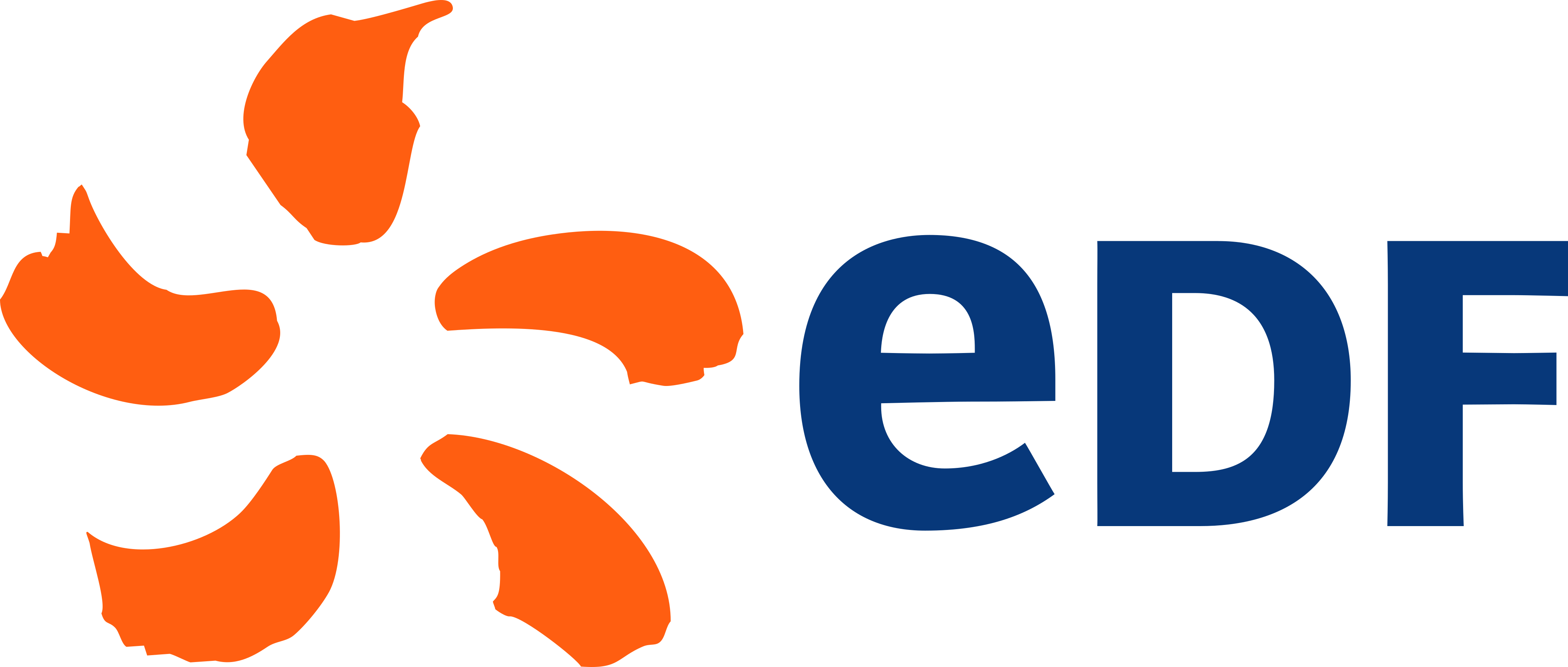 Save over £400 a year on the typical cost of charging at home.**
Unlock the full benefits of EV ownership and drive for less than 2.5p per mile*** with Pod Point's smart home charger and EDF's GoElectric tariff.
Schedule a charge for when its cheapest - charge overnight with zero carbon electricity**** from just 8p per kWh.
Save time and money. Sync your charge schedule and tariff at the click of a button with our smart new auto schedule feature.
**See footer for disclaimer.
***Based on average consumption of 3.5 miles per kWh.
****For more information in relation to the way in which EDF supplies zero carbon electricity, please visit https://www.edfenergy.com/zero-carbon
Fast charging for your electric car
The Solo 3 lets you charge at home faster than with a 3-pin plug.
It comes with the choice of three power ratings: 3.6kW, 7kW or 22kW.

Compatible with any electric vehicle, you can get up to 90 miles of range per hour charging.
Choose a universal socket so that any car can plug in (using a separate cable) or a tethered version (where the cable is permanently attached).
Please note: 22kW Solo 3s require a three-phase household electrical supply.
Protected with Auto Power Balancing
Keep your electric car charging without overloading your home supply.
Adjusts your charge so your electrical supply doesn't get overloaded when your home is using a lot of energy.
Charging returns to the fastest rate automatically, once more power becomes available.
Lets you run all your home appliances as needed and makes it possible to install a second chargepoint for other vehicles.
Please note: Auto Power Balancing is only available for 3.6kW and 7kW Solo 3s.

Over-the-Air updates via Wi-Fi
Unlock new features, get the latest software updates and receive remote support.

Receive Over-the-Air software updates by connecting your Solo 3 to Wi-Fi
Get new smart features that we release in future without having to buy a new charger
Receive remote diagnostics from our support team in the unlikely event there's an issue with your charger
Get more with the Pod Point App
Pair your Solo 3 with the Pod Point App to understand and optimise your energy usage.

Our Charge Scheduling feature lets you charge overnight on off-peak rates. With EDF's GoElectric tariff you can start from just 8p per kWh.*
Gain insight into your charging activity and the associated costs from your mobile device.
Make informed decisions on when to charge, by viewing a forecast of your local carbon intensity, provided by National Grid.
View all your home and Pod Point Network charging activity in one place.
Download itemised charging reports to form part of your home and vehicle budgeting.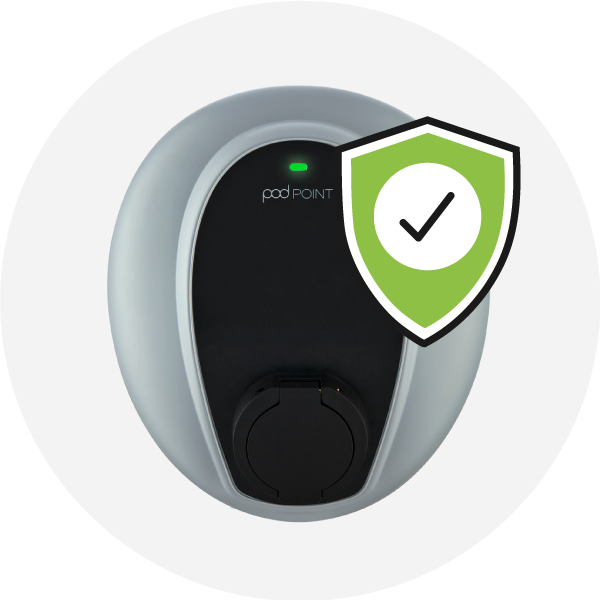 Warranty and safety features
Covered by a market-leading 5-year warranty.
Your Solo 3 comes with a 5-year warranty as standard for added piece of mind.1
Compliant with the highest international charging standards (IEC 61851, CE Certified).
Includes over-current and fault protection, wet gun protection and double power relay.
1 The 5 year extended warranty applies only to domestic Solo 3 chargepoints purchased at full RRP price directly through Pod Point via our website (excluding referrals through any external third parties).
*Status Disclosure
Pod Point Limited acts as a credit broker not a lender and can only introduce you to Klarna Bank AB (publ.). Finance is only available to permanent UK residents aged 18+, subject to status. Ts & Cs apply klarna.com/uk/terms-and-conditions.
We offer regulated and unregulated Credit agreements through Klarna. Please note that the 'Pay later in 30 days', 'Pay Now' and 'Pay in 3' agreements are not regulated by the FCA. Please use these products responsibly and ensure you can make repayments on time. Finance is subject to status. T&Cs and eligibility apply. Failure to make repayments on time may negatively impact your ability to use Klarna's products in future.
Pod Point Limited is an appointed representative of Product Partnerships Limited which is authorised and regulated by the Financial Conduct Authority (FRN: 626349).
**GoElectric tariff disclaimer

*The benefit of this tariff will depend on when your household energy usage occurs, when and where you charge your car, changes to wholesale energy prices and any future energy price cap changes. This tariff is fixed, meaning exit fees may apply.
The features of this tariff, its availability and any prices or costs displayed were correct at the time of writing according to information provided by EDF. Before switching, you should consider the suitability of EDF's GoElectric Tariff for your charging and household needs using the information and support provided by EDF. Pod Point does not take responsibility for your choice of electricity provider."
Applies to Wi-Fi enabled Solo chargers, typically installed after 2018. Requires a strong and stable Wi-Fi connection.
Customers must have a Smart meter to access this tariff, full eligibility criteria can be found here.
What Car? Best Home Charger 2023 Winner
Voted What Car? Best Home Charger 2023, based on a survey from over 4,000 drivers.