2021 EV Driver Survey
Posted by David: Dec 16, 2021 • 2 min read
After receiving thousands of responses, the results are in! Take a look at our findings from the 2021 EV Driver Survey.
In 2021, we asked you a series of questions to gain insights into your electric vehicle driving and charging habits. Your responses have given us plenty of food for thought, and we're happy to reveal exactly what you told us.
But first, we'd like to thank all of the 2,319 drivers who took the time to respond to the survey. The turnout was exceptional, and we'll make sure to use your feedback to improve our products and continue to provide a first-class service.
Without further ado, let's take a look at the results!
Key findings: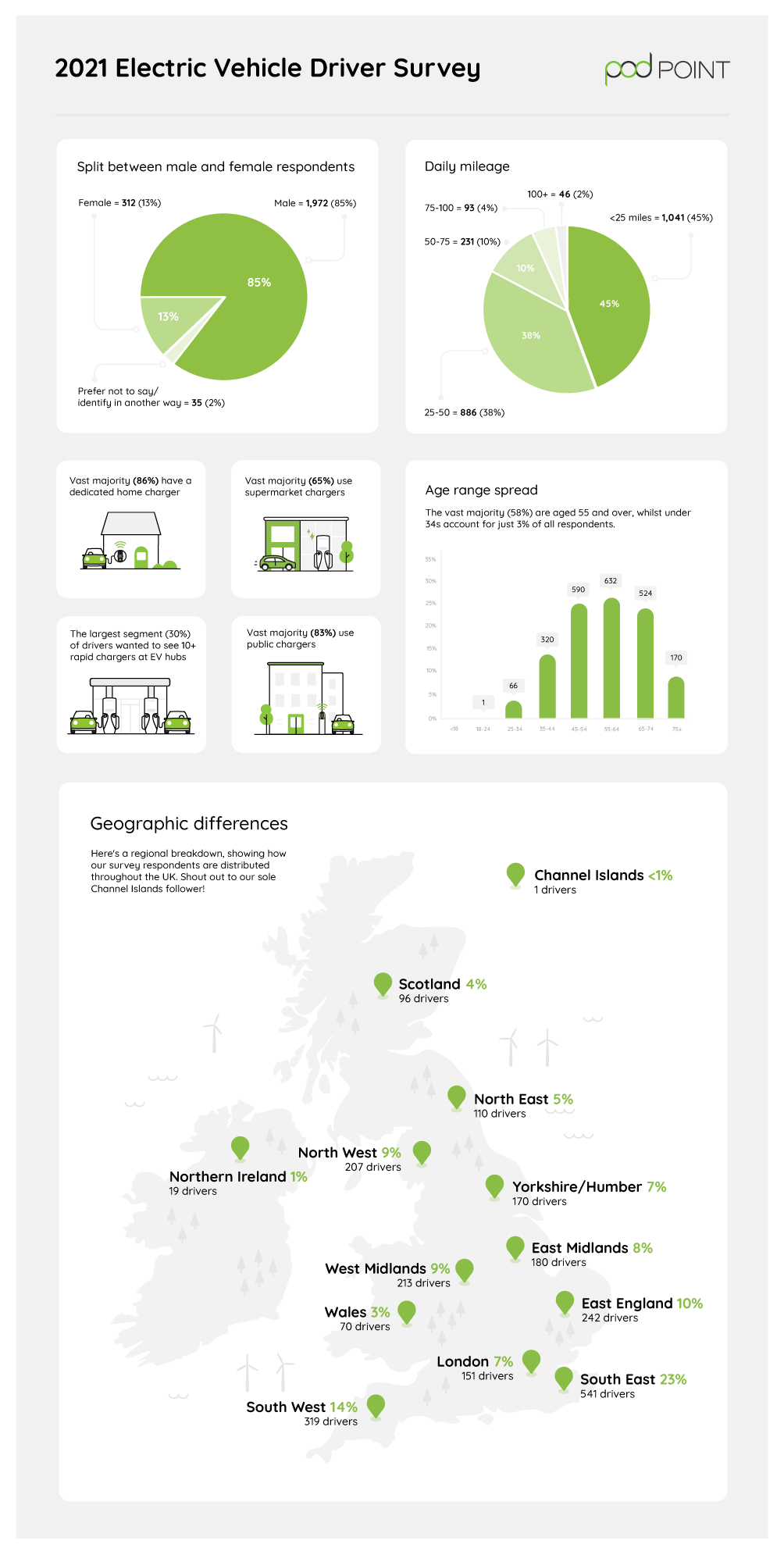 Our thoughts on the results:
One of the most interesting things we took away from the results (again, thank you everyone!) is the sizable divide between male and female respondents.
Sadly, it's something we're not overly surprised at, but it is something we think needs addressing. Charging infrastructure is critical to enabling the mass adoption of electric cars, but it needs to work for the needs of the whole population - not just half of it.
We think it's crucial that more is done to get more women involved in the conversations around EVs and charging, and we'd love to hear your thoughts on how we can do this!
Once again, we'd like to thank everyone who took the time to complete our survey. Your views and feedback help us shape our infrastructure so that it's best designed to fit your needs.
If you missed your chance to take part in the latest survey, or want to help us out even more, don't worry! You can register yourself for future surveys, as well as the occasional beta testing, by signing up to our exclusive Pod Point Labs community.
To stay up to date with the latest news, follow us on Facebook, Twitter, LinkedIn & Instagram for all the latest updates on new chargepoints and more.