5 Ways EV Charging Attracts Customers | Hotels
Posted by Roseanne: May 24, 2018 • 3 min read
The number of electric vehicle (EV) drivers has grown exponentially in the last five years and so have the number of EV chargepoints. EVs opens up a brand new and exciting opportunity for businesses.
In 2013 there were just 3,500 plug-in cars on the road and as of May 2018, there are now over 150,000.
One of the key barriers to the mass adoption of electric vehicles is the availability of electric vehicle charging infrastructure (chargepoints). However, EV charging infrastructure has grown rapidly too. In 2011 the UK had less than 2,000 charging connectors, and, as of May 2018 there are over 16,000. Take a look at the rate of growth between 2011-2017 from ZapMap's graph below: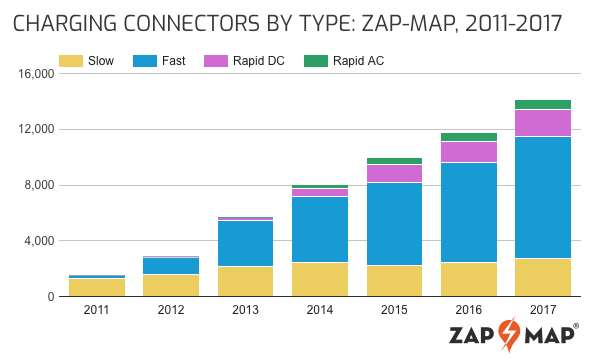 Now we're not going to give you a full briefing on why and when electric cars are going to be mass market because our Founder and CEO, Erik Fairbairn, gives a great rundown of the electric vehicle industry here.
So, how can installing electric vehicle chargepoints attract more customers to my hotel and increase revenue?
Here are 5 benefits of having EV chargepoints at your hotel:
1. Increase your hotel's visibility
Booking websites such as booking.com, hotels.com and kayak.com have recently added an electric vehicle charging filter as they've seen in huge increase in search trends.
Additionally, having EV chargepoints at your hotel's put yourself on new maps with a very engaged community of electric vehicle drivers. For example, over 38,000 EV drivers have installed our 'Pod Point App. This app contains our whole public chargepoint network. There are also other popular EV maps such as zap-map.com and plugshare.com
2. Add value to your hotel by meeting green Corporate Social Responsibility (CSR) objectives
In the present environmental and political climate, all businesses are under pressure to increase their efforts to know their carbon footprint and, in turn, reduce their environmental impact.
3. Attract a new target market
The EV drivers of today still fall under the early adopter category and will for the next few years. These drivers are considered as the 'conscious consumer' who will choose a green and eco-friendly service over a non-eco-friendly service. Make sure you don't miss out on this highly engaged and affluent audience. (See below...)
4. Electric vehicle drivers are considered as 'high-value guests'
It is mainly high-income and well-educated consumers that are choosing to go electric. Attracting more affluent guests has a knock on impact on other services you provide at your hotel, including restaurants, spas, bars, activities and room service.
5. Monetise from EV charging tariffs
You have the option to set tariffs on a per hour or per kWh basis, although we usually don't recommend doing so because the chargepoint acts as an attractor to your hotel. However, you have the ability to set the tariff which works for you, whether that's none at all or for guests just visiting the hotel cafe, bar or restaurant.
---
Don't take our word for it? Here's what our existing clients had to say...
>"We enquired to Pod Point as we wanted to ensure our EV guests had an area to recharge. This area is massively expanding, and we wanted to ensure we are at the forefront of this development."- Forest Holidays
What solutions are included when you partner with Pod Point?
---
Have a question about how EV charging can benefit your business?
Have a chat with one of the Pod Point Team by clicking the button below! Alternatively, you can read our Whitepaper for more information here.
---
To stay up to date with the latest news from Pod Point, follow us on Facebook, Twitter & Instagram for all the latest updates on new chargepoints and more.