What are the most common questions EV drivers get asked?
Posted by David: May 02, 2023 • 4 min read
We've gathered our picks for the top questions non-EV drivers want to know about owning an electric car.
---
As an electric vehicle (EV) driver, have you ever been asked a question that's made you roll your eyes, then proceed to spend the next few minutes debunking myths about EV ownership? Yeah, we've all been there!
So here are the most common questions EV drivers get asked about electric cars, and how we'd answer them:
How far can it go?
Despite electric car ranges improving exponentially over the last few years, it seems that non-EV owners still view range as an issue. But it really shouldn't be.
There are plenty of EVs on the market with ranges that are comparable to equivalent petrol/diesel cars, and there are many things you can do to further optimise it.
As a rough guide, we measure our Confidence Range - the maximum distance we'd be confident driving on electric power between charges - at around 85% of the car's official range in our vehicle guides.
How long does it take to charge?
It can take anywhere from 30 minutes to over 12 hours to charge an EV. That's because charging times for EVs vary depending on a number of factors, such as:
How much charge does it currently have?
How much are you looking to charge it?
What speed charger are you using?
What's the car's maximum charging rate?
How big is the car's battery?
To give you some idea, most home and public chargers are 7kW, which will fully charge an electric car with a 60kWh battery from 0% to 100% in just under 8 hours.
For 50kW rapid chargers, the general rule of thumb is you can add ~100 miles on a ~35 minute charge.
Also, most EV drivers rarely charge their car from low to full, but instead keep their battery topped up throughout the day with frequent, short charges.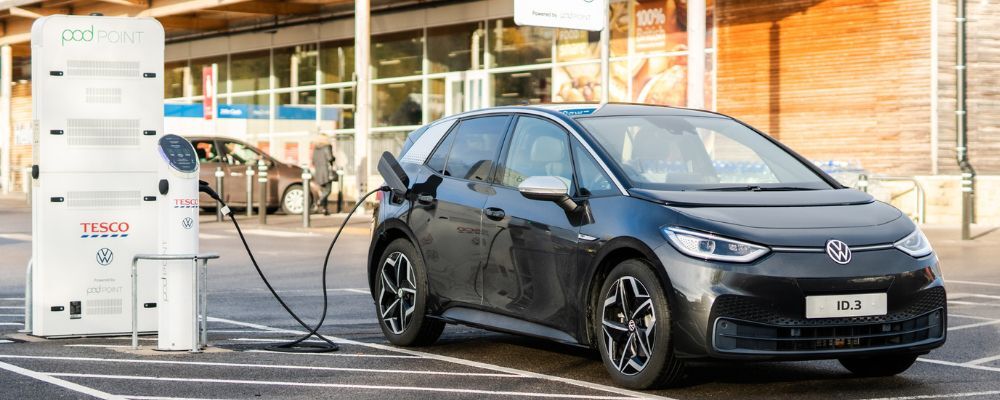 How much does it cost to charge?
Just like charging times, the costs of charging an electric car can vary greatly depending on where you're charging:
1. At home
This depends primarily on your energy tariff and the car's battery size, but as an example it costs roughly £12.60 to fully charge a car with a 50kWh battery (like the Vauxhall Corsa-E) versus ~£26.60 for an EV with a 100kWh battery (like the Tesla Model X) on a 28p/kWh tariff.
2. At work
Different organisations offer different rates for using their chargers. Some will offer it completely free as an employee incentive, whilst others might vary the price at certain times of the day, or depending on how long you're charging for.
3. In public
This really depends on the site host and the speed of the charger, but you'll always find that slower 7kW chargers have a lower cost (they may even be free!) than rapid chargers. You can check the tariff of all public Pod Point chargers in advance via the app or our online Charge Map.
How often do you have to replace the battery?
You've probably been told that EV batteries degrade very quickly and need replacing frequently, but this is a myth!
Modern electric car batteries are designed to last for significantly longer than they used to, with some manufacturers even including a battery warranty for ~100,000 miles, or 8 years for 70% capacity.
So unless you're exclusively charging your EV on a rapid charger, and keeping it plugged into one for hours at a time, you'll be fine.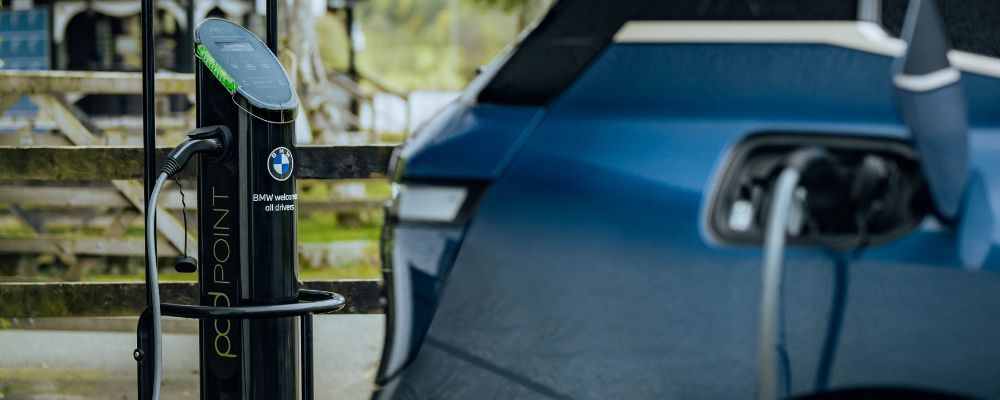 Do EVs break down more than petrol/diesel cars?
Another common misconception is that EVs are less reliable and more prone to breaking down than internal combustion engine (ICE) equivalents.
If a machine has multiple moving parts, it increases the likelihood that something could go wrong and it could break down. But the fact is, electric cars have far fewer moving parts, and don't experience wearing down from metal-on-metal contact.
Of course, an EV still has some elements which can develop faults like tyres, brakes and brake discs, windscreen wipers, and so on. But as far as breaking down is concerned, there's no evidence that they're more likely to, or do so more frequently, than petrol/diesel equivalents.
Honourable mentions
What happens if you run out of charge?
Can you charge in the rain?
For those who need to charge on the go, the UK's network of public charging stations is constantly growing, with over 8,200 on the Pod Point Network alone. This means you're never far from getting a charge, so it's highly unlikely you'll be caught out.
Even if you do, your car will warn you that the charge is running low with enough warning to reach a public charger. But if it does drop to 0%, the breakdown recovery industry is significantly more EV-friendly than it used to be.
You'll likely be brought to the nearest charging station on a flatbed tow truck. Or your provider may include a mobile charging device to give you enough charge to get to a public charger.
Otherwise, you can always put it into neutral gear and push!
And, yes, you absolutely can charge in the rain!
---
To stay up to date with the latest news, follow us on Facebook, Twitter, LinkedIn and Instagram.