EVs & Electricity Bills | How Much Could I Save Per Year?
Posted by Roseanne: Jul 12, 2018 • 3 min read
In light of WWF & Vivid Economics 'EV & Energy System' Report, we've put together our own research on how much it costs to charge an EV over a year.
WWF states that "under a 2030 phase-out, the cost of charging an EV could be under £100 a year by 2030... Compared to an annual petrol/diesel bill of around £800". So, we did some calculations too...
How much does it cost to charge an electric car per year?
Our in-house number crunchers put together 3 different scenarios for 3 different EV driver personas.
To keep it simple and comparable, they all:
Drive 10,000 miles per year
Drive a Nissan Leaf
Live in North Essex.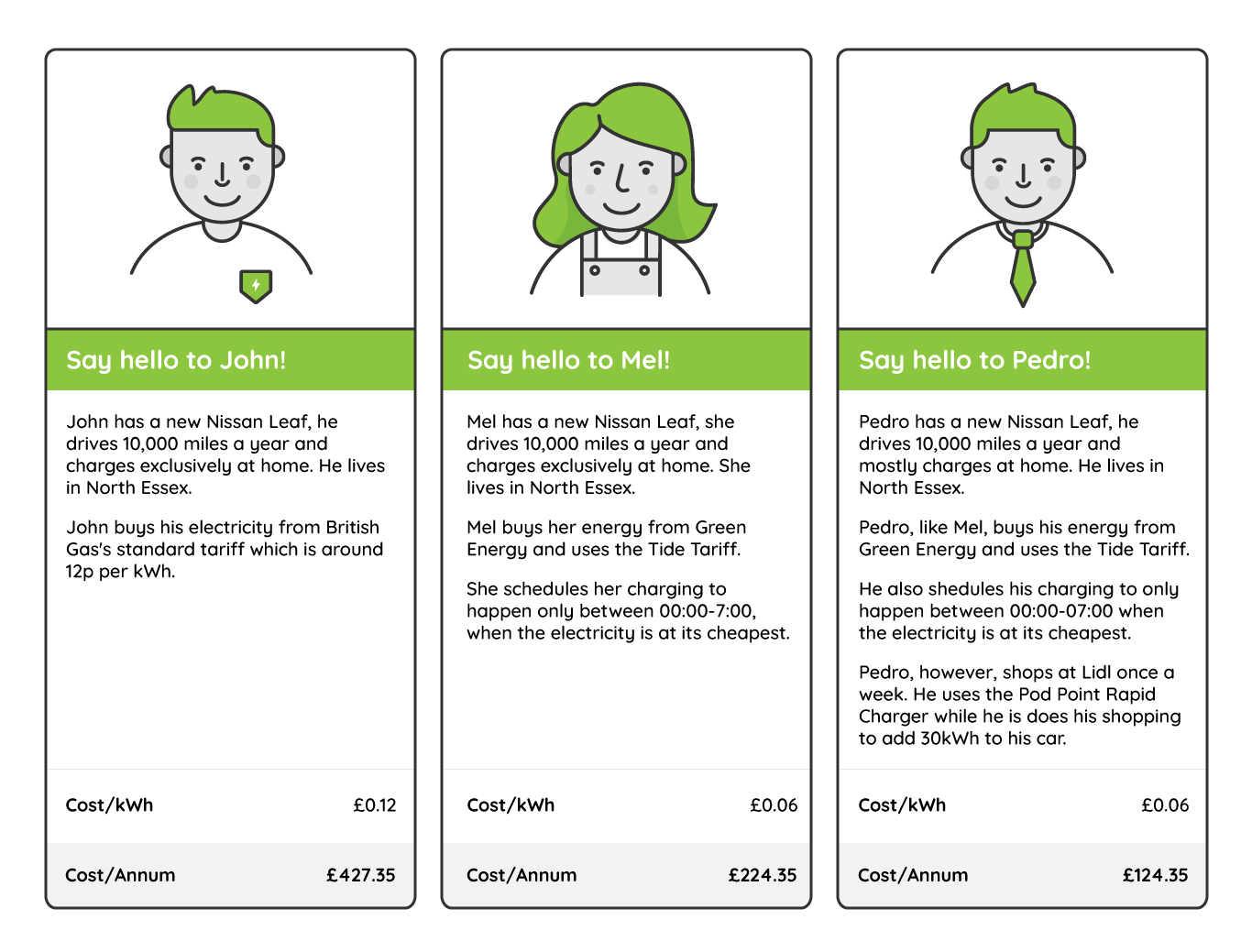 If you're keen to find out more, here's a recap of some of the highlights from the WWF report:
Running an electric vehicle could add around £175 per year to the vehicle owner's electricity bill under standard charging, and smart charging and/or V2G could similarly reduce this expenditure by 42-49%. This compares to an average of over £800 to run a new petrol or diesel car or van today.
A 2030 phase out of internal combustion engines (ICE) would reduce oil consumption, and therefore net oil imports, by around 4.4 million tonnes of oil equivalent (mtoe) in 2030, a 15% reduction compared to a 2040 scenario. This equates to a £2 billion saving per annum in 2030 in spending on oil imports.
Smart charging could reduce the costs of charging electric vehicles by 42% in both 2030 and 2040 scenarios.
Sounds good, but what on earth is Smart Charging?
In a nutshell, we call it technology that empowers you to understand, optimise and control your energy usage.
Having a 'smart' unit means that your electric car chargepoint is intelligent, and therefore not 'dumb' - thanks to the unit being connected to WiFi coupled with the software behind it.
How does it benefit me?
Effectively, this means that your chargepoint can be set to charge at different times based on different tariffs, which allows you to have greater control over your money (aka scheduled charging). Smart charging also enables the ability for you to see realtime usage reports and helps you understand your carbon impact.
Why is it so important? Surely you've all heard the front page 'news' about EVs and how the national grid is going to break? Does this ring a bell?
Well we won't go into the debate about debunking the EV myths as you can take a look at another article we wrote here.
However, smart charging is predominantly one of the key solutions to saving our energy grids as EV adoption continues to rise. The significance of smart charging on a national level means that because the units are connected to WiFi and have the ability to 'communicate', they will be able to receive messages too. So, for example, at times of peak demand on a national scale, the rate of all plugged in EV chargers can be slightly reduced. This is known as 'grid balancing'.
---
To stay up to date with the latest news from Pod Point, follow us on Facebook, Twitter & Instagram for all the latest updates on new chargepoints and more.