EV Road Trippin' | UK: Wales
Posted by Roseanne: Jun 11, 2021 • 4 min read
"You can't do a road trip in an electric car." - EV myth
Well, we're putting this statement to bed. You certainly don't have to say goodbye to road trips because you drive an EV. In fact, word on the street is that it's even better.
Welcome to the first of our EV road trip series where we explore some of the finest routes around a section of the UK.
---
HELÔ Wales!
Ready for 5 days of beautiful Welsh scenery and fun activities?
The whole trip is about 404 miles and most available EVs can handle the mileage (with stop offs).
The following route will include pit stops at places where you can top up your electric car, ensuring you'll never have to worry about running out of charge. The range of available EVs has expanded massively over the last few years and there is certainly something for everyone - plus you'll be able to save between 70-80% on fuel when compared to similar internal combustion cars.
Happy couple that's planning their first getaway? One of the smaller, sporty and modern cars that easily cover the distance - e.g. the Peugeot e-208 - is likely to delight.
Small group of friends wanting to hit the road? Cars like the Kia e-niro offer plenty of space and a comfortable range, without losing any style and breaking the bank.
Family with kids and loads of baggage? Check out the Tesla Model X, not only does it have a significant amount of space but it's also one of the most advanced in terms of technology. You'll be keeping the whole family entertained.
These EVs would be perfect for each of the scenarios, but if you're looking for something else, check out our huge bunch of vehicle guides.
So, where are we going?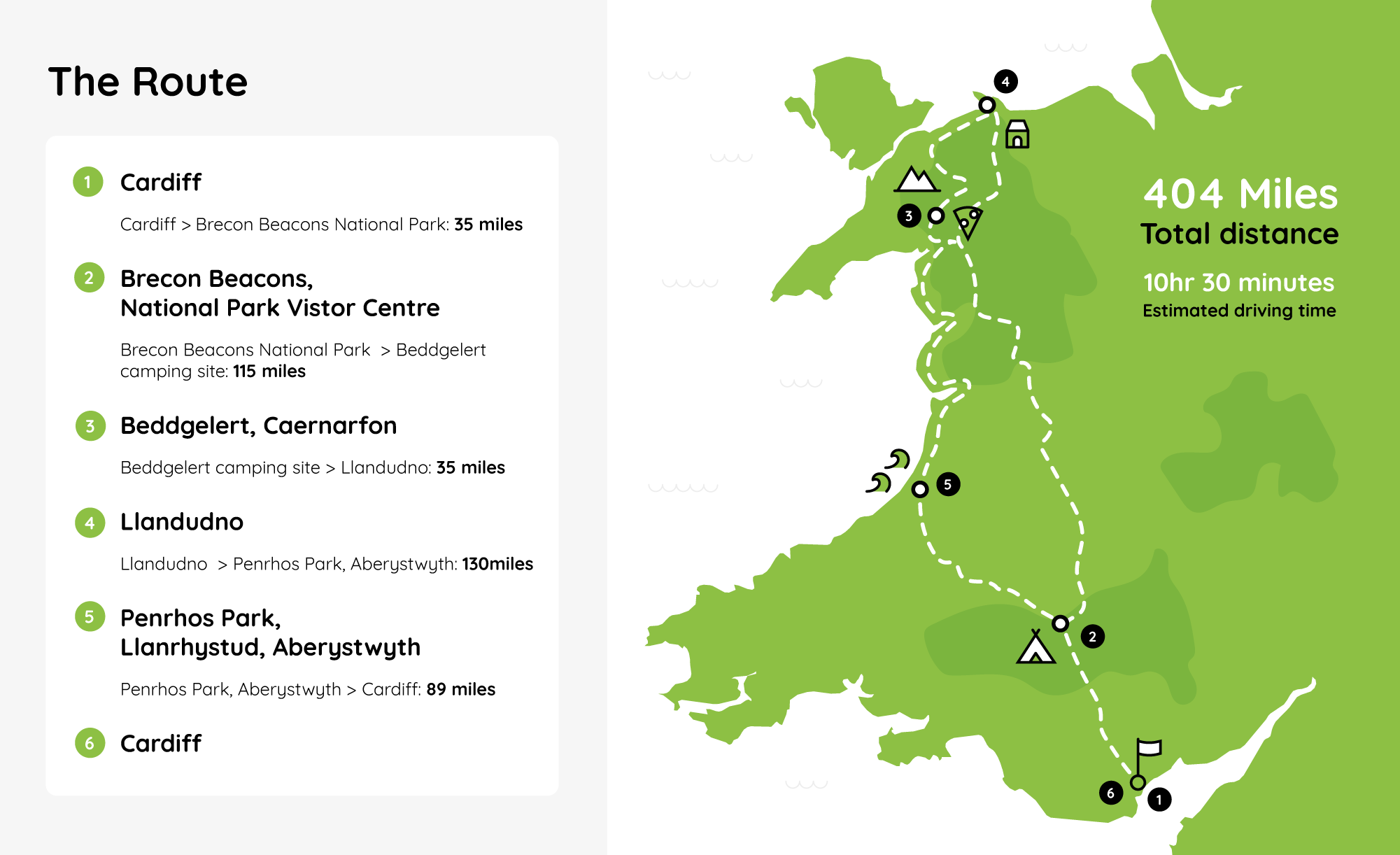 Day 1:
Starting off in Cardiff, with a battery fully charged from home, set off to Brecon Beacons National Park. First, stop at the Tesco in Methyr Tydfil to fill up on snacks for hiking and then get some electric miles - thanks to Tesco & Volkswagen. This route will take you along some beautiful reservoirs, and then you can park up at the Brecon Beacons Visitors centre for some lovely walks in this glorious national park.
If you fancy something special for dinner, why not check out the Felin Fach Griffin - said to be one of the best restaurants in Wales! You can spend the night in one of many campsites surrounding the lovely small town of Brecon.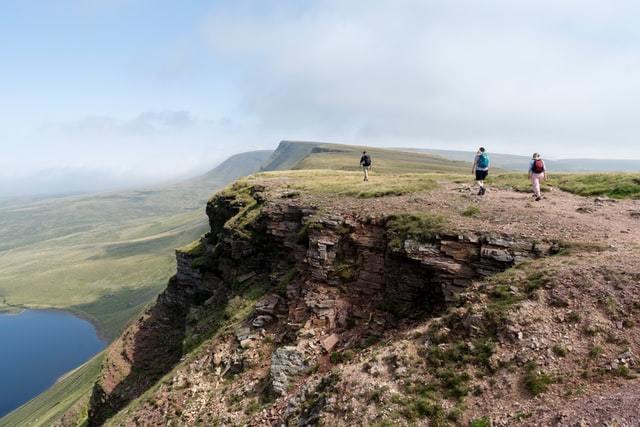 Day 2:
With many miles left in the battery, it's time to start your journey to Beddgelert. En route, you'll pass the impressive reservoir, Llyn Clywedog, which features a 72m high dam. There are lots of places to stop off for a walk and take in the majestic views. Arriving at Beddgelert, you can set up camp while your EV is charging up at one of the 7kW chargepoints.
Feeling adventurous? Try abseiling or take a nightwalk in the forest, before making yourself some food over the campfire or getting a sneaky pizza from the campsite takeaway.
Day 3:
Beddgelert campsite is the perfect place to stay if you want to give climbing Mount Snowdon a go - the highest mountain in Wales! But if that isn't adrenaline-filled enough, why not check out one of Zip World's adventures. The world's fastest zipline, tree top nets or karting, they've got it all.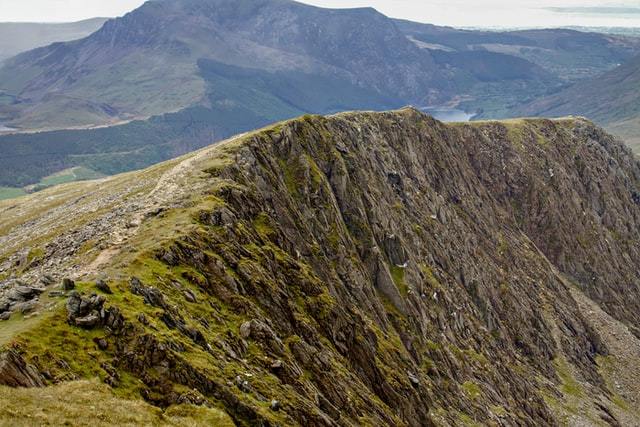 Day 4:
Enough of the action type stuff! We're exhausted just writing about it. Today, you'll set off to Llandudno and Conwy for historic seaside towns and medieval castles, along with the smallest house in Britain at just 72 inches wide.
Stock up on provisions while treating yourself to a rapid charge at Lidl Llandudno Junction, before staying the night at one of Conwy County's many adorable B&Bs or campsites.
Day 5:
Head down from Llandudno to Aberystwyth, your final stop, staying at Penrhos Park with its 22kW Pod Point chargers. Take a day trip into Aberaeron or explore Ceredigion and north Pembrokeshire.
And that's it! With plenty of spark left in your EV, it's time to wave goodbye to wonderful Wales and head back home.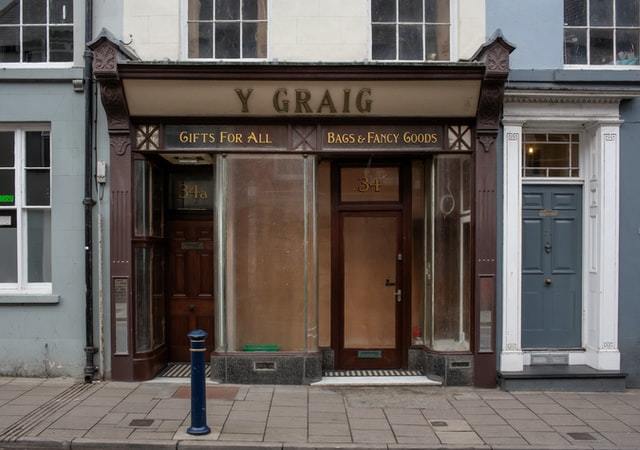 Head over to our EV Journey Planner Guide for tips on having a smooth journey.
---
Have you completed a mega road trip in your EV? Let us know on Facebook, Twitter and Instagram. We'd love to hear about it and see some pics!