Pod Point CEO joins global leaders at Financial Times event
Posted by David: May 17, 2023 • 10 min read
Here's what our CEO Erik Fairbairn had to say about incentivising investment in charging infrastructure at the must-attend automotive industry event.
---
The Financial Times' Future of the Car summit returned this month for its ninth edition. The annual event brings automotive industry leaders together from across the globe to discuss the biggest issues the car industry faces.
The transition from internal combustion engines (ICE) to electric vehicles (EVs) took centre stage, with the event playing host to numerous conversations around the future of the car and what to expect from the next generation of automotive services, technology, and partnerships.
Against the backdrop of global and economic uncertainty, this year's three-day event focused on a number of key themes including:
Batteries: innovating to bring the price down
Tackling the automotive supply-chain
Mobility in the meta-verse
The next generation software-defined car
What's next for autonomous vehicles?
The net zero car: is it a real possibility?
The event featured interviews and lively panel discussions from some of the leading voices in the automotive industry, with a focus on innovation and investment.
Pod Point's Founder and CEO, Erik Fairbairn, joined a panel of experts to discuss incentivising investment in charging infrastructure. In particular, the panel considered how to create transport systems that continue to be sustainable, affordable, and inclusive even after public funding has ended.
On the panel were:
Peter Campbell (Moderator): Global Motor Industry Correspondent, Financial Times
Erik Fairbairn: CEO, Pod Point
Lauren Pamma: Programme Director, Green Finance Institute
Anja van Niersen: CEO, Milence
Martin Beaumont: CEO, Electric Green
Here's what Erik was asked:
"The answer is there are enough chargers for the number of cars we have on the road today. Of course, what there isn't, is enough chargers for when we've got 100% adoption of electric vehicles. And I also think it's a slightly loaded question because the answer depends on which kind of charging we're talking about. What you see in the press is all about public charging. But what we have to remember is that's actually about 3% of the energy transfer that's going into the average EV. Most people are charging at home, they're charging at the workplace, they're charging at places that aren't necessarily public. And it's that mental shift from the internal combustion engine behaviour of "I need something which feels a bit like a petrol station" to actually "I put my energy into my car whilst I'm busy doing something else."
And the answer is I think a lot of the commentary about the lack of electric vehicle charging is probably not really fair. I do accept we've got to build a lot more, of course. My company's mission is to make travel not damage the earth. We're not done, clearly, not until 100% of cars are electric, so we've got to make some more charging. But I think it's massively overplayed and I think we should really be calling for collaboration between the car companies and the charging infrastructure to make sure that we build concurrently together."
"The answer is: generally yes, and it's a quite easy solution to do because you sort of want charging everywhere. There are a pretty small set of scenarios where you'd say "that's definitely not a location for a chargepoint". But what you can have is the wrong type of chargepoint in the wrong location. And it's all about what we call 'dwell time'.
If the perfect solution EV motorists want is "I don't have to engage any of my day with charging" how do you do that? Really easily - you put the charging infrastructure in and you make people use it while they're busy doing something else. So you have to think about what is my natural dwell time.
What is my dwell time at home? 12 hours-ish - I'm there overnight, so putting in the charging infrastructure that's right for that 12-hour dwell time is perfect. What's my dwell time at the supermarket? Probably around 45 to 90 minutes, so you need the right infrastructure in those locations. What's my dwell time at a motorway service station? 20 minutes, therefore we need a 20 minute solution.
So it's not a case that there's charging in the wrong place; we just have to be thoughtful about putting the right charging infrastructure in the right place. You want to build a massive national infrastructure to enable everybody to drive an electric vehicle, but we also want to do that in a cost-effective way. And that means we can have relatively low cost charging at places where we have long dwell times, and we need the fast and rapid charging - the more expensive stuff - in places where we've got short dwell times. So you shouldn't really have a 7kW chargepoint in motorway services, and equally I don't need a 350kW chargepoint in my back garden."
"Start with the easy wins. It's dead easy to put EV chargepoints in homes and off-street parking. Start there. Next up, blocks of flats, it's the second easiest to do. Third thing you get done is wire up all the streets of London, Bristol, Manchester, everywhere, to make sure everyone who parks on-street has got it. But there are very logical, technical and commercial reasons why that is the order. It's too hard to solve 100% of all use cases today, what we've got to do is transition from where we are today - 20% of new car drivers are electric to 100% over the next 7 years. You will see all those bits ticked off as they become the next most important thing to do."
"There's a graphic monitoring how much the discovery of lithium reserves is going on over time, and the answer is it's increasing with demand for lithium. So we're no way near finding the peak of how much lithium is available, but what we don't have is the mining capacity ready for all of this. It has to scale with demand.
You have to serve the customer's needs. My view is the customer need for an EV is somewhere between 200-300 miles of real world range, which is when the customer says that meets their utilisation requirements. So we should be focused on delivering cars which meet what the customer wants. And the idea that, as EVs become more popular, the customer need drops down due to charging, I don't agree with. I still want to drive a 'bladder range' of 4-5 hours driving in my EV before I stop and charge. So it's a customer need point and the industry needs to solve this, so I don't think we should go to smaller batteries.
Meet the customer's needs, provide them with great transport, don't force them to stop all the time by building smaller batteries and relying on additional charging infrastructure."
"I think grid connection is very specifically relevant in rapid charging. But I think the other thing we have to remember is there's about a 70% correlation between people who have off-street parking and people who have a car. So even if we just think about home charging, we can actually get from where we are today at around 1.5% adoption of EVs to - theoretically - 70%, just by using that part of the charging network. I'm not proposing that's the answer, but it just allows some balance. And it really should shift the conversation away from all of the challenges that we see to electricity the UK is in the rapid charge area. We do need some confidence built there - a few inflatable chargepoints may help - but in reality it's more about making sure that we've got all of the charging types covered.
And actually, we've got capacity in the UK, we've got the ability to continue scaling. There is no problem putting tons and tons of home charging in, lots and lots of public charging as well, but there are occasionally grid constraints, particularly with the likes of motorway services."
"I think it's important to put some perspective on the journey we're on for electrification. In the UK we've got about 20% of new car buyers choosing electric. The current target for the industry isn't to get the 98-99% of people to switch to electric. We're working on between 20-25%. So it's all about thinking about what are the logical next steps we should be taking now to get the next cohort of people to go electric.
And I think one of the challenges we often get with this is if we think about how we enable electrification for 100% of customers today, it's too challenging, there's too many bits to do. But that's not actually how you roll out a new technology. You roll it out progressively over time.
In terms of utilisation, the answer of course is there's a balance. We've got a big network of charging infrastructure, specifically with Tesco. We've used third-party finance, which in my experience is way more available now that it was 14 years ago when I started this journey. You have to get that balance right. What you don't want is queues, but what you do want is some level of utilisation. And of course, your financial model doesn't necessarily have the same return profile today as it will have in 7 years time.
So it just simply is a balance between correct utilisation and availability of the charging infrastructure. That just comes with experience, but we've got enough charging experience now."
---
Looking to the future
This year saw many carmakers and industry leaders having to overcome several challenges and crises.
With just 7 years to go until the UK Government's ban on new petrol/diesel car sales comes into force, all eyes will be on how the industry will future-proof itself to ensure long-term success.
For Pod Point, this means continuing to innovate and deliver charging solutions that make owning an EV as convenient, affordable, and carbon-cutting as possible. This way, we'll achieve our mission to stop travel from damaging the earth by putting the right charging infrastructure in the right places.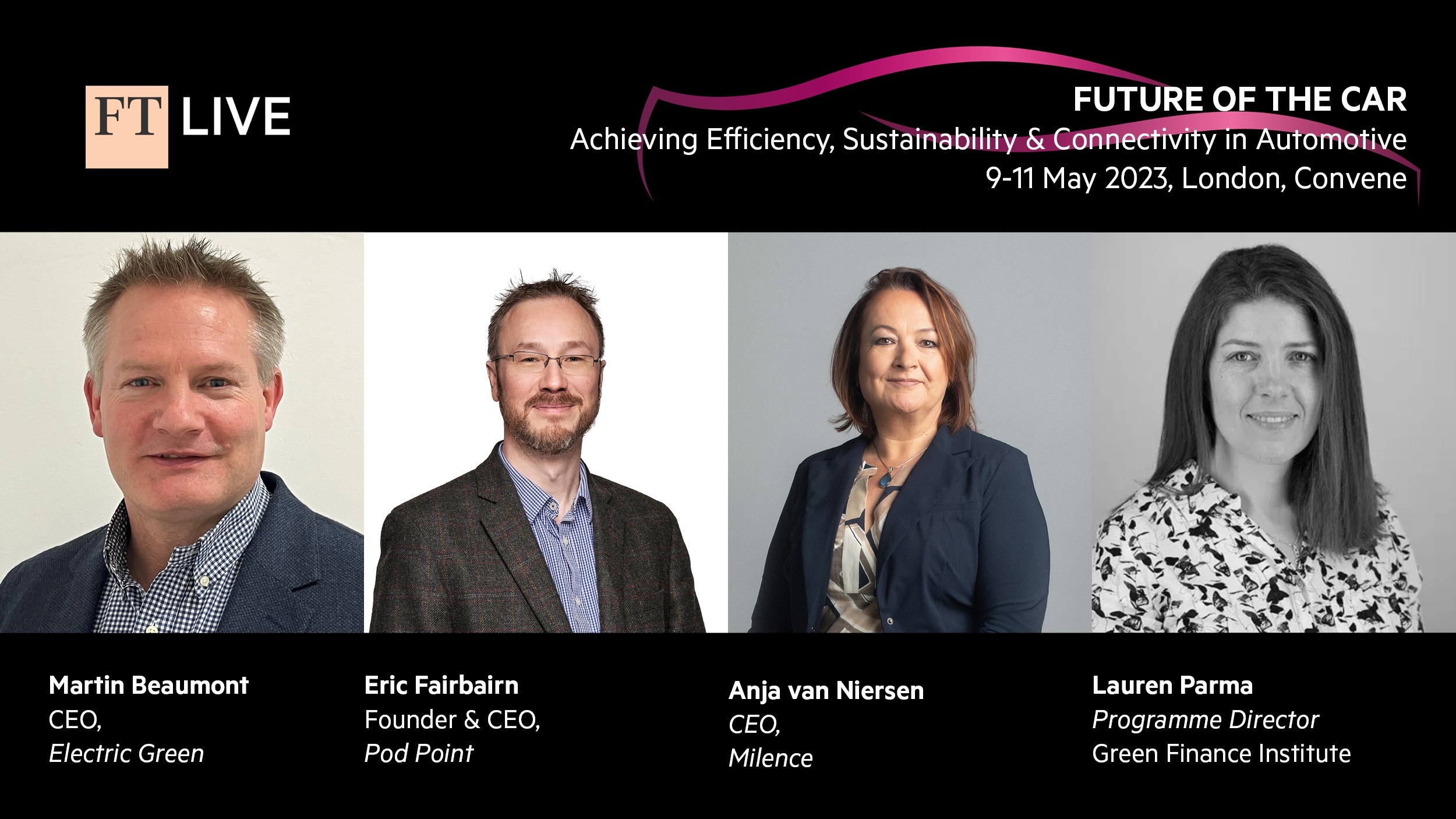 You can find all of Erik's responses in our Future of the Car event YouTube playlist.
---
To stay up to date with the latest news, follow us on Facebook, Twitter, LinkedIn and Instagram.