Price update at Tesco stores | FAQs
Posted by Jade: Oct 19, 2022 • 2 min read
There are changes taking place across the Tesco EV charging network. From 1 November there will be new prices for using charging points. Here's everything you need to know about the new prices.
Tesco is introducing the following new tariffs for charging at its stores.
| | |
| --- | --- |
| 7kW | 28p/kWh |
| 22kW | 40p/kWh |
| 50kW | 50p/kWh |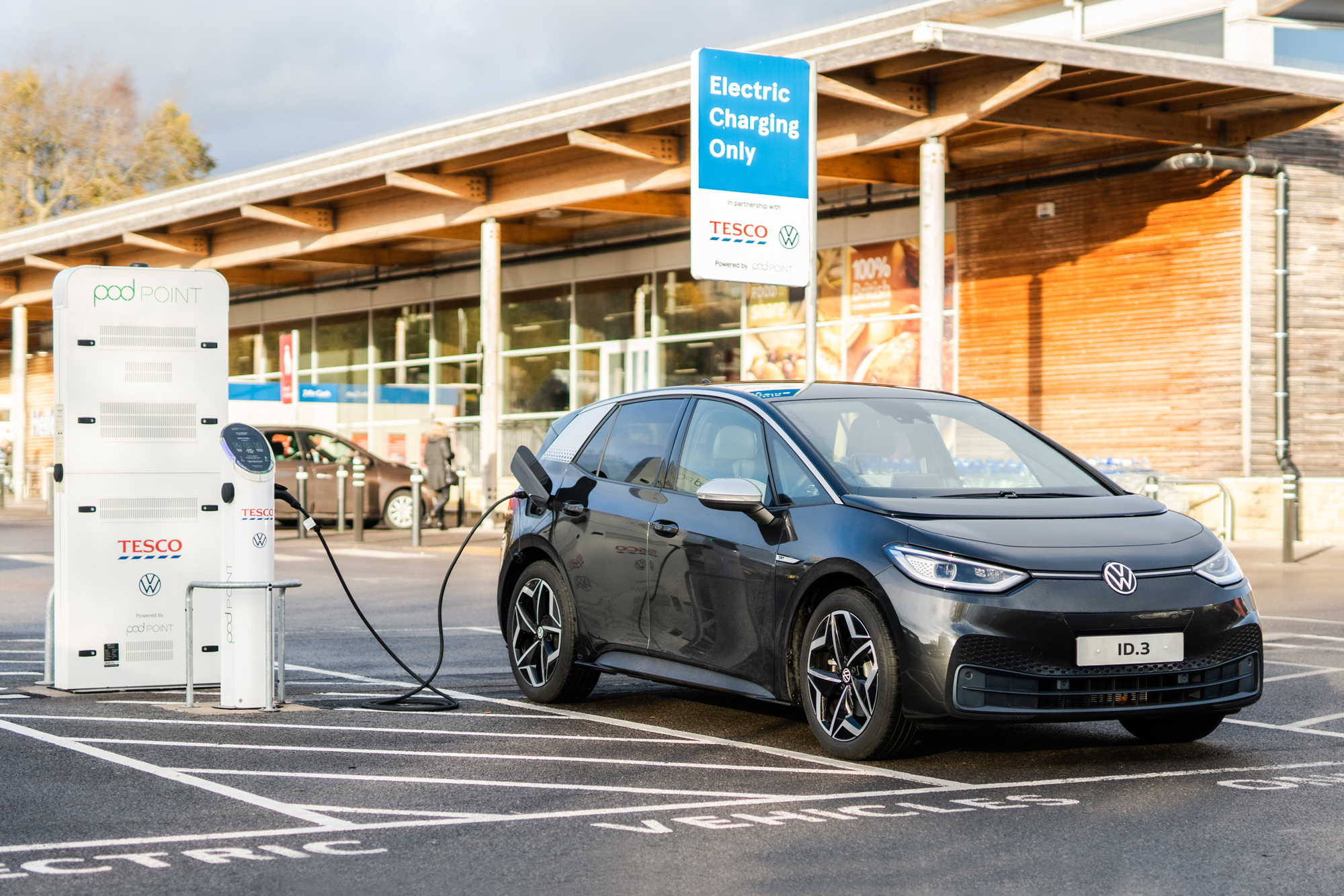 FAQs
Why are you/Tesco making this change?

• The Tesco EV charging network, developed in partnership with Pod Point and Volkswagen, has provided more than 86 million miles of free electric driving. Overall the Tesco EV charging network has saved over 12 thousand tonnes of CO2.1

• The new tariffs are some of the most competitive in the market and will enable us to continue investing in our network.

• It's hoped that by making these changes customers will only top up when they need to, ensuring that they make way for others once their cars are charged.

When does the new pricing come into effect?

• The new tariffs will go live on Tuesday 1 November 2022 and are some of the most competitive in the market.

Are there any other restrictions or changes?

• The usual/signposted car park restrictions will still apply.

How do I pay?

• Payment can be made via the Pod Point App, or online guest checkout where available.

• Contactless payment is available for Rapid chargers (50kW).

Is there a discount for shopping in-store?

• There is no discount for shopping in-store. However, Tesco want to ensure public charging remains accessible through great value tariffs.

Where are new charge points being installed?

• Tesco is committed to expanding its national rollout of EV charging. Find out more about the Tesco rollout here.

Is the partnership on track to meet its target of installing EV charging at 600 Tesco stores across the UK?

• Yes. We're currently on track and expect to hit 600 stores by the end of Spring 2023.

1 Data: 30/06/22 in line with Pod Point's H1 Report. The amount of CO₂ saved is calculated using the following assumptions: the average EV consumes 1kWh every 4 miles; the average petrol car emits 0.28kg of CO₂ per mile; and the electricity used by an EV will create the equivalent of 0.14kg of CO₂ per mile. We use the DEFRA figure of 0.49kg per kWh of electricity produced. (The Tesco network has delivered 21,507,700 kWh of energy and powered a total of 98,146,002 low-carbon, electric miles.)
---
To stay up to date with the latest news, follow us on Facebook, Twitter, LinkedIn and Instagram for all the latest updates on new chargepoints and more.
---
To learn more about how to use our public network, click the button below.