Tesco Volkswagen Milestone: 500th store with EV charging
Posted by Roseanne: Mar 29, 2022 • 4 min read
Update: As of November 1 2022, Tesco chargepoints are no longer free to use. Customers should check the price of individual chargepoints in the Pod Point App.
We've reached a double milestone with our Tesco & Volkswagen rollout. We can now announce the 500th store with free EV charging, supplied by Tesco with 100% renewable energy*. And yes, that includes 100 stores with rapids.
In partnership with Tesco and Volkswagen, we're installing free charging points at 600 supermarkets around the UK.
Key Milestones:
Free charging sessions on our network surged from 500,000 in April 2021 to over two million by the end of February 2022 - representing a 300% increase.
EV drivers have received more than 41 million miles of free electric driving since we launched the rollout with Tesco and Volkswagen in 2019. The equivalent to travelling from Earth to the moon and back 85 times.
100 rapid chargers have been installed at the competitive price of 28p p/kWh and where these are placed, free 22kW chargers are provided too.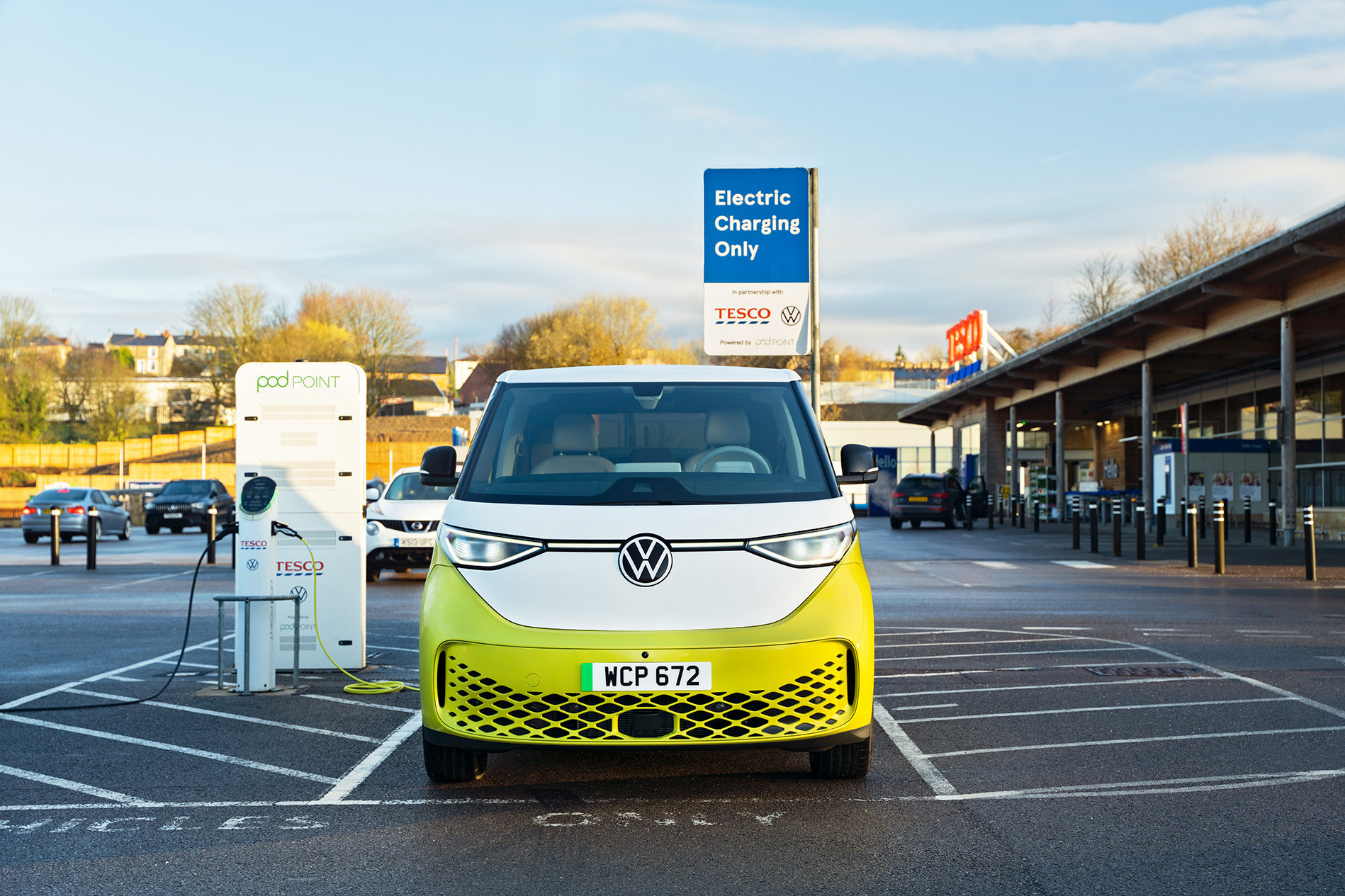 Where is the 500th store?
Scotland - Inverness Inshes Extra is the 500th store to have EV chargepoints installed.
Is the electricity provided renewable?
Yes! As the network only uses renewable energy, this milestone represents a saving of 8,786 tonnes of CO2 compared with travelling the same distance in a typical car with an internal combustion engine. In real terms, this is almost the equivalent CO2 absorbed by 900,000 trees in a year.
How many chargepoints are there?
Designed to offer Tesco customers a secure, reliable and accessible way to top up their electric cars, the network includes more than:
1,000 chargers at 500 Tesco supermarkets in the UK, with 100% renewable energy
100 50kW rapid chargers available at a competitive price of 28p p/kWh for those who require more than a top up
7kW and 22kW chargers are free to use (please note 22kW chargers are provided at the same stores where 50kW is offered)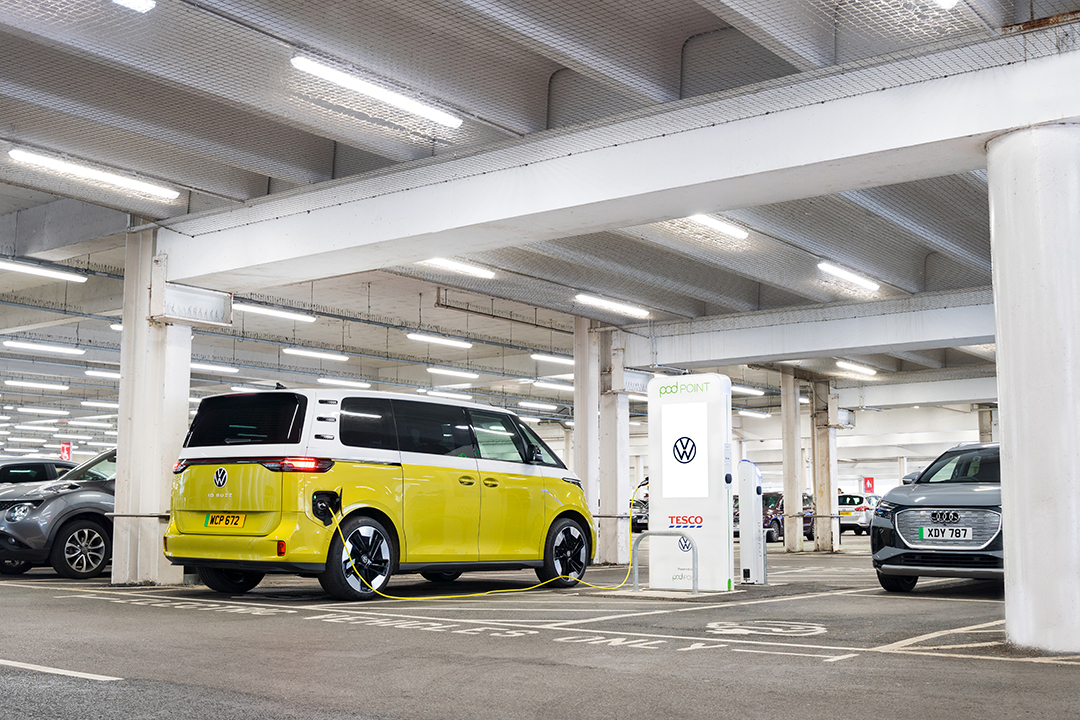 How do I see what Tesco stores have EV charging?
Visit our Tesco rollout page which is regularly updated.
*www.tescoplc.com/sustainability
Key quotes
Erik Fairbairn, Pod Point founder and CEO, said: "The partnership is continuing to make a significant and very visible contribution to the UK's charging infrastructure, giving drivers the confidence to transition to electric.
"Pod Point's mission is to put an EV chargepoint everywhere you park and we're delighted to see so many more shoppers up and down the country reap the benefits as we continue the rollout."
The latest figures from the Society of Motor Manufacturers and Traders show that 190,727 battery electric vehicles were registered in the UK in 2021, an increase of 76.3% on 2020 as the drive to 2030's electrification deadline continues.
Jason Tarry, CEO at Tesco UK & ROI, said: "We're thrilled to see the rollout of free EV charging at our retail stores gather pace.
"The network is helping customers visiting Tesco who need to save time and charge while they shop. This latest milestone highlights the commitment across the business to our goal of carbon neutrality in the UK by 2035."
Sarah Cox, head of marketing at Volkswagen UK, said: "At Volkswagen we want to make carbon neutral mobility accessible to everyone. That's why we've made sure these chargers aren't just for Volkswagens and can be used by any electric car brand.
"It's hugely encouraging that drivers from over 220 models from almost 40 different brands have already benefited from free, green top ups while shopping at Tesco."
---
Calculation:
The Volkswagen ID.4 delivers 3.45miles per kWh (WLTP figure)
3.45 x 11.9 m (kwh) = 41 million miles
Limited means where there are less than 10 chargers per 100,000 population
Calculation:
(Carbon intensity of driving 41 million miles in an ICE car) minus (Carbon Intensity of Electricity Supplied)
Carbon Intensity of 41 million miles in an ICE Car:
CO2e emissions for an average vehicle / mile = 0.275805 kg CO2e /mile (from UK Gov GHG conversion factors 2021)
41 million miles * 0.275805 = 11,314,498 kg CO2e
Carbon Intensity of Electricity Supplied:
CO2e emissions for an 1 kWh in 2021 = 0.21233 kg CO2e / kWh (from UK Gov GHG conversion factors 2021)
11,910,061kWh * 0.21233 = 2,528,863 kg CO2e
Carbon Saved: = 11,314,498 - 2,528,863 = 8,785,635 kg CO2e = 8,786 tonnes CO2e The Carbon saving equivalent figure is based on an average tree absorbing approximately 10 kg of CO2 per year for the first 20 years. Source: One Tree Planted