How to Prepare for Your Home EV charger Installation
A guide covering everything you need to know about EV charger installations before you place your order.
Last updated: May 04, 2023 • 7 min read
Summary
Getting a smart home charger installed is the most convenient way to charge your electric vehicle (EV), and fortunately it's not as complicated as you might think.
Before you book your EV charger installation, there are a number of important things you'll need to consider to get the most out of your charger:
Where you park your EV and where you want your home charger to go

The quality of your home's Wi-Fi

What kind of EV charger you want to get installed

How much your installation will cost

Which EV chargepoint provider to pick
What are the benefits to getting an EV charger installed at home?
Whilst you can use a standard 3-pin plug socket, there are many benefits to getting a dedicated EV chargepoint installed at your home.
For starters, your electric car will charge 3x faster on a home 7kW chargepoint than a 3-pin plug. Plus, some EVs have such large batteries (100kWH+) that it'd be impossible to fully charge your electric vehicle overnight without a home charger.
Also, dedicated home chargepoints are designed to carry the sustained electrical loads needed to charge the EV with a range of safety features, which a conventional 3-pin plug won't have.
So if you're thinking of getting an EV, you'll want to get a dedicated home charger. They're quicker, safer, easy to use, and installation only takes around 2-3 hours.
Top 5 things to consider when getting a home charger
Before placing your order and proceeding to your electric vehicle charger installation, there are a few things to consider.
1. How to decide where to install your EV charger
Many EV charging providers will require you to have dedicated off-street parking so that your home charger can be installed in a safe and accessible location.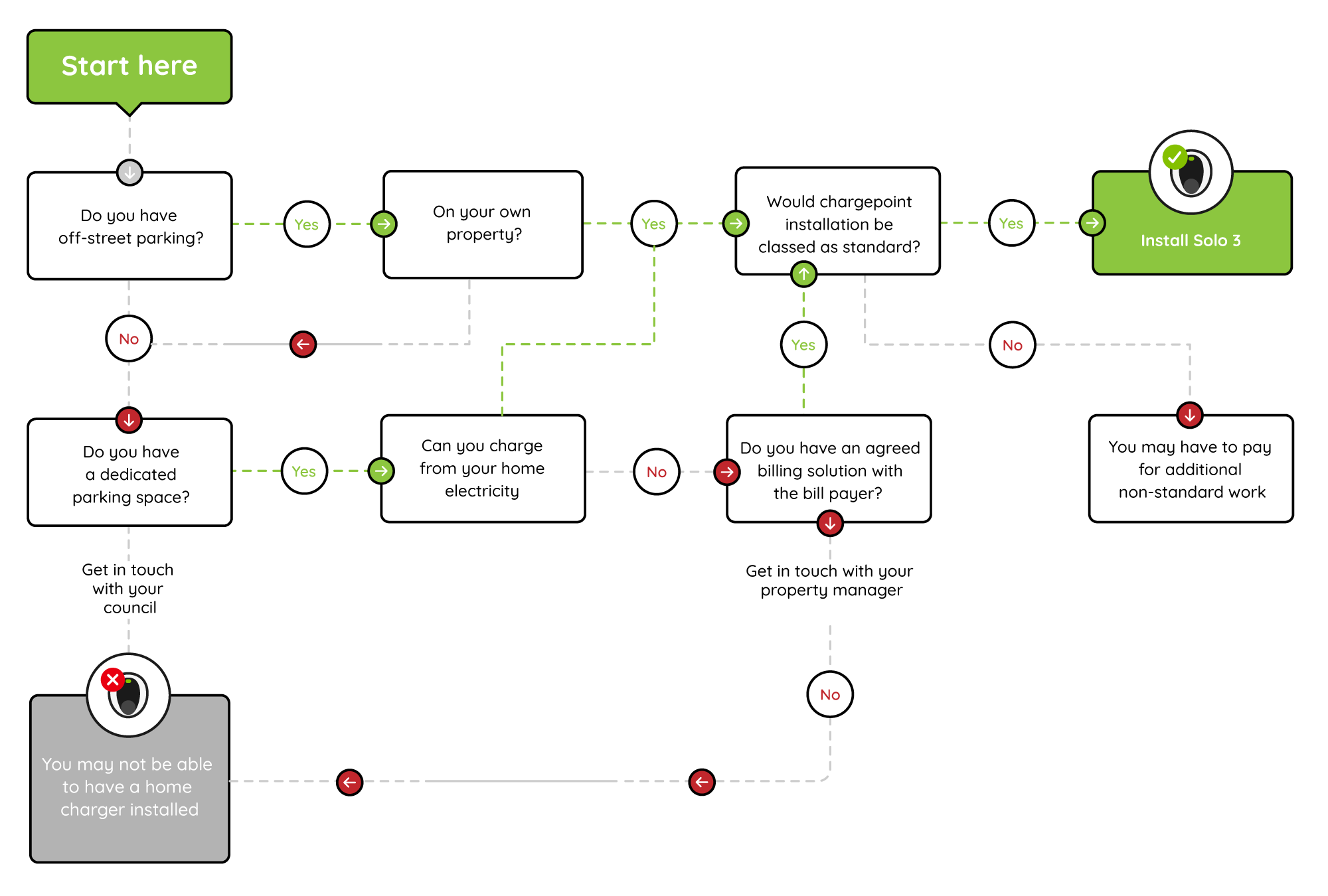 Tip: if you don't have a driveway, you can still have an EV by making use of our extensive UK network of public and workplace chargers. If you live in a flat and need some help convincing your property manager or landlord to install electric vehicle charging in your apartment, use our letter template to kickstart the conversation.
Also, you'll need to check that your preferred EV charger installation location is close enough to where you actually park your electric vehicle. This is because there are different electric car charging cable lengths (we recommend a compromise between ease of use and ease of storage). You may also need to consider where the charging socket is located on your EV.
Another consideration is the distance between your home's power supply and the desired location of the home charger, as providers may have different limits for their home EV charger installations.
Tip: Pod Point's standard installation includes up to 15 metres of black cable, which will be neatly clipped to the wall between the distribution board/electrical supply meter and the chargepoint.
2. Your home's Wi-Fi connection
Most EV home chargers have features and functions that require a Wi-Fi connection to access. Wi-Fi enabled chargers are optional, but the smart features they include can be extremely beneficial.
Smart chargers require a stable internet connection to function, so it's worth making sure it will be within the field of the Wi-Fi router or a Wi-Fi extender prior to the installation. If your EV loses connection to the Wi-Fi at any point, you'll still be able to charge, but you may lose access to the charger's smart features.
Tip: Pod Point's Solo 3 is Wi-Fi enabled to ensure your charger is always up-to-date with the latest smart features, such as Charge Scheduling and Charge Now.
3. What kind of EV charger should you choose?
EV drivers also need to consider whether to get a tethered or universal chargepoint and what charging rate is right for their electric car before installation.
Most drivers want the fastest charging rate, but this isn't always possible, and in some instances it doesn't make sense to as there are some factors you should be aware of that limit EV charging speeds:
Maximum charging rate
Even if your EV can accept a faster charging rate, it will only charge at the chargepoint's maximum rate and vice versa. For example, an electric car that can charge at 11kW will only charge at a maximum of 7kW on a 7kW charger. If it's plugged into a 22kW chargepoint it will still charge, but no faster than 11kW.
Available power supply
Almost all homes in the UK have single-phase power which only allows for a maximum charging rate of 7kW. Although it is possible to upgrade to three-phase power and unlock a faster rate, this can be costly.
If you do need a faster charging rate than 7kW, you'll need to upgrade your home's power supply before your EV charger installation takes place.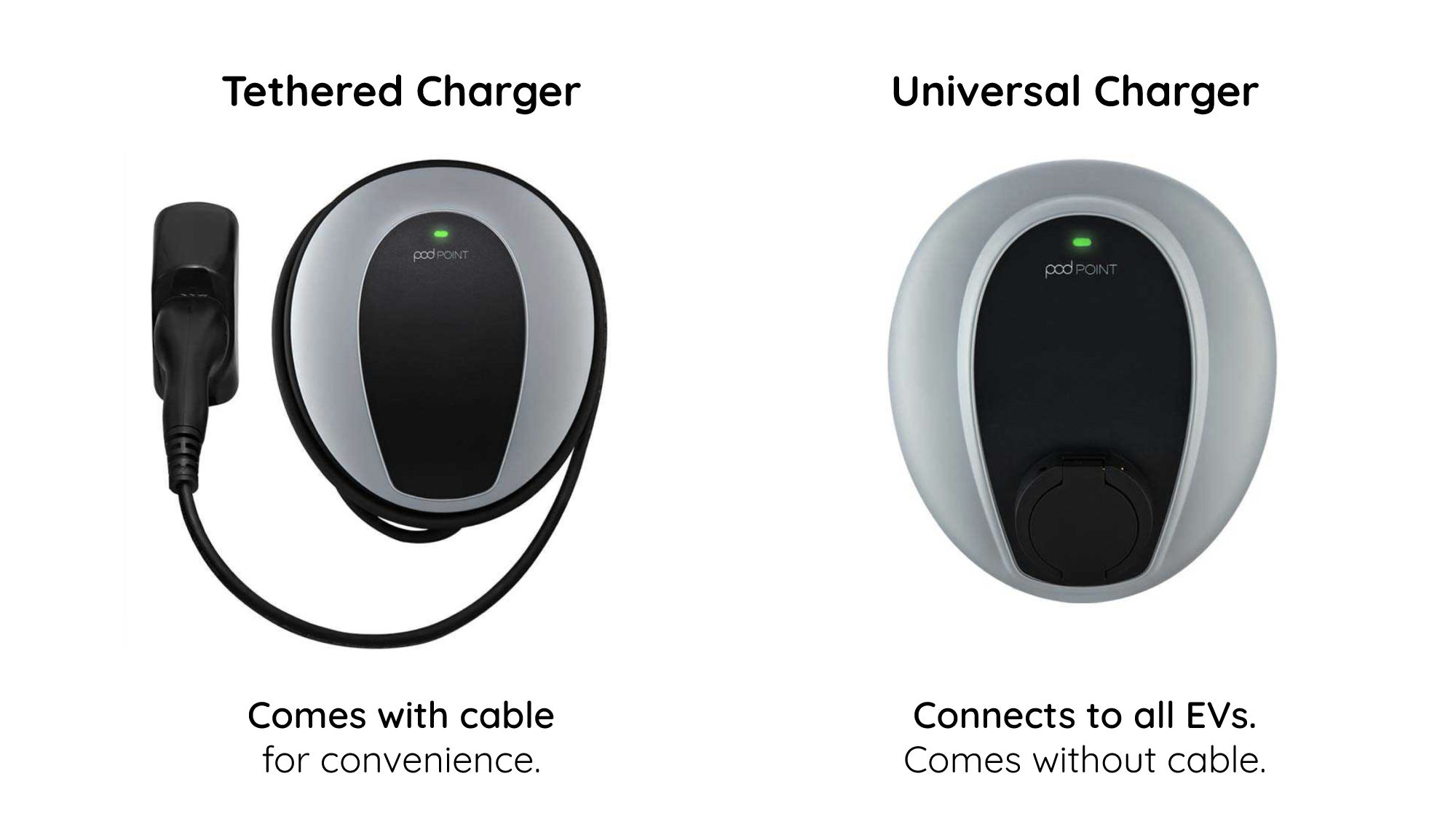 Tip: 7kW is more than sufficient for most EV drivers' needs as most charging takes place when the car is parked. This is called top up charging.
For more information on the other factors that impact charging speeds, visit our guide on how long it takes to charge an electric car.
4. How much it costs to install an EV charger at home
You should always use an approved electrician to get your EV chargepoint installed. Depending on the chargepoint provider, the cost of the EV charger installation may already be included in the price of the charger.
In some cases there may be additional works that need to be completed to enable the installation of a home EV charger. If standard installation is not included in the price, make sure to get a quote upfront.
If you live in rental accommodation or own a flat, you may be eligible for the Electric Vehicle (EV) Chargepoint Grant. Visit our OZEV grant to find out more.
Tip: At Pod Point you can get a home EV charger, including standard installation, installed in as little as 2 hours from just £799. Start your order today.
5. Which EV chargepoint provider to go with
There are dozens of EV charger installation providers in the UK, which makes it tricky for electric car drivers to choose the right one. Installation prices vary between suppliers, but there are many other things you should be mindful of including:

Do they provide EV chargepoints with multiple charging rates?

Do their EV chargers provide smart features?

How safe are their chargepoints?

Are their chargers compatible with all makes and models?

Do their chargepoints adhere to regulations and standards?

Is standard installation included in the price?

Are they compliant with the Electric Vehicles (Smart Charge Points) Regulations 2021?
Tip: The Pod Point Solo 3 home EV charger is compatible with all plug-in electric vehicles, OZEV approved, and fully compliant with the government's latest smart charging regulations.