Pod Point hits 100th rapid charger milestone with Lidl GB
Posted by Roseanne: Feb 09, 2021 • 3 min read
A total of 100 rapid chargers have been supplied by Pod Point to Lidl stores across Great Britain, as they target 250 more by 2022.
Rhys-Teri at the Hayes Uxbridge Road store in West London was the 100th 50kW rapid charger to go live at the retailer, which continues to be the cheapest national supermarket chain for PAYG rapid charging. 1
In 2019, Pod Point began working with Lidl GB to help customers have access to solutions that will support them in their ambition to lead more sustainable lives, and help progress EV adoption, by offering rapid charging at 300 stores by 2022, representing a total investment in EV charging infrastructure of over £25 million.
Since then, a further 50 stores have been added to its plan, which means rapid chargers supplied by Pod Point will be available in over a third of Great Britain Lidl stores.
Erik Fairbairn, Pod Point Founder & CEO, said: "When most people think of Lidl, they probably think of food and drink. However, the fact is that Lidl has made an enormous contribution to rapid charging infrastructure in Great Britain, as this significant milestone shows. Currently 2.5 out of every 100 rapid chargers in the UK can be found at Lidl stores, and there are many more in the pipeline."2
Alan Barry, Chief Development Officer for Lidl GB commented: "We are committed to empowering our customers to make the right decisions for their lifestyle and are delighted to have reached this important milestone of bringing rapid charging for Electric Vehicles to 100 of our stores. We look forward to delivering this service to even more local areas in the near future as we continue with our investment."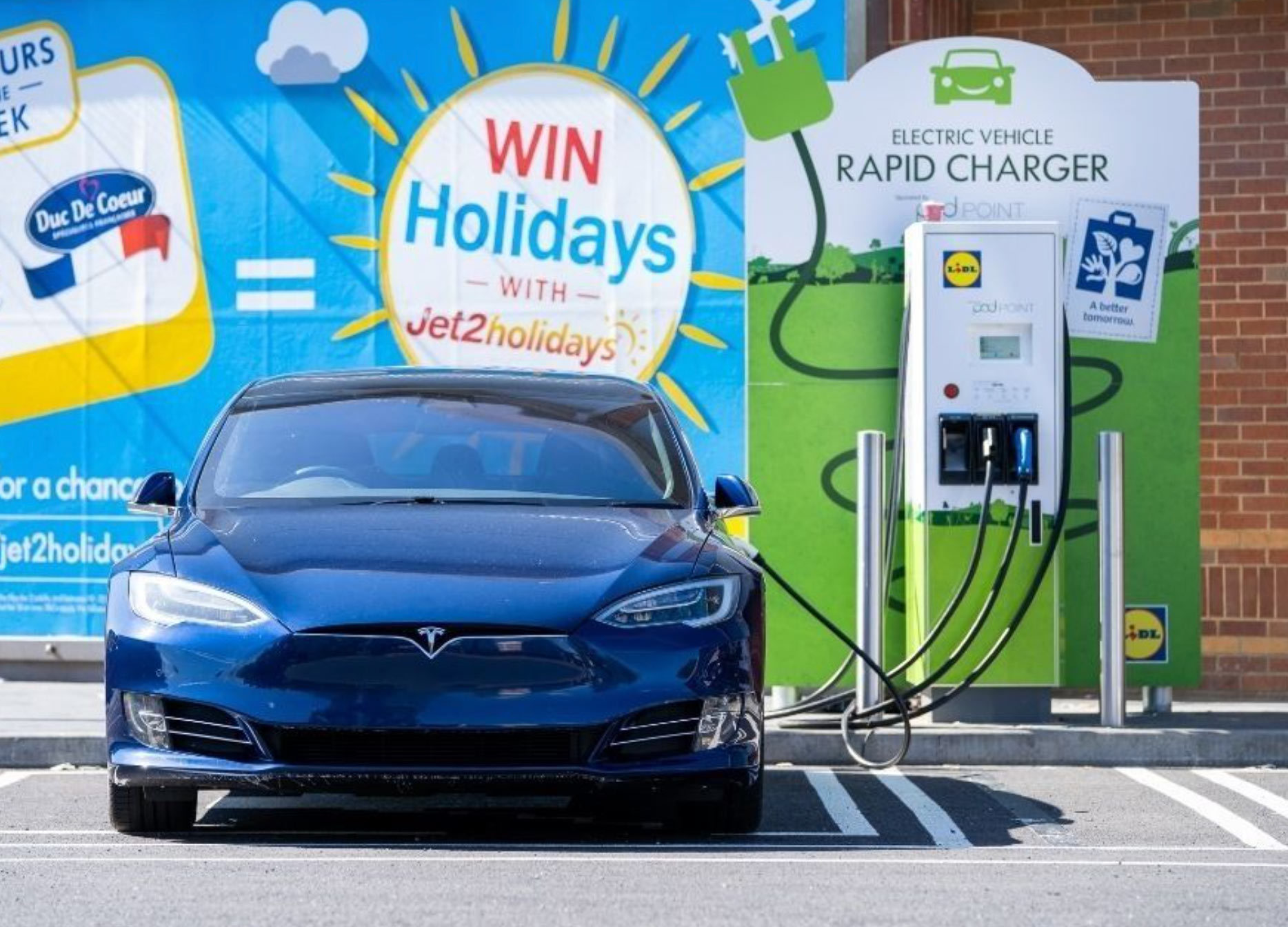 Fun Facts
In 2020 alone, the partnership with Lidl has provided the British EV community with 1.1 million kWh, which equates to 4.4 million electric miles. That's equivalent to flying around the world 177 times! 3
It's estimated that EV drivers using Lid's chargepoints have saved over 1.77 million kg of CO2 since the first installations went live. This equates to removing 920 diesel cars off the road.4
Lidl's rapid charger in Northolt, West London, was the most energetic rapid charger on the whole Pod Point Network, providing almost 40,000kWh of electricity over the course of the year. 5
1 Zap-Map
2 https://www.zap-map.com/statistics/
3 Pod Point Network Data (kWh), electric miles calculation kWh x 4 | 4.4m electric miles / 24,901 (circumference around the world) https://www.space.com/17638-how-big-is-earth
4 Calculation based on 275g/per mile / average annual mileage 7,000 - https://www.bbc.co.uk/news/science-environment-49349566 / https://www.bymiles.co.uk/insure/magazine/mot-data-research-and-analysis/
5 Based on the chargepoint that delivered the most energy in 2020 on the Pod Point Network.
Keep up to date with the latest news and view all charging locations on the Lidl rollout page below.
Alternatively, stay up to date with the latest news on Facebook, Twitter & Instagram.