Charge Scheduling is now available in the Pod Point App
Posted by Roseanne: Aug 04, 2021 • 5 min read
You can now schedule your Solo to charge at specific times using the Pod Point App.
---
This will let you take advantage of dual-rate electricity tariffs designed for EV drivers, which can help significantly reduce the cost of charging.
For example, with a Pod Point Solo 3 you could save over £400 a year on the typical cost of charging at home* by driving for less than 2.5p per mile with EDF's GoElectric tariff (based on an average consumption of 3.5 miles per kWh), which offers an off-peak rate of just 8p/kWh.
Note: Charge Scheduling is available to most Pod Point customers but there are a few exceptions (for example, if your Solo can't connect to Wi-Fi) - see below for more info.
---
Overview:
Until now, it has only been possible to schedule charges on your Solo home charger using the car's own system (either within the car, or via its app).
However, there are a handful of cars on the market that don't have a scheduling feature, and others that only allow you to set a start time, but not an end time.
To make sure all Pod Point customers can schedule their charge to start and stop when they choose, we have launched Charge Scheduling in the Pod Point App.
By setting a time window for your car to charge in, you can take advantage of dual-rate "Time of Use" EV tariffs (such as EDF's GoElectric tariff) charging exclusively when electricity is cheapest (and/or greenest).
How Charge Scheduling works
The Charge Scheduling feature has been designed to be as easy to use as possible.
You can:
Remotely schedule a charging session in the Pod Point App.
Create a weekly charging schedule to suit your driving needs.
Schedule your charging during off-peak hours with a dual-rate EV electricity tariff.
For step-by-step instructions on how to get started, check out the Pod Point App Guide.
Who can use Charge Scheduling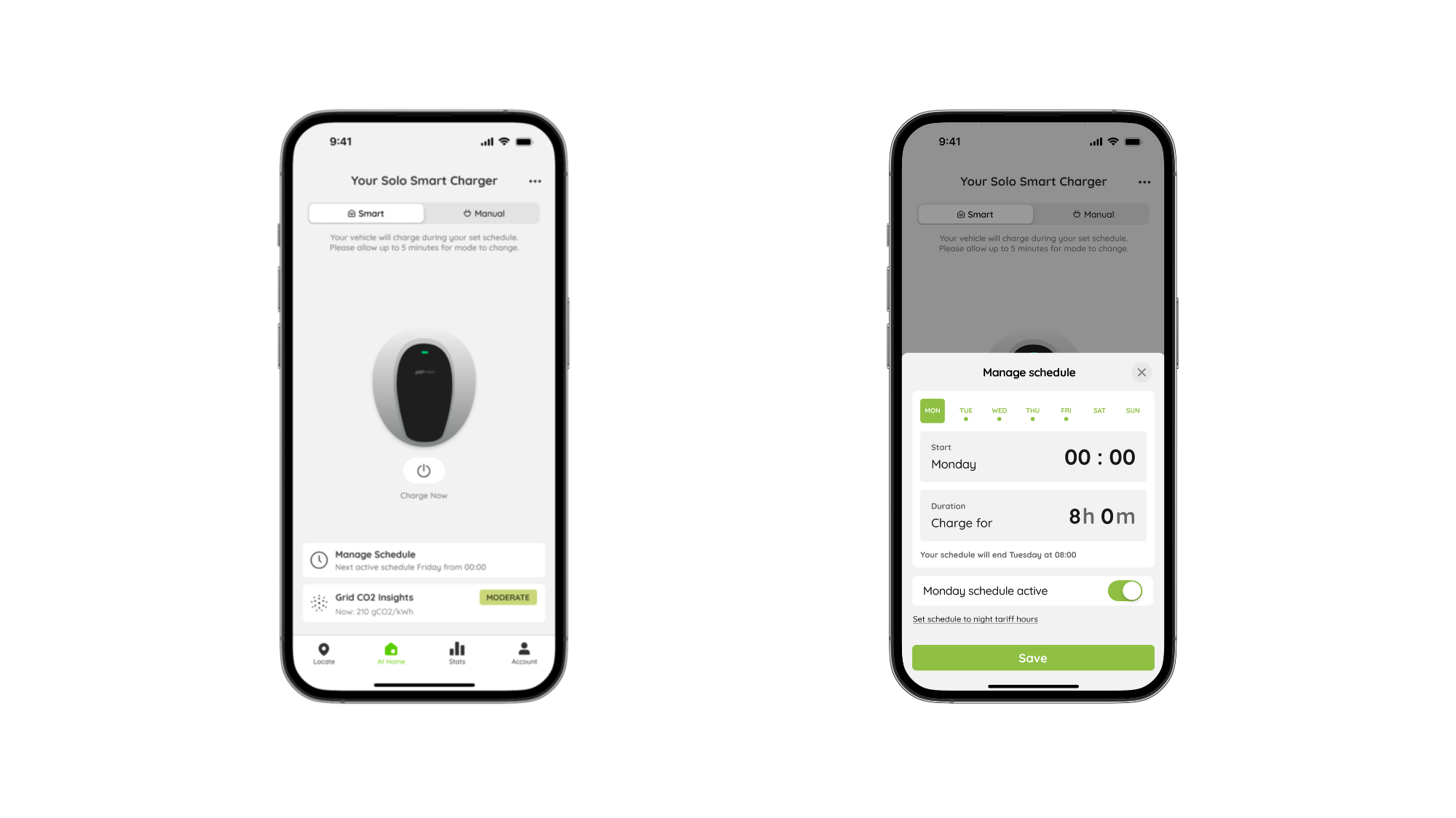 Charge Scheduling is available to all new and most existing Pod Point customers (see FAQs below for exceptions).
You just need to:
Make sure your Solo is connected to your home Wi-Fi (find instructions here).
Download the latest version of the Pod Point App on the App Store or the Google Play Store and create an account, if you haven't already.
Pair your Solo with the app (find instructions here).
Don't have a Solo home charger installed yet?
Got feedback?
If you have any ideas, thoughts or feedback please drop us an email at app.feedback@pod-point.com
---
FAQs
1. Will Charge Scheduling work with my Solo?
Charge Scheduling works with any Solo that can pair with the Pod Point App.
If you have a Solo from 2017 or earlier, it typically won't be able to pair with the App which means to use Charge Scheduling, you'll need to upgrade your charger to the latest model.
There's an easy way to check this; if there is a label present on the underside of your Solo and the part number has a '2' at the end (as pictured), it can pair with the App.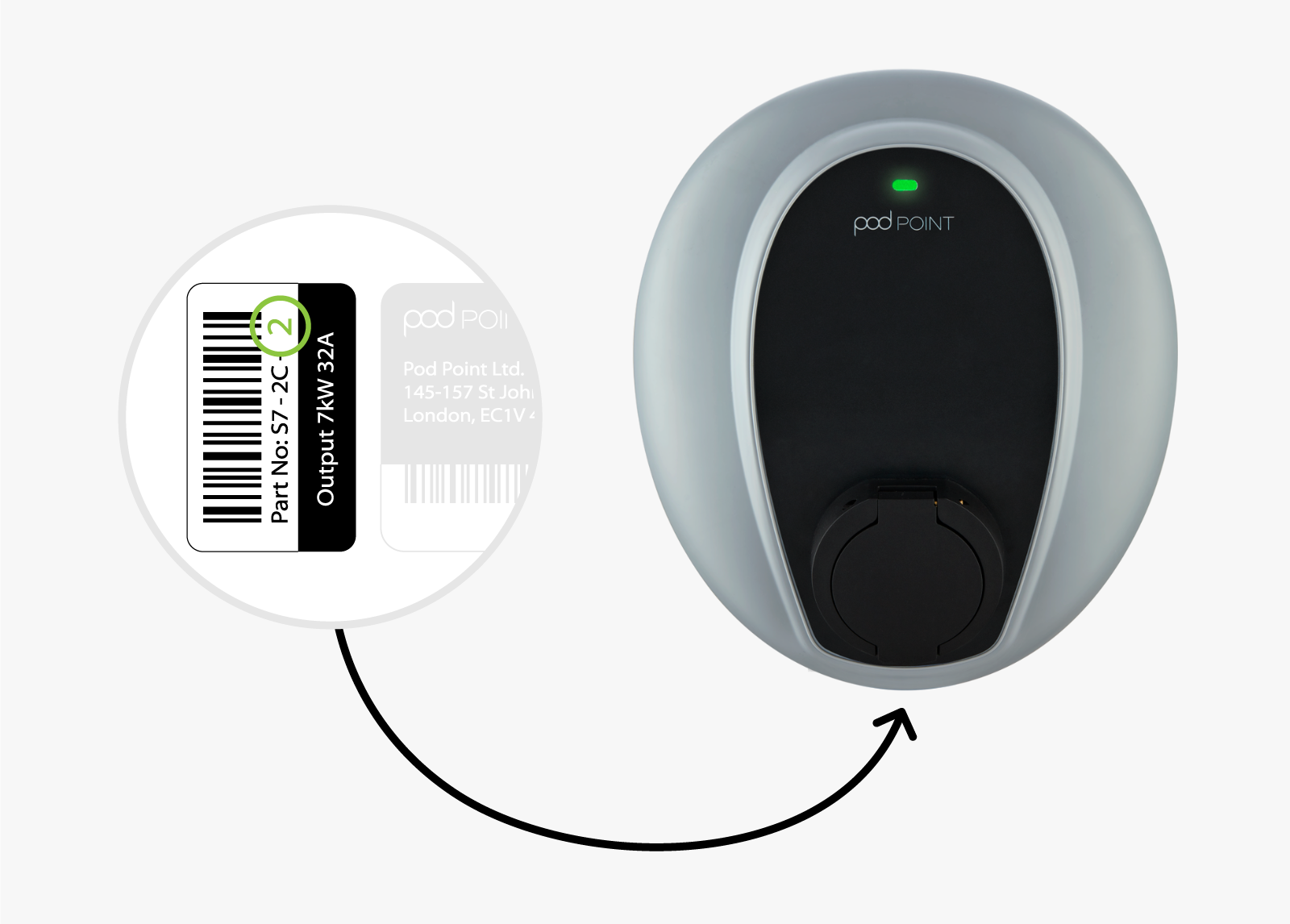 2. Will Charge Scheduling work with my EV?
We undertake continuous testing with a wide range of EV makes and models, so you should feel confident that it will work with yours.
If you do experience any issues, please contact us and we'll work with you to resolve them.
3. How much does Charge Scheduling cost?
There is no fee for using the Charge Scheduling feature.
4. What happens if my Solo loses its Wi-Fi connection?
If your Solo loses its Wi-Fi connection, it will fallback to its plug-and-charge behaviour. This means it will continue charging beyond the end time you've set in the Pod Point App, stopping only once your battery is fully charged. Alternatively, it might start charging earlier than planned too.
This is by design so that - for example - you don't wake up to an empty battery in the morning if your Wi-Fi fails.
However, this also means that if you have a dual-rate electricity tariff you might have a higher than expected charging cost if your Wi-Fi fails.
Your Solo will return to scheduled mode once the Wi-Fi network is available again.
5. Can Charge Scheduling automatically follow dynamic pricing tariffs?
Charge Scheduling does not integrate with dynamic pricing tariffs at this time. If you have a dynamic tariff it is possible to adjust your charging window manually.
6. Why can't I pair my Solo with my Pod Point App account?
If you have a compatible charger, but can't pair your Solo with your app account, please make sure that you're using the same email address that you used when originally ordering your Solo.
If you are unsure which email address you used, didn't purchase your Solo directly from Pod Point or you would prefer to use a different email, please contact customer support.
7. Will there be any further updates to Charge Scheduling?
We will look to further develop the feature based on driver needs so please share your feedback and suggestions with us at app.feedback@pod-point.com
---

To stay up to date with the latest chargepoint additions from Pod Point, follow us on Facebook, Twitter, LinkedIn and Instagram for all the latest updates on new chargepoints and more.