EV Road Trippin' | UK: Yorkshire & Cumbria National Parks
Posted by David: Aug 23, 2021 • 5 min read
EV owners, rejoice! We're back with another exciting EV road trip in the UK.
With battery ranges continuing to increase with every iteration, and more charging options available than ever before, nowhere in the UK is inaccessible.
Last time in our UK road trip series we took you on a 404-mile circular route through the stunning Welsh countryside. Now, we're heading up north where adventures await across three National Parks.
---
Areet Cumbria, 'ey up Yorkshire!
Clean your hiking boots, don your raincoats and prepare your bikes for 4 days of exploring the stunning wilds of the Yorkshire and Cumbrian National Parks.
This route starts and ends in Leeds and includes key places to stop to charge up your electric car. With EV ranges expanding thanks to advances in battery technology, you can comfortably complete this route in most EV models, with the total cost of charging coming in at around just £20!
For the hikers, ramblers and campers looking to connect with nature, the Tesla Model 3 has 23 cubic feet of space thanks to its extra frunk (front trunk) which is more than enough to get you there - tents, bicycles and all!
Planning a family staycation? It's easy to do with the Vauxhall Mokka-e SUV, featuring plenty of space for all the entertainment needed to keep the kids happy on the (brief) moments of downtime.
Or perhaps you're travelling solo in search of rest and relaxation, in which case consider the Renault Zoe R110 ZE50 - compact and nimble, with a refined interior, rapid charging and plenty of range to cover the distance.
Whichever vehicle you decide to use, you can find more information on it by checking out our vehicle guides section.
So, where are we going this time?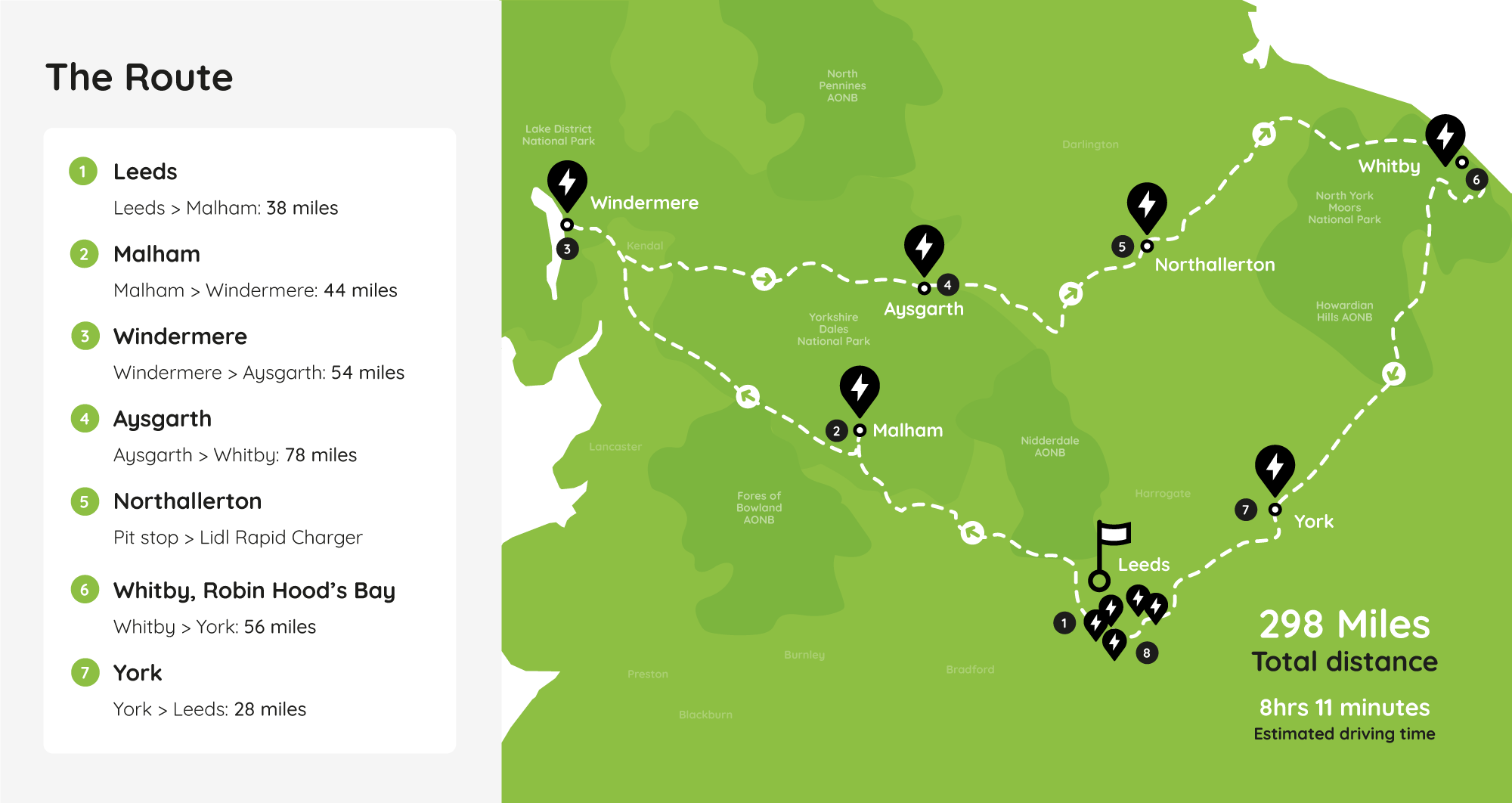 Day 1:
With your EV battery full, set off from Leeds. Your first port of call will be Malham, a small village in the Pennines. Plug into one of the 7kW chargepoints at Malham Car Park whilst you explore Malham Cove, a cliff formation in the shape of a curving amphitheatre which was featured in the film Harry Potter and The Deathly Hallows.
After a couple of hours here, your battery should be full again, so head towards the market town of Settle. Be sure to stop here for a spot of traditional Yorkshire lunch at one of its many cosy cafés and tea rooms. If your car needs it (or if you plan on doing some upcoming hiking), you can take advantage of a top-up charge at the Sainsbury's in Kendal and stock up on supplies.
Close out your first day of adventure and recharge yourselves and your car by staying at the Windermere Manor Hotel.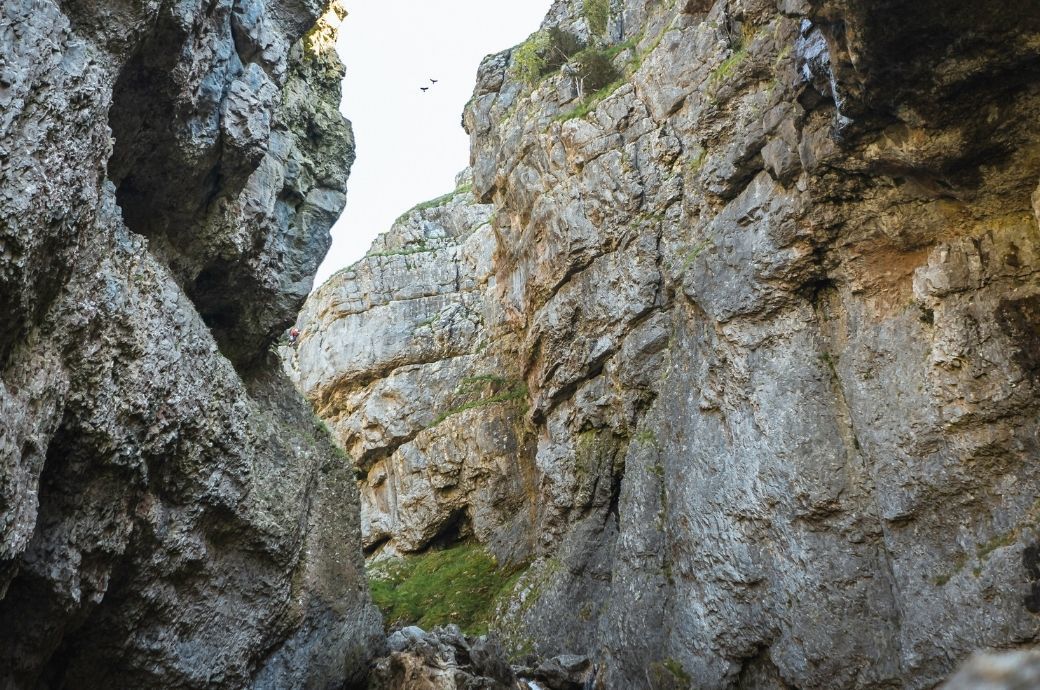 Day 2:
Using the hotel (and its 7kW chargepoints) as a base, you can easily spend an extra day (or more) exploring everything that the Lake District has to offer.
The 2,362 km² region has dense forests filled with a huge variety of fascinating wildlife and numerous mountains to scale like Scafell Peak - the highest mountain in England at 3,209 ft/978m.
Or, you could take a trek around any one of the region's giant lakes, of which there are 16 in total - or are there? Only one, Bassenthwaite Lake, has the word 'lake' in its name; all the others are waters, meres or tarns!
Either way, you'll be spoilt for choice.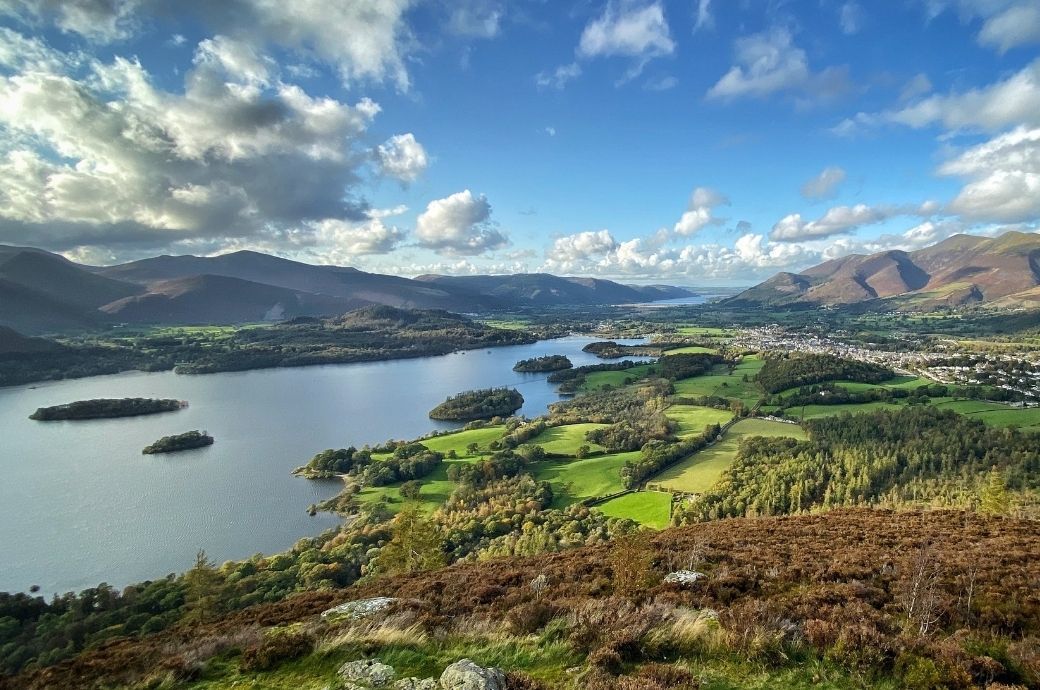 Day 3:
Once you've had your fill of the beautiful sights of the Lake District, it's time to move on. You'll be travelling far to the east on this next day of travel, but your EV should be fully charged and raring to go. Retrace your steps to Kendal and then follow the A684 towards the Wensleydale village of Aysgarth.
Plug into one of the 7kW chargepoints at the National Park Centre and take a look at the one-mile rapids of Aysgarth Falls. After enjoying meals made of locally-sourced ingredients at the nearby Coppice Café, and with a full battery, continue on to Masham to see more of the River Ure or a round of nature spotting at Marfield Wetlands.
When you're ready, continue towards Whitby. This is the longest stretch of the journey at around 74 miles, but it's still doable for most EVs. The route takes you through Northallerton village which has a Lidl offering 22kW and 50kW chargepoints for a quick top-up-while-you-shop on the way.
Eventually you will reach Whitby, with nearby Aldi offering 7kW charging whilst you explore Robin Hood's Bay and stunning Yorkshire coastline. For more chargepoint options, consider going a bit further along the route to Scarborough where you'll have your choice of 7kW chargepoints at Tesco or rapid 43-50kW charging at Lidl.
Day 4:
Once you've had your fill of Yorkshire's beautiful coast and North York Moors National Park, it's time to head home, but not before a stop-over at York. Park up at Peel Street Car Park and enjoy a 7kW charge whilst you explore all the historic city has to offer.
A vibrant and quirky city built by the Romans and captured by the Vikings, York takes you back in time with its timber-framed houses and York Minster, one of Northern Europe's largest Gothic cathedrals.
There's a staggering amount to do and see in York, and you can do it all whilst letting your car charge. When you're ready to leave, your EV's battery will have plenty of juice to get you home.
---
If you've been on a long road trip anywhere in the UK in your EV we'd love to hear about it, so let us know on Facebook, Twitter and Instagram!