New Tesco Chargepoints - The Details
Posted September 02, 2019 by Roseanne
The eagle-eyed among you have been spotting new Pod Point chargepoints springing up at Tesco stores throughout the land, as part of the Tesco and VW partnership.
We're pleased to be able to answer some of your questions, and while we can't share all the details just yet, more will be revealed in the coming months.
Scroll down to view the live sites and FAQs.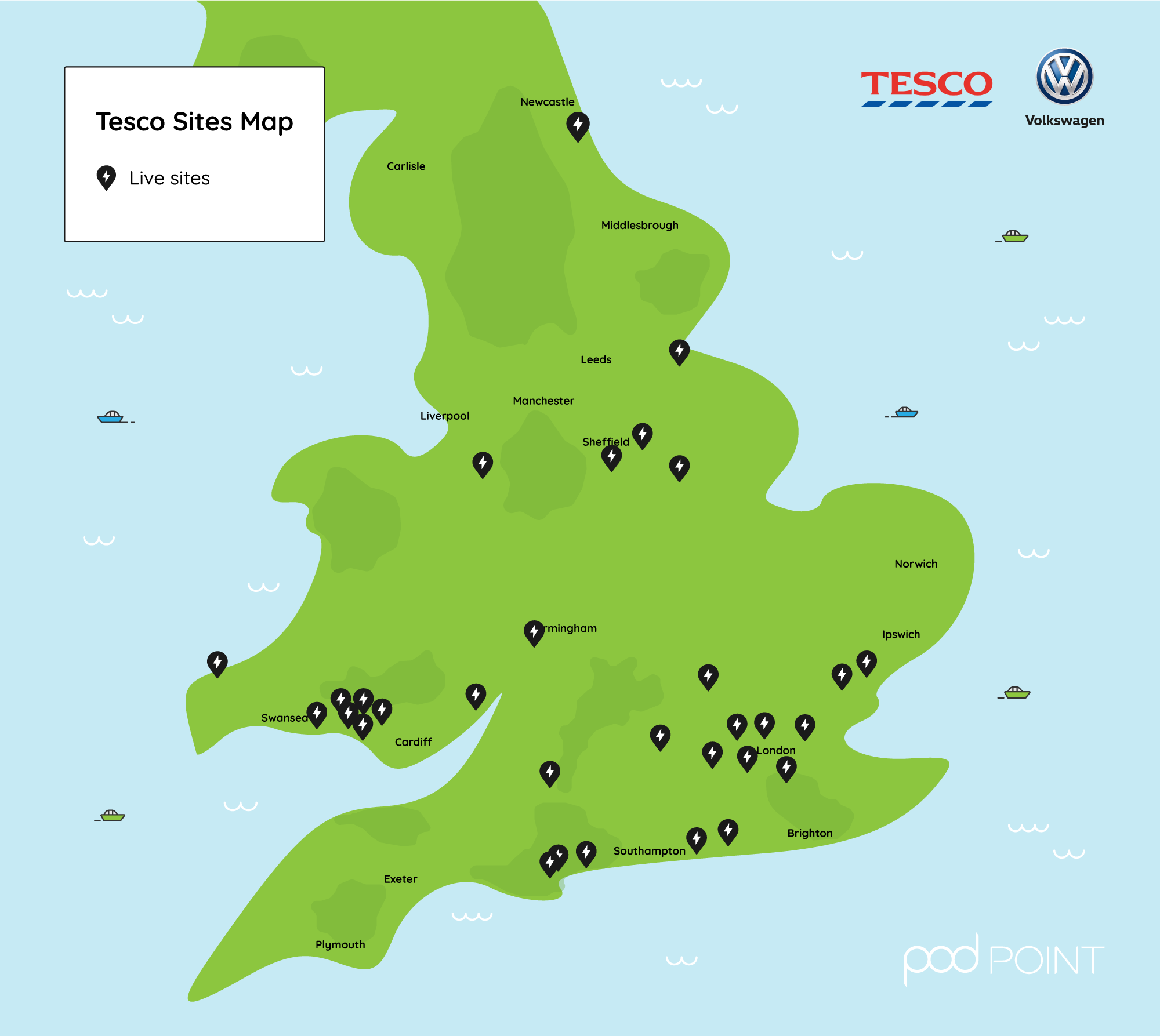 Live Sites:
---
Here's what you've been asking us:
The rollout seems to be taking a while...why is that?
This is a large-scale and complex rollout with multiple stakeholders. Each site has different requirements and varying power availability, and as such needs to be surveyed individually. We're working as fast as we can to get chargepoints in the ground. Thanks for your patience!
How have you chosen the locations?
Where possible, we're installing chargepoints in Tesco Extra and Superstore customer car parks.
Are the chargepoints just for VW drivers?
Not at all, our 7kW chargepoints are universal and compatible with all types of EV. At sites where we are able to offer DC rapid charging we will also offer 22kW AC charging for Zoe drivers.
How much will it cost to use the chargers?
Every store included in the rollout will offer free 7kW charging. Selected stores will also offer 'rapid' - 50kW - DC charging, which will be priced at competitive rates. These stores will also offer 22kW AC charging.
Will they offer a contactless payment option?
Our 7kW chargepoints are available at no cost to drivers. Drivers simply need to download the Pod Point app, plug-in and confirm their charge. All of our rapid chargers will have a contactless payment option and will be competitively priced.
Where will the rapid chargers be installed?
Rapid charger locations will be selected based on technical survey results. We'll update you on the locations for these as soon as we can, so watch this space.
What about rapid charging for Renault Zoes?
At sites where we are able to offer DC rapid charging we will also offer 22kW AC charging for Zoe drivers.
Where does the electricity for the charging come from?
The electricity used to charge EVs at Tesco comes from renewable sources. In 2017 Tesco were the first company to announce verified science-based carbon reduction targets aligned to 1.5 degrees and joined the RE100 campaign. You can read more about Tesco's sustainability commitments here.
---
We'll share more details as soon as we can. Until then, please keep sharing all your great charging pics!
Got soaked making this video! ☔️

Well done @Pod_Point and @Tesco!

Excellent new chargers installed at my local Extra store. Great signage too, plus they're free! Check out the fancy chargers with big screens. They're new to me. pic.twitter.com/yG1r2pmmmS

— EV News Daily ⚡️ (@EVNewsDaily) August 16, 2019
I saw your tweet only a few days ago & happen to drop into same charger (nearly 300 miles from home!)
The big screen really draws attention of shoppers who aren't #EV savvy, can't believe I'm going to say this, but....
Well done VW (+ Tesco)
Really positive progress 👍👍⚡🚗 pic.twitter.com/lPGfJdFjZa

— Andrew Winter (@bbwonder) August 17, 2019
@Pod_Point Great charge at new podpoints Tesco Pitsea. pic.twitter.com/ici4R0pX31

— G8GRL kim (@wwwk1mcouk) August 30, 2019
---
To stay up to date with the latest chargepoint additions from Pod Point, follow us on Facebook, Twitter & Instagram for all the latest updates on new chargepoints and more.