EV Road Trippin' | UK: London to Land's End
Posted by David: Jan 05, 2022 • 5 min read
It's a new year, and what better way to kick off 2022 than with another exciting road trip in an electric vehicle.
Is it possible to do a long road trip in an electric car? Absolutely!
Our previous EV road trip took you across three of England's best National Parks. This time around, we're escaping the hustle and bustle of London and heading west down the Atlantic Highway to coastal Cornwall.
---
Dydh da, Kernow!
Whether you're seeking tranquil landscapes and the roar of the ocean or traditional Cornish cuisine, this 5 day trip has you covered!
Depending on where you start and end, the whole trip will be around 645 miles - and yes, contrary to popular belief, most EVs on the market can (with stops to recharge) comfortably handle a journey of this length.
That's because EV battery range has expanded significantly over recent years, and the longest stretch of this route comes in at around just 89 miles. So say goodbye to any range anxiety you might have and enjoy the extra £s you'll save by charging your EV compared to similar ICE vehicles.
Solo traveller looking to take some perfect pictures of the sunsets over the sea? You'll easily manage in the Fiat 500e which has plenty of range and storage space for your camera equipment.
Looking to ride some of the best surfing waves in the UK? Pop your surfboards and gear on the spacious and sturdy Hyundai KONA Electric for an eco-friendly drive to some of the world's most popular surfing beaches.
For those with refined tastes seeking luxury and comfort, Jaguar's I-PACE - their first all-electric vehicle - provides all the elegance, sophistication and thrills you could ever ask for.
These are just some examples of cars that would be perfect for the above scenarios, but if you're following our route for another reason, you'll be sure to find the right car for the job with our extensive library of vehicle guides.
Let's take a look at the itinerary for this trip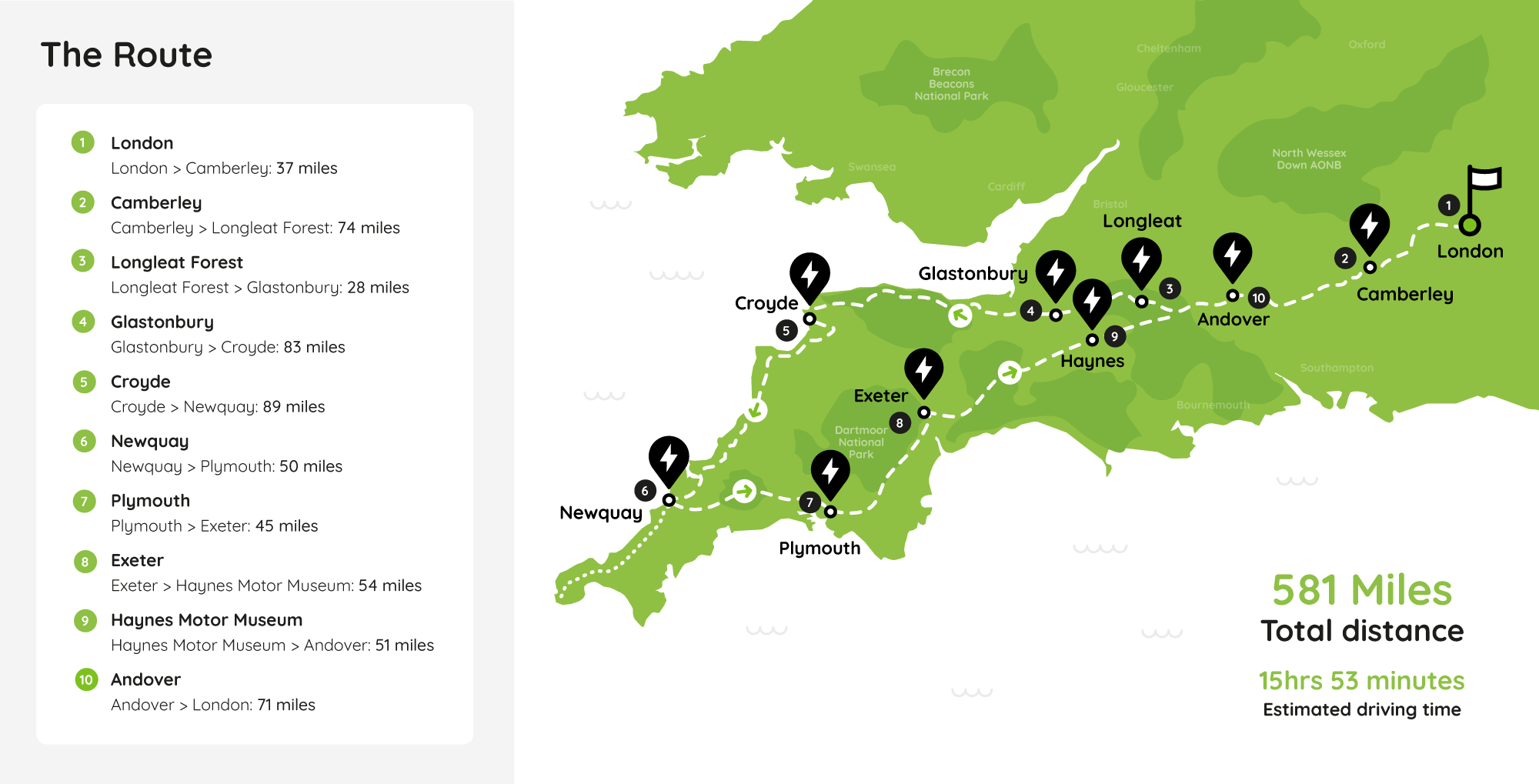 Day 1:
The first part of the route takes us onto the M3 via the M25. Depending on your EV's range and starting location, you may want to stop somewhere near the motorway for a quick top-up and snacks, such as the Tesco at Bulls Bridge in Southall. Or, if it can last a little longer out of London, another option further along is the Lidl at Blackwater, Camberley, which offers 22-50kW charging.
Your first stop will be the Center Parcs in Longleat Forest, which features plenty of activities and fun for all the family across 400 acres. Better yet, let your EV charge whilst you spend a night (or more) exploring the ancient woodlands or soaking in the spa.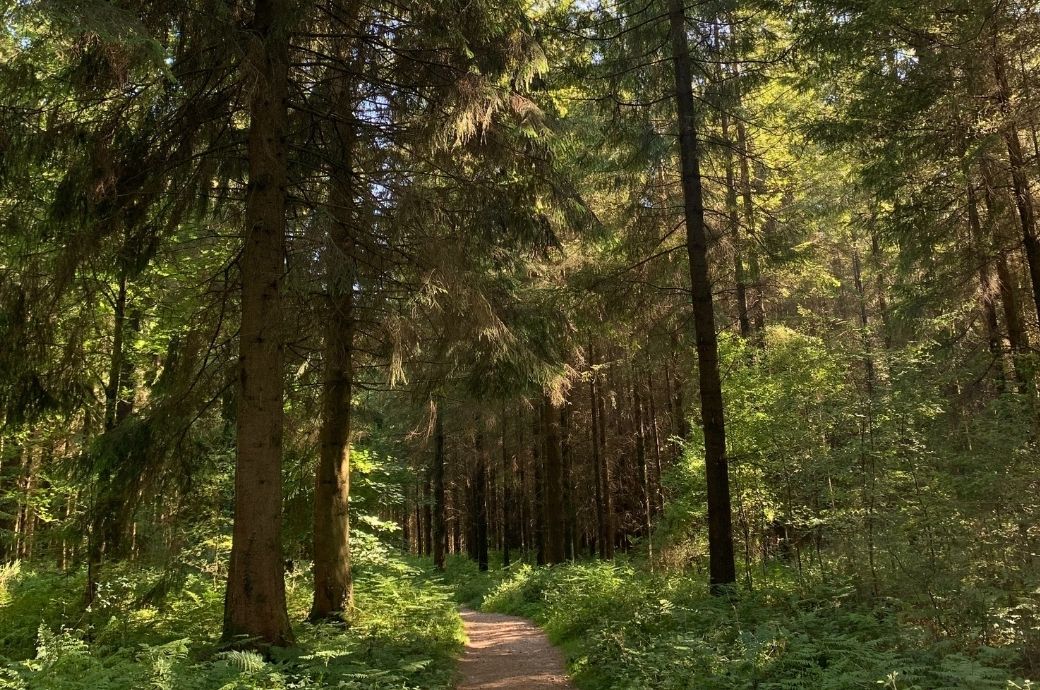 Day 2:
After some monkeying around, it's time to leave Longleat and prepare for a long day. Your next stop will be mystical Glastonbury. Park up at Tesco and enjoy a 7kW charge (don't forget the sunscreen!) whilst you spend a couple of hours discovering the many myths and legends of the town.
From here, you'll finally make your way onto the glorious Atlantic Highway route where you'll traverse the very best that Cornwall has to offer. Head to Croyde and charge your EV battery at the Baggy Point National Trust site as you take in the stunning sights of North Devon's coastline, including sandy Saunton beach.
With your car nicely charged, it's time to head to Newquay. As the home of surfing in the UK, Newquay is an excellent place to spend a night or two and enjoy its golden beach and the roaring of the waves.
Guests of the Headland Hotel and Trevella Holiday Park in Newquay can use their 7kW chargepoints to top-up their vehicle overnight.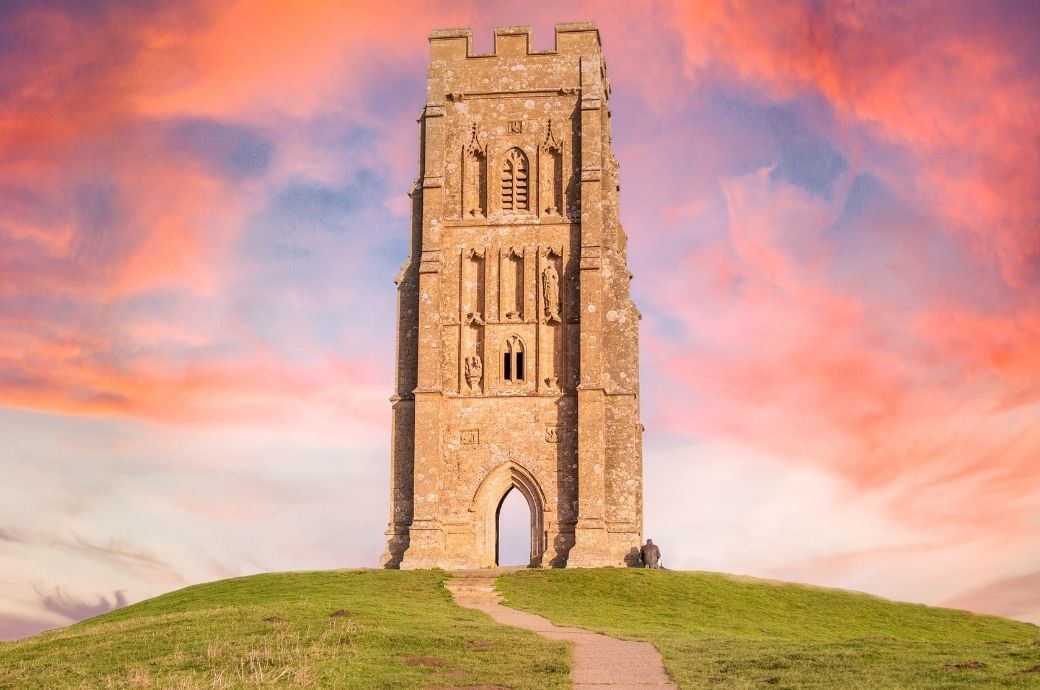 Day 3:
Using Newquay as a base, it's time to visit England's most westerly point. Steeped in myths and legends, Land's End has plenty to do for families and travellers alike. Be aware that there are no chargepoints here, so be sure to have a full battery before you set off for the 85-mile round trip.
It's also well worth visiting the world famous Eden Project which is a short trip (approx. 1hr 15 mins there and back) from Newquay. An incredible place filled with tropical gardens housed in biodomes, the Eden Project gives visitors the chance to learn more about possible sustainable futures.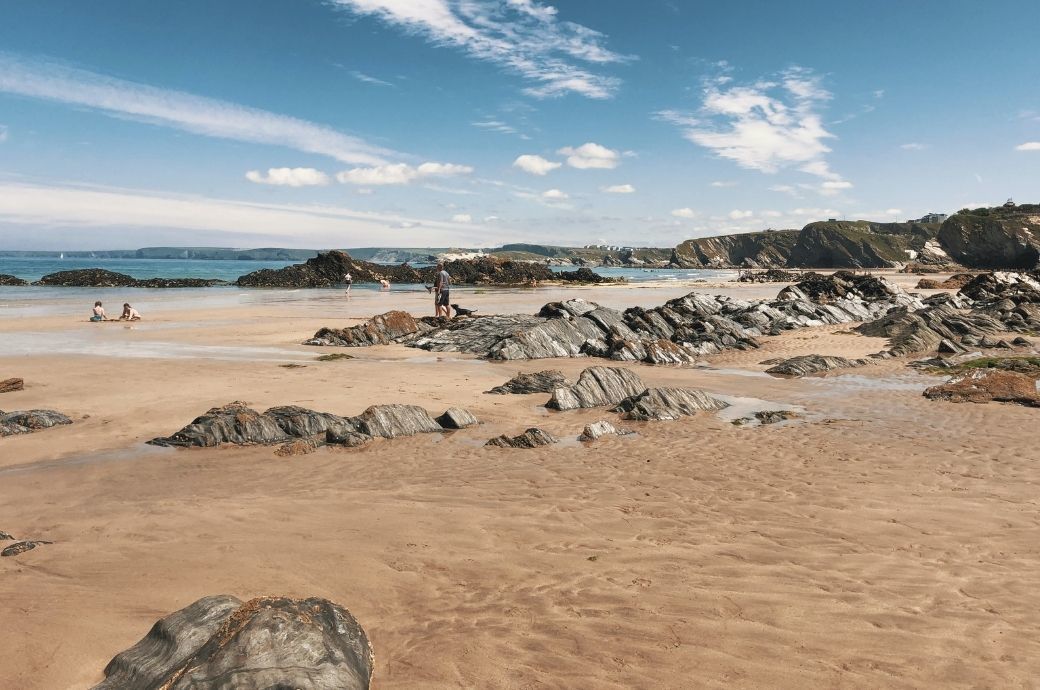 Day 4:
Once you've indulged in the proper Cornish experience it's time to start the return trip home. Head towards the maritime port city of Plymouth and explore its cobbled streets, then grab a 50kW charge at nearby Lidl on the way to your next stop: Exeter.
A vibrant Roman city, there are many chargepoints available close to the city centre. There's plenty to see and do here if you fancy spending a bit of time in the city, including Exeter Cathedral and the oldest hotel in Britain!
We recommend spending the night in the city and using the following day to go hiking in the nearby Dartmoor National Park.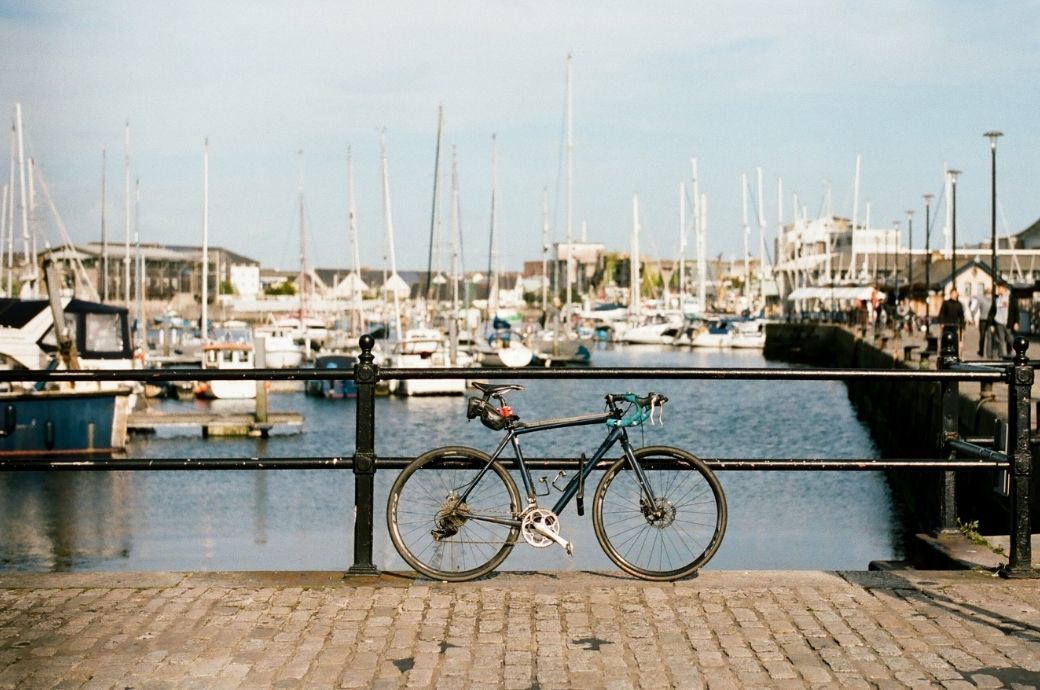 Day 5:
After one last battery charge in Exeter, you'll be homeward bound. To break up the long route home, you'll first stop at the Haynes International Motor Museum to learn about the history of motoring whilst your eco-friendly EV charges.
Then, your final stop before getting to London will be in the Hampshire market town of Andover. Park at the Tesco Extra and enjoy some lunch as you let your car recharge - and whilst you're there, stock up on some snacks for the last leg of the trip!
---
If you've been on a long road trip anywhere in the UK in your EV we'd love to hear about it, so let us know on Facebook, Twitter, LinkedIn and Instagram!