EDF: Case Study
Energy utility company spearheads the electric car revolution.

Last updated: Aug 29, 2023 • 7 min read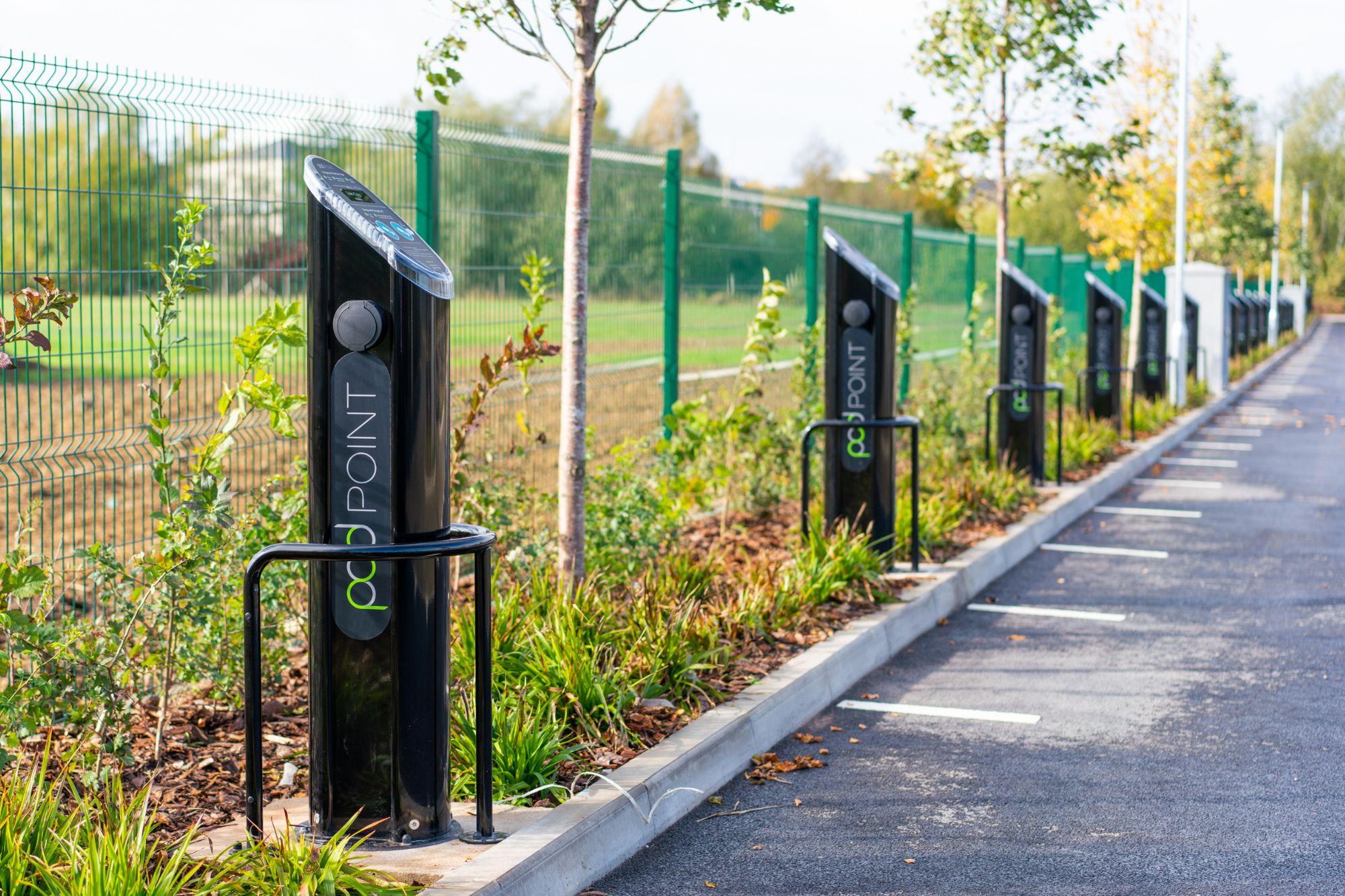 Highlights
Multinational energy supplier EDF is in the process of installing electric vehicle (EV) chargepoints across its estate as part of its commitment to the EV100 initiative.

Hundreds of charging sockets have been installed so far, provided by Pod Point, for use by EDF's employees, visitors, and operational vehicles.

More than 20 EDF locations across the UK have EV chargepoints, from local offices to power stations and depots.

Over 42,800 charging sessions recorded*.

More than 352,100 kgs of CO2 saved*, which is the same as planting over 14,000 trees.

Powered nearly 630,000 kWh*, the equivalent to running 3,315,789 kettles for 3 minutes 49 seconds.

The largest completed install to date is 113 sockets at Gloucester Business Park, which will soon be surpassed by 140 sockets installed at Sizewell B power station in Suffolk.

Sites use a mixture of Pod Point's 7kW and 22kW Solo and Twin Chargers, with installations occurring simultaneously across multiple sites in EDF's portfolio.

To overcome power supply limitations at larger sites, Pod Point's Array load balancing system was used to enable up to three times more chargepoints to be installed, avoiding costly power upgrades where possible.
EDF uses Pod Point's back-office Site Management Service to set customised tariffs, control access with user groups, and use dashboards to monitor charging activity across all its sites.

*As of 23/02/2023
Project Overview

---
EDF is a specialist provider of electric generation and distribution headquartered in Paris, France. Their British subsidiary is Britain's biggest generator of zero carbon electricity, generating low carbon electricity across five nuclear power stations and over thirty onshore wind farms.
To help the UK reduce emissions and achieve its Net Zero by 2050 commitment, EDF is investing significantly in low-carbon energy alternatives. As part of this, EDF joined EV100 in 2018, a global coalition of companies that have publicly committed to switch their fleets to EVs by 2030.
In 2020, EDF acquired a majority stake in Pod Point, allowing Pod Point to accelerate its national rollout of EV chargepoints. At the same time, the investment gave EDF the support needed to lead the global transition to a cleaner, low-emissions electric future by providing EV charging for its employees and fleet of vehicles across its estate.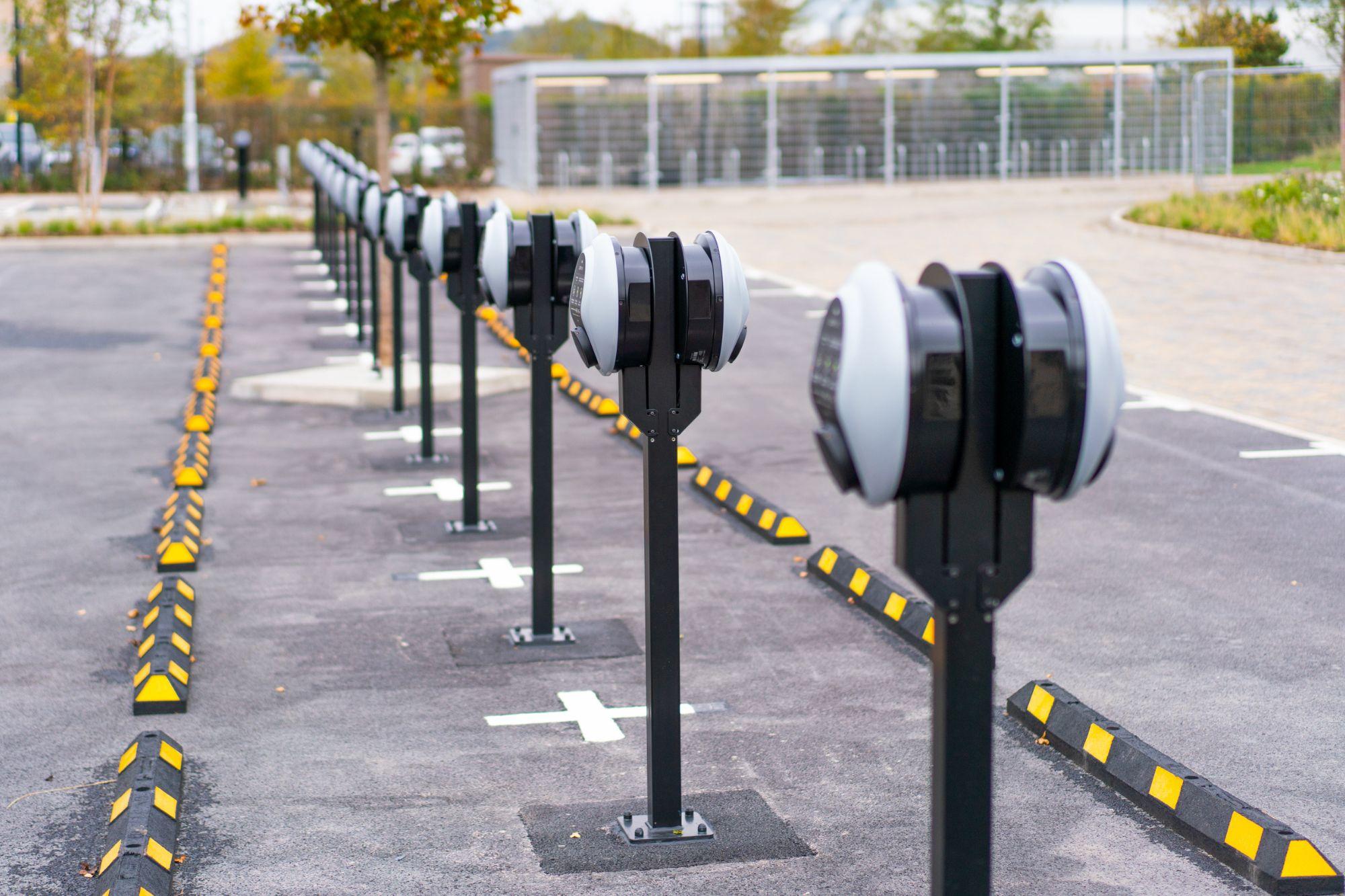 Challenges
---
As industry leaders at the forefront of developing innovative solutions to producing clean energy, EVs naturally form a key part of EDF's strategy.

However, being a national operator with a large and varied estate of sites, and given their commitment to EV100, EDF needed an electric car charging solution for workplaces that allowed them to provide employee and fleet charging at scale.
This includes:

Nuclear power stations such as Sizewell B and Torness

Local EDF offices

Depots
As a result, one of the main challenges EDF faced was the significant variation across its estate in terms of what's required in relation to civil works, cabling length and size, and power supply requirements.
For example, some installations involved just one or two chargepoints, in which cases there were few personnel needed to manage and complete the project.
However, other sites involved dozens or even hundreds of chargepoint installations. These instances were significantly more complex in terms of scale, and required a substantial amount of stakeholder management across multiple teams of contractors, site managers, and project managers.
The other challenge was that installations needed to take place simultaneously across multiple locations. As many as five sites would be progressing at the same time, with installations also sometimes overlapping.
Work occasionally needed to be done out of hours, which required commitment from Pod Point's engineers to work some weekends to ensure projects would complete on time.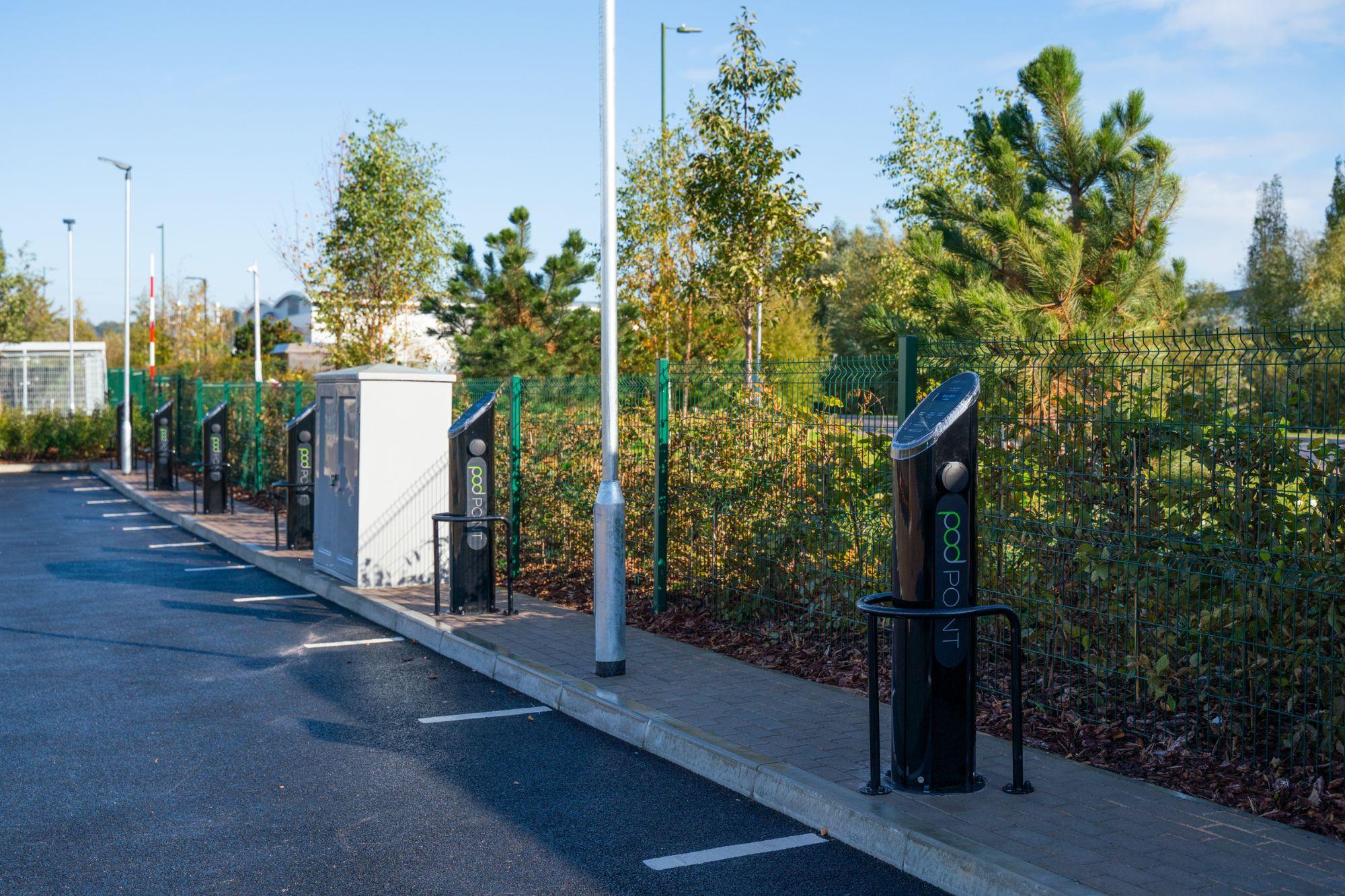 The Solution
---
Pod Point's close partnership with EDF and proven track record of delivering large-scale infrastructure projects meant EDF could safely deliver on, and even exceed, its EV100 pledge.
In principle, the concept from site to site was similar as EDF would typically install Pod Point Solo and/or Twin Chargers. Most of these would be 7kWs, with a few providing faster 22kW charges when needed. EDF also utilised Pod Point's Dual Authenticating RFID chargers to support their operational fleets, allowing the RFID cards to be used as if they were a fuel card. Most installations include some RFID enabled Twin Chargers.
Additionally, EDF utilised and configured Pod Point's Site Management Service in the same way every time. Using this, EDF was able to:
1. Get an overview of its charging network across all of its sites
Using the platform, EDF was able to set different access groups for employees, visitors, and their operational vehicles.

2. Set custom tariffs for user groups

This allowed EDF to charge their employees for the electricity they used when charging, which is set at a reasonable rate for their employees whilst still allowing EDF to cover the costs of charging.

3. See usage data, costs, and emissions saved
Being able to generate custom reports on energy usage, charging costs and revenue allows EDF to make data-driven decisions when considering charging infrastructure at future sites.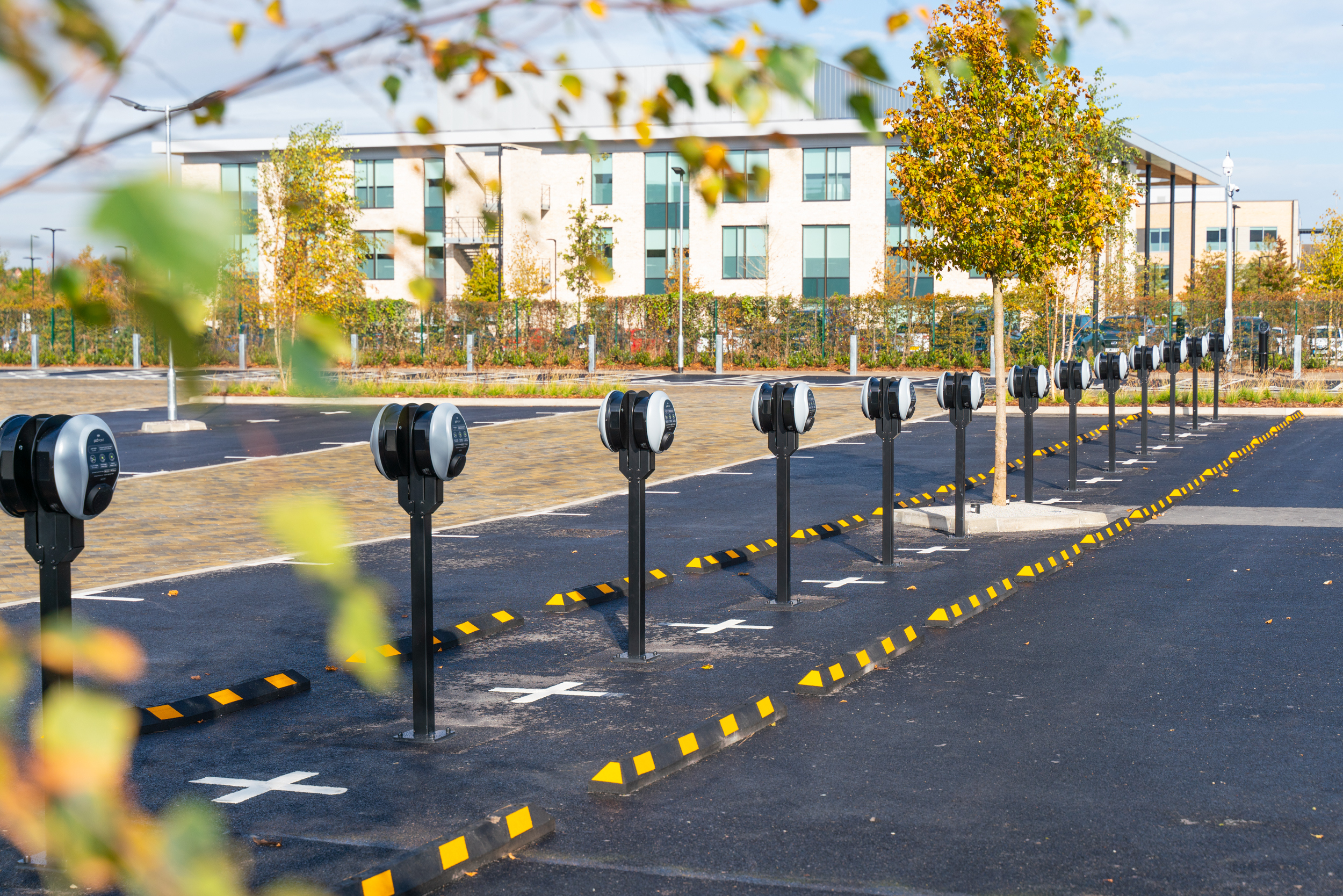 Pod Point's role
Pod Point was brought on to manage each installation, using a flexible approach depending on the needs of each individual project. In most cases, Pod Point carried out the full installation works required, including the civil works, cable routing, and installing/commissioning of the chargepoints. In other instances, Pod Point solely installed and commissioned the chargers.
For larger sites, Pod Point's Array Charging system was utilised to maximise the number of chargepoints that could be installed on the power supply
Pod Point joined weekly calls with EDF to stay aligned and discuss progress and blockers. This allowed both parties to solve any encountered issues and keep each installation moving forwards, which was especially beneficial as there were often multiple projects taking place at the same time.
For example, there were instances of some planned works being delayed due to issues. In these situations, Pod Point repurposed teams and diverted resources to other sites to allow them to progress whilst the issues at stalled locations could be resolved.

The Result
---
To date, EV charging infrastructure has been installed at over 20 EDF locations across the UK. This includes over 400 individual sockets and more than 200 chargepoints.
These chargers have a custom tariff which allows EDF to cover the costs of charging, whilst giving employees access to workplace charging at a reasonable rate.
As of 23rd February 2023, EDF's chargepoints have been used over 42,800 times, resulting in a CO2 saving of more than 352,100 kgs across their entire estate so far.
Notable projects completed or soon to complete include:

Sizewell B nuclear power station, Suffolk - at 140 sockets, this will soon be the largest installation in EDF's estate.

Torness nuclear power station, East Lothian - 50 sockets in total via a combination of Solo and Twin chargers.

Offices at Gloucester Business Park - EDF's second largest site at 113 sockets.
With an additional 150 sockets planned for the near future, EDF is making excellent progress in relation to the provision of workplace EV charging infrastructure. Aligned with the electrification of their vehicle fleet, this puts EDF well on its way to electrifying its entire fleet of vehicles by 2030.

Paul Limbrick, Fleet Transport Manager at EDF, said:
"EDF and Pod Point have been working together to Help Britain Achieve Net Zero. We have now successfully installed and commissioned over 400 Pod Point chargers at multiple EDF locations, with more installations planned for 2023.
"Electrifying our vehicle fleet and providing an electric vehicle workplace charging infrastructure go hand-in-hand. We have worked collaboratively to complete the projects to a very high standard, with minimum fuss and disruption in our car parks. Pod Point have been very diligent; from the initial survey through to commissioning each charger, the level of engagement and the quality of project delivery has been excellent.
"The Pod Point Smart Reporting system also provides an excellent view of utilisation rates, which are increasing as more and more people make the switch to ultra-low emission vehicles."