Boris leaving COP26 in a private jet is just plane silly
Posted by David: Nov 10, 2021 • 5 min read
As the COP26 agenda turns to decarbonising transport, we can't help but wonder whether the UK PM could get home in a more sustainable method of transport than a jet.
As you may already be aware, from the 31st of October to the 12th of November 2021, Glasgow is hosting the 26th UN Climate Change Conference of the Parties (COP26). It's a hugely important event that will determine the success - or failure - of the world's nations to tackle climate change.
UK Prime Minister Boris Johnson warned the other world leaders in attendance to take genuine action on reducing their nations' emissions, saying in his own words:
"Humanity has long since run down the clock on climate change. It's one minute to midnight on that doomsday clock and we need to act now."

On Wednesday the 10th, the conference's Presidency Programme will shift onto transport, focusing on discussions around transitioning to zero emission transport across the globe.
To coincide with this, there are plenty of exciting events and exhibitions scheduled at the Green Zone, which is open to the public, including a film premiere with Fully Charged and the National Grid - both former guests of the Pod Point Electric Insights Podcast.
As the UK's representative at COP26, we're sure Boris is making every effort to lead by example.
Right?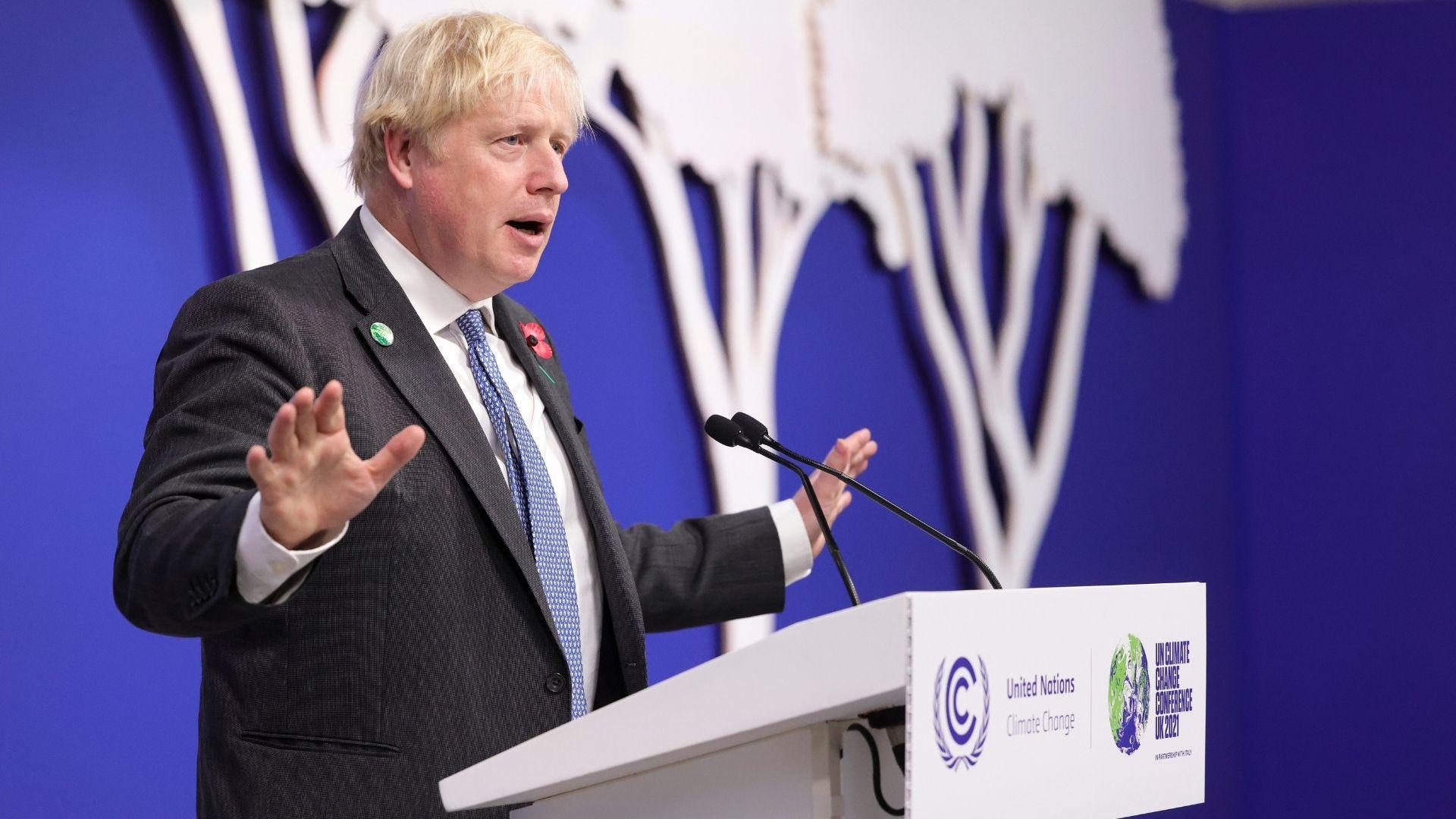 To get to COP26 the first time round, Johnson flew (somewhat understandably) by jet to Glasgow after attending the G20 of world leaders in Rome. There are, of course, other ways to travel, but hey, we'll let that one go.
However, for reasons that escape us, he elected to take the jet home as well. The move was defended by his official spokesperson, who claimed that the jet runs partly on sustainable fuels and as such emits around half the CO2 of other aircrafts.
Boris is now back in Glasgow, and we can't help but wonder whether there is a more sustainable option for him getting home this time around?
Spoiler alert: yes!
---
The EV is mightier than the jet
Even if the plane's emissions are lower compared to other aircraft, it seems a little short-sighted to return from the biggest climate conference in something like a jet. Optics, Boris, optics.
Not too long ago, Boris was pictured outside 10 Downing Street with an EV charger and an electric van, so we know he's pro-EV. We're also fairly confident, Mr Speaker, that the Right Honourable Gentleman, the Prime Minister, knows what a train is.
But how do these alternatives compare to the almighty jet? Well, let's look at some stats:
| | | |
| --- | --- | --- |
| Method of transport | Travel duration | Emissions per passenger |
| Airbus A321 | 1 hr 15 min | ~10,000 kgCO21 |
| Train | 4 hrs 30 mins | 146.5 gCO2/km2 |
| Jaguar I-PACE | 7 hrs | 39 gCO2/km3 |
| Santander Cycle | 38 hrs | 0 gCO2/km4 |
1 For the whole trip, assuming fuel requirements of ~4,000 litres. Estimates provided by a tamed commercial pilot friend of Pod Point.
2 According to ORR stats for 2020-21. Note that these figures were significantly impacted by the pandemic. For comparison, it was just 35.2 gCO2/km in 2019-20.
3 Based on our calculations for emissions from UK grid electricity usage, done by taking the average carbon intensity across the UK grid measured throughout 2020 to calculate the expected grams of CO2 emitted per 1 km driven.
4 It's a Boris bike...
So far, it's not looking good for the jet; the difference in emissions is simply staggering!
Travelling by train is certainly better, although it doesn't quite have the same flexibility as car travel. For example, you can't spontaneously leave the route in search of scenic stopping points.
And we're not (necessarily) suggesting he should have cycled home on one of his bikes - although we think it would make for some great PR!
This leaves us with the EV as the clear and clean winner, striking a balance between low emissions and convenience.
---
#BringBorisBackByBEV
So, how exactly can Boris get back from COP26 to his doorstep in an EV? Well, luckily for drivers across the UK, we've made it convenient with our national rollout of public chargepoints. On the Pod Point Network, it will be a doddle for the PM to get home in an electric car.
In fact, we've made it even easier for him by choosing the perfect car for the job and the best route. Naturally, Boris will want to travel in style, and what's more stylish than a British classic - the Jaguar I-PACE?
As for the route, don't worry; we know he's a busy man, so we've crafted a simple, direct path back to 10 Downing Street. With 292 miles of WLTP-approved range, the I-PACE will easily complete the 412-mile, ~7 hour trip with a single charge stop: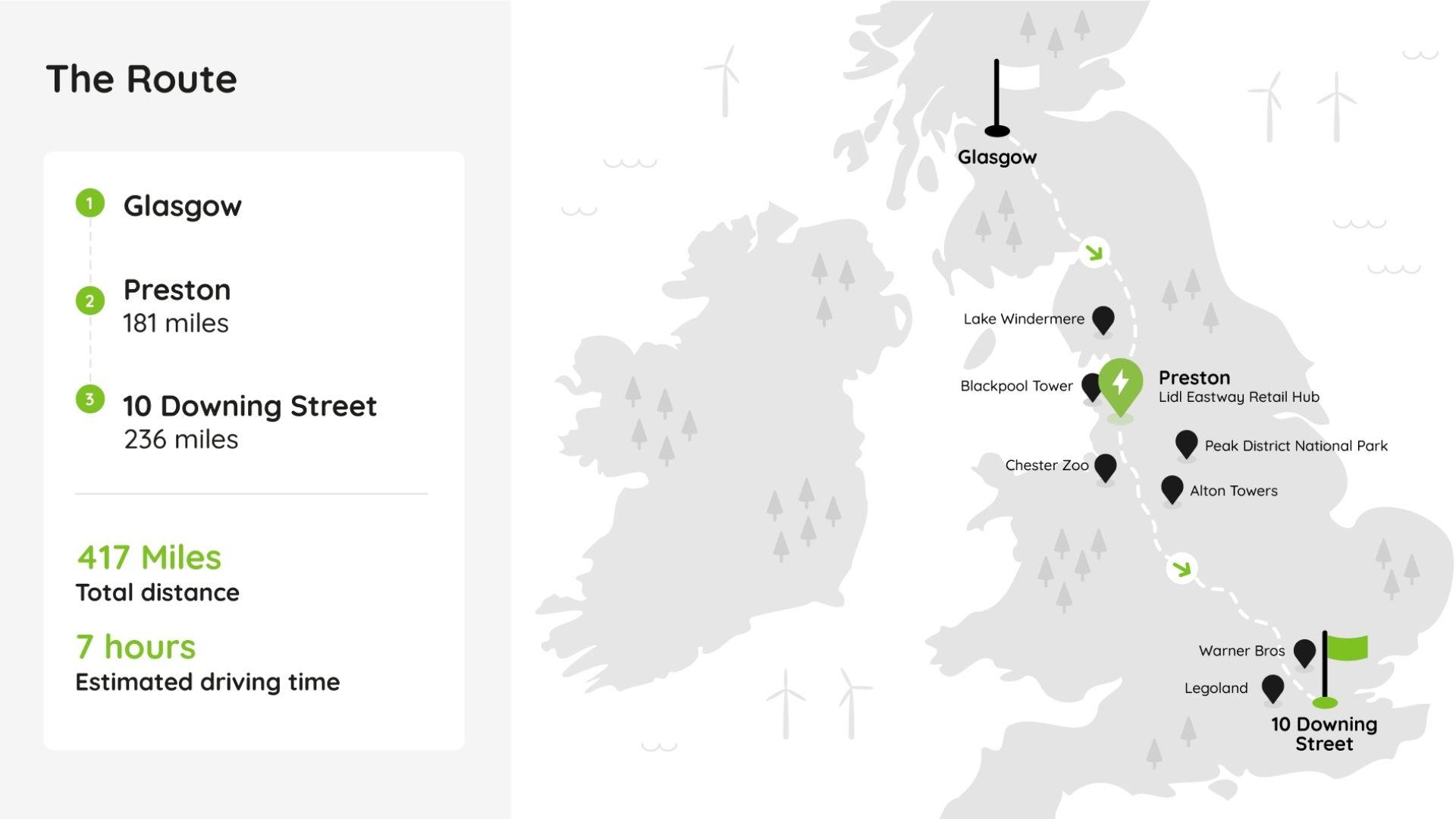 That's right - the only stop along this route is at Lidl Eastway Retail Hub, roughly 181 miles into the journey. On the 50kW rapid charger, Boris can fully charge his I-PACE in less than an hour, giving him plenty of time to buy some snacks for the journey and grab a coffee. Better yet, the charge will cost less than £15, which will keep the tax payers happy.
That said, if Boris was feeling adventurous or wanted to break up the relatively long drive, he his driver could take the scenic route home, like a road trip around Yorkshire and Cumbria's National Parks. For his convenience, we've added some excellent stopping points along the way, including some of Britain's finest sights and attractions.
To stay up to date with the latest from Pod Point, follow us on Facebook, Twitter, LinkedIn & Instagram for all the latest updates on new chargepoints and more.