EV Zones: The next level in public charging
Posted by James: Mar 19, 2019 • 3 min read
At Pod Point we try to listen to the EV driver...
...and if that driver is tweeting to us we literally have their thoughts beamed into our collective hivemind continuously. As such we can't help but notice what bothers them. Furthermore, a bunch of us are EV drivers. And we tend to live a lot of the trials and tribulations of electric motoring, though we maintain there are (already) far more privileges and outright joys!
From EV moans...
If we were to summarise the primary grievances in using public charging infrastructure they would be as follows:
Not enough charging infrastructure
Unreliable chargers - charging regularly impossible due to poor comms, hardware failure etc
Chargers that are hard to access - need to order a specific card, or obtain a difficult to use and/or poorly maintained app
Charging bays are ICE'd
Charging bays are all in use
Clearly these issues have no single fix. But bunching together some tools, we've launched a new concept to make these things easier for the EV driver.
...to EV Zones
In order to really offer a charging experience that people want, we are recommending creating dedicated "EV Zones", which will include the following features: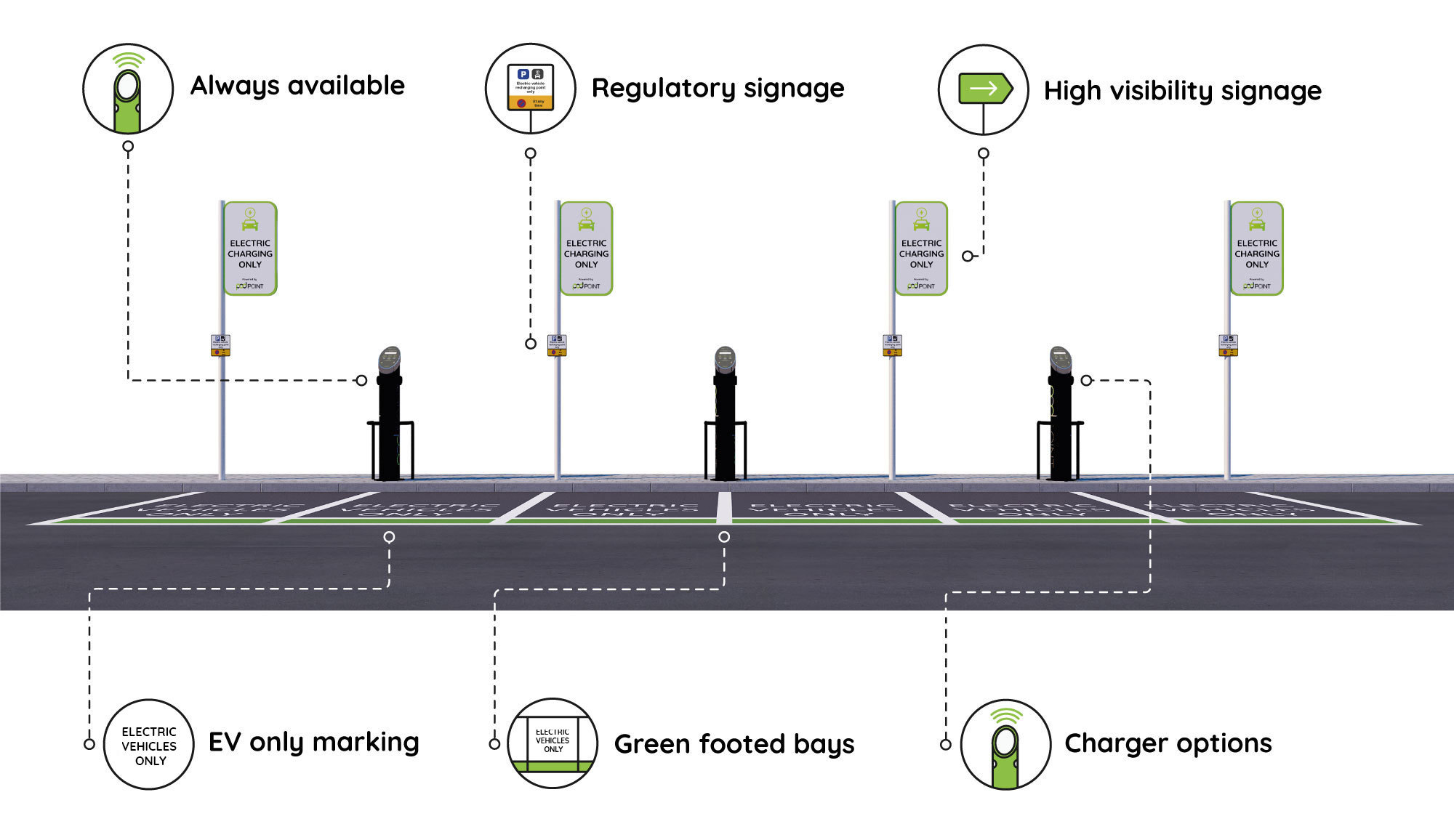 ---
---
Installing more Pod Point chargers (Solving grievances 1, 2, 3 & 4)
At least 6 Pod Points ( 6 Solos/ 3 Twins) must be installed to qualify as an EV Zone, that strong starting point makes it very likely drivers will arrive to find an available charger. That Pod Points prove to be easy to use and reliable is extremely important to us, and to that end we were buoyed by the results of last year's ZapMap poll.
Clear, unambiguous and authoritative bay marking (Solving grievance 4)
Making it obvious which bays are for your electric car (and not for their ICE car!). The green strip has a great aesthetic effect without slathering the whole place in paint, unnecessarily.
Clear signage, visible from distance (Solving grievance 4)
Again making the purpose of these bays clear, but also assisting way-finding once EVs have entered the car park, elevated signage is of great benefit.
Regulatory signage to deter ICEing and abuse (Solving grievances 4 & 5)
With the implication of legal weight, the formal signage is a more potent deterrent to ICEing and abuse.
Use of smart load balancing to maximise provision of charging points (Solving grievances 1 & 5)
Using Pod Point's smart "Array Charging" load balancing system, it is possible to fit up to three times as many charging points onto an existing supply, without the need for upgrades or de-rated chargepoint installations.
A strategic approach to placing and then scaling chargepoint provision in line with demand (Solving grievances 1, 4 & 5)
Working with our hosts to consider things like bay enforcement and optimal positioning of Pod Points, while working with Array Charging (and potentially some "passive" infrastructure provision) makes scaling the provision in future simple.
Early results are promising...
One of the first EV Zones deployed in the field is at Chester Zoo, and we've been delighted with both the utilisation level and the feedback, so far.
Eight cars charging, all in a row. The future is here @chesterzoo 👏🍃⚡️ @Pod_Point @James_McKemey @OLEVgovuk @FullyChargedDan #EV #electricvehicles #airquality pic.twitter.com/VrVcKnZptH

— Gill Nowell (@Gill_Nowell) January 26, 2019