Chester Zoo: Case Study
A parade of Pod Points joins the attractions at Chester Zoo.
Last updated: Mar 14, 2023 • 7 min read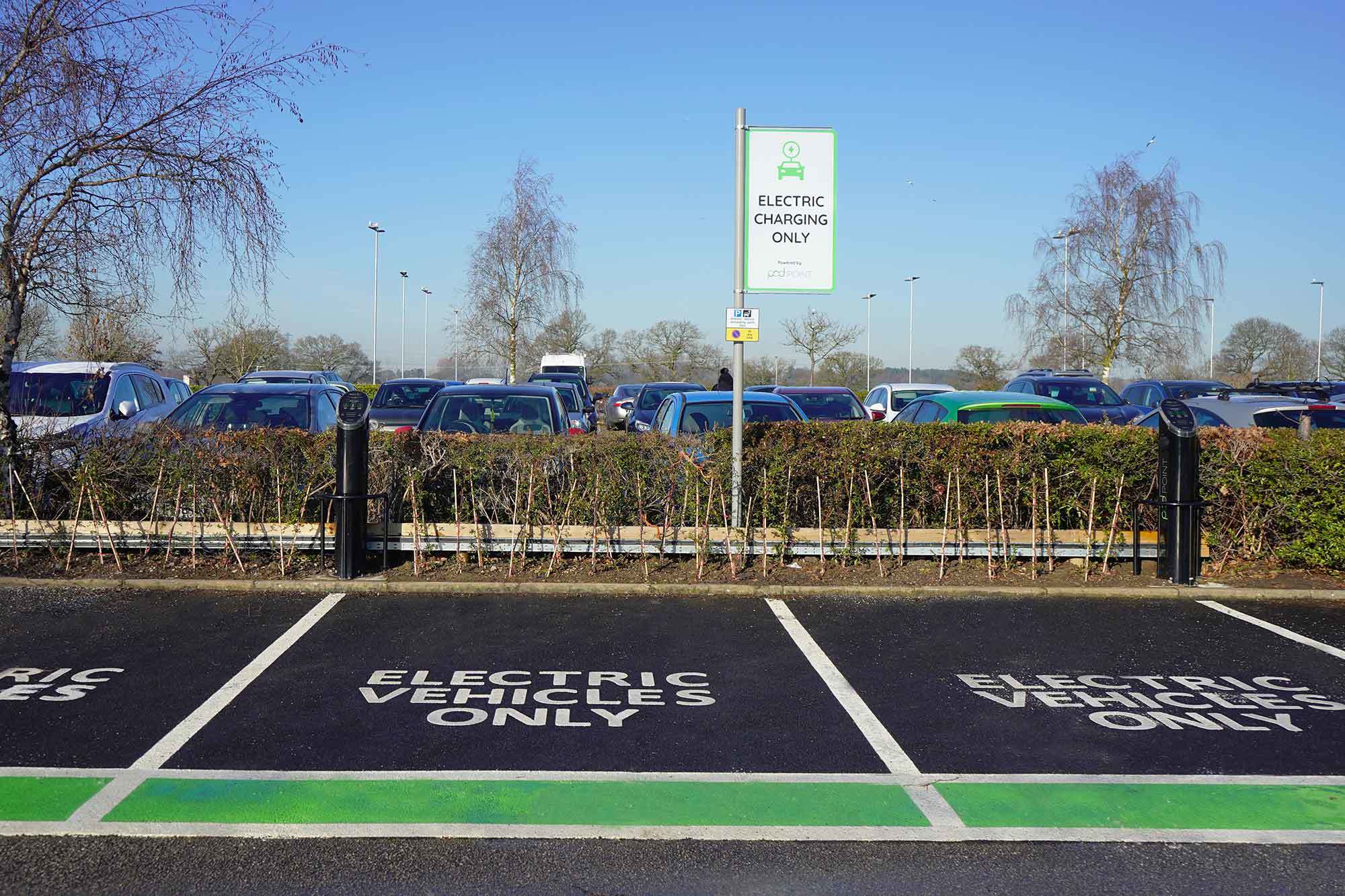 Highlights
Chester Zoo sought to install EV chargepoints in line with its environmental commitments and in response to customer demand. The zoo originally installed four Pod Point 7kW Twin chargepoints in 2018 along with the infrastructure for a further nine, which were added to the car park in 2021, giving the zoo a total of 26 individual charging sockets.

Chester Zoo approached its DNO to upgrade the car park's power capacity to a dedicated 100A, three-phase power supply.

Pod Point's Array load balancing technology was then installed to the power supply, which allowed the zoo to install up to 13x 7kW Twin Chargers, giving a total of 26 individual charging sockets.

To prevent the charging bays being obstructed by petrol or diesel vehicles, dedicated EV Zones were created in the zoo's car park, with clear signage and bay markings.

Chester Zoo uses Pod Point's back office Smart Reporting to control access to EV charging, monitor usage and have the option to set custom electricity tariffs.

Pod Point's Network Assurance team monitors the Wi-Fi connected chargepoints and remotely performs simple fixes and issues Over-the-Air updates. This reduces the need for on-site maintenance and minimises inconvenience.
As of 23rd February 2023, Chester Zoo's network has recorded over 16,650 charging sessions and saved over 95,700 kgs of dioxide emissions, further boosting the zoo's sustainability credentials.
Project Overview

---
Not content with becoming the UK's first ISO14001-accredited zoo for its commitment to green tourism, Chester Zoo claimed another industry first in May 2018 when it installed EV charging for visitors. The zoo, which attracts more than 1.9 million visitors per year, knew there was demand from customers for this service, following an increase in visitor requests and the growth of EV drivers on UK roads.
Chester Zoo sought to install the EV chargepoints in two phases, starting with four Twin 7kW chargers, which provide an average of around 30 miles of charge per hour. It planned to add to this provision at a later stage, when utilisation of the chargepoints reaches a certain level, by installing a further four Twin 7kW chargepoints.
However, the zoo quickly realised it didn't have enough charging spaces to meet demand. As a popular destination in a remote location, people regularly travel long distances to visit the zoo, which means having charging on-site was critical.
This was further compounded by the zoo finding that many EV drivers were using its chargers without actually visiting the zoo, which meant long-distance zoo visitors would arrive only to find they were unable to charge their cars ready for the return journey.
As a result, the zoo came back to Pod Point and requested a further nine Twin chargers be installed. This was made possible by the Array controller at the car park, which allowed for up to 13 Twin chargers to be connected on a 100A, three-phase power supply, of which four had been installed so far.
Finally, Chester Zoo wanted to ensure the chargepoints did not get blocked by non-EV drivers. It wanted Pod Point's advice on appropriate signage, along with a location for the chargepoints that would minimise the risk of them being obstructed by non-EV drivers.

Challenges
---
The biggest challenge for Chester Zoo was the limited existing electricity supply to the car park. The site did not have capacity to power the initial four Twin charging points without a major upgrade, not to mention the further four Twin chargepoints it planned to add in phase two of the installation.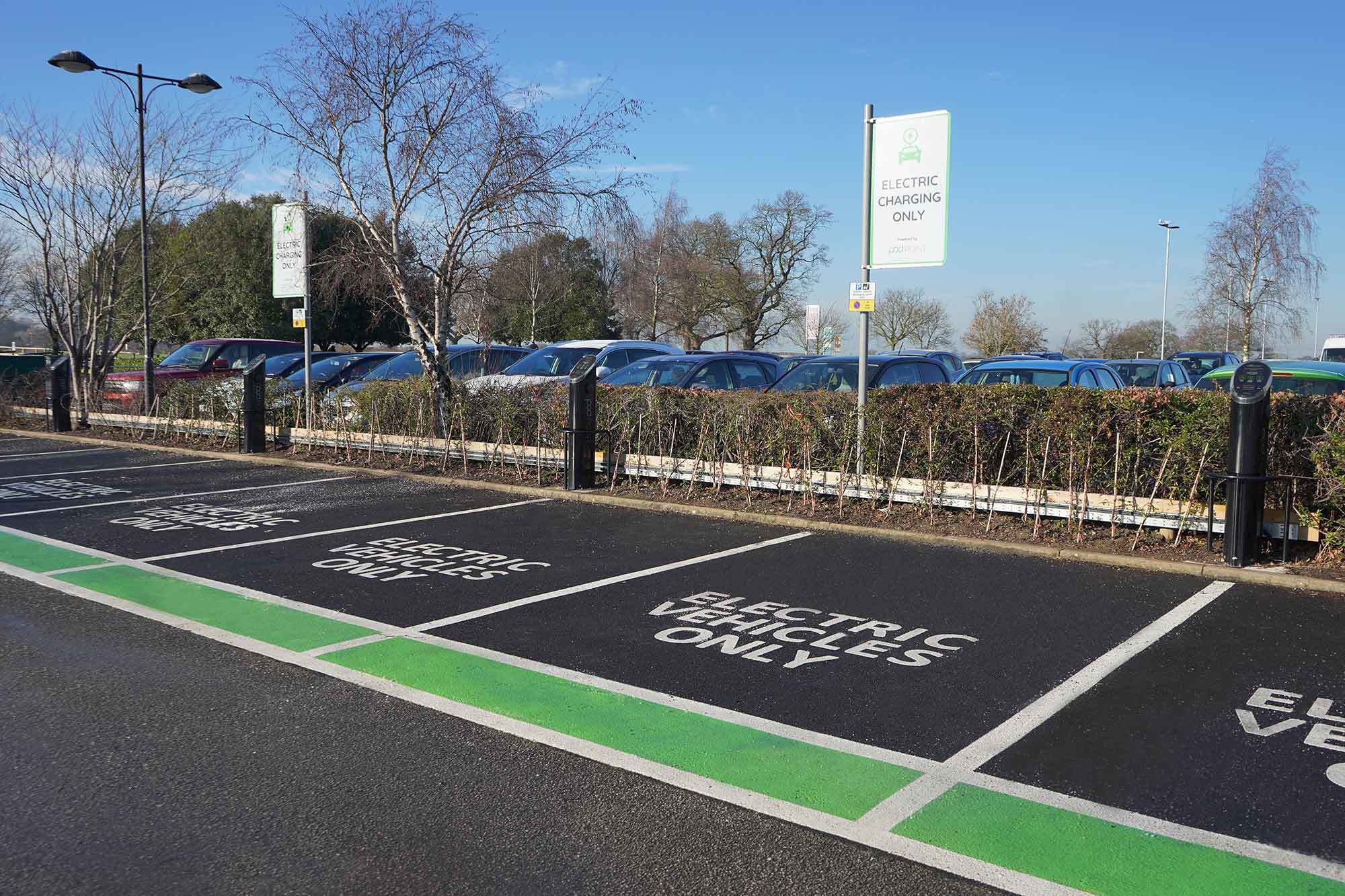 The Solution
---
Pod Point, which offers a fully managed service from initial consultation through to surveying, installation and maintenance, was able to overcome the challenge of limited power supply using its Array load balancing system.
Before this could be installed, Chester Zoo first had to go back to their Distribution Network Operator (DNO) who manages their electricity supply and upgrade the car park with a new 100A, three-phase power supply.
With this in place, Pod Point was then able to install the Array controller. The system distributes the available power across each chargepoint, ensuring that the electricity capacity is never exceeded. In this way, it enables up to three times more chargepoints to be installed using the same power availability. An added benefit of Array is that it reduces the complexity of electric vehicle chargepoint installations and cuts down the amount of cabling required.
Using the Array system, Pod Point was able to install the initial four Twin chargepoints required and put the infrastructure in place for the remaining nine Twins. Installing the infrastructure in advance reduces future costs by removing the need for further site surveys. It also minimises inconvenience by avoiding the need for additional groundworks. Because of this, the remaining nine Twin chargepoints were installed in just 10 days.
To prevent the parking bays being occupied by petrol or diesel drivers, Pod Point worked closely with Chester Zoo to design and create a dedicated EV Zone, with painted bays and clear signage notifying visitors that the parking spaces were for EV drivers only.

The Result
---
Four Twin chargers were initially installed, with a further nine added later to the carpark in 2021, giving Chester Zoo a total of 26 individual charging sockets.

The installation of the second round of nine chargers was completed within 10 days because the infrastructure for the maximum 13 chargepoints was put in place when the Array controller was installed.

Following the positive response from its visitors, Chester Zoo is already considering adding another Array controller and exploring the option to generate profit by charging on a kWh basis, which would give the zoo a new income stream.

Chester Zoo's chargers have been used over 16,650 times, saving nearly 96,000 kgs of dioxide emissions as of 23rd February 2023.

Drivers have praised the clearly marked and signed EV Zone, which has meant the bays are seldom blocked by non-charging drivers. This helps enhance the customer experience both as they arrive at Chester Zoo and when they drive away in their powered up EV.
Furthermore, Pod Point's chargepoints are internet enabled, either via Wi-Fi or 3G, which means its in-house network assurance team is able to troubleshoot many problems remotely, often before clients are aware of any issues. Problems can be resolved more efficiently, compared with 'dumb' chargepoints, as the need for on-site maintenance is reduced.
Using Pod Point's back office Smart Reporting, Chester Zoo can set custom tariffs and monitor usage of the chargepoints. When utilisation of the chargepoints reaches a certain level, Chester Zoo will begin phase two and increase provision for EV drivers.
Carl Askew, Head of Facilities, Infrastructure and Projects at Chester Zoo, said:
"Chester Zoo is a global conservation charity, fighting to prevent the extinction of wildlife here in the UK and around the world. Climate change is one of the many threats to biodiversity on Earth. As well as carrying out field work in more than 30 countries and delivering conservation breeding, education and scientific research right here in Chester, we're also committed to helping our visitors take action for the planet. This is one of the ways we can do that.
"We've had an enormous amount of positive feedback from electric vehicle drivers about our Pod Point provision. We've now got 26 charging points and when our visitors charge their cars at the zoo, they're helping us to invest in more charging points in the future and to reach our ambitions of being an even more sustainable zoo."
Learn more about the solutions used by Chester Zoo: