Chester Zoo: Case Study
A parade of Pod Points joins the attractions at Chester Zoo.
Last updated: Oct 21, 2022 • 5 min read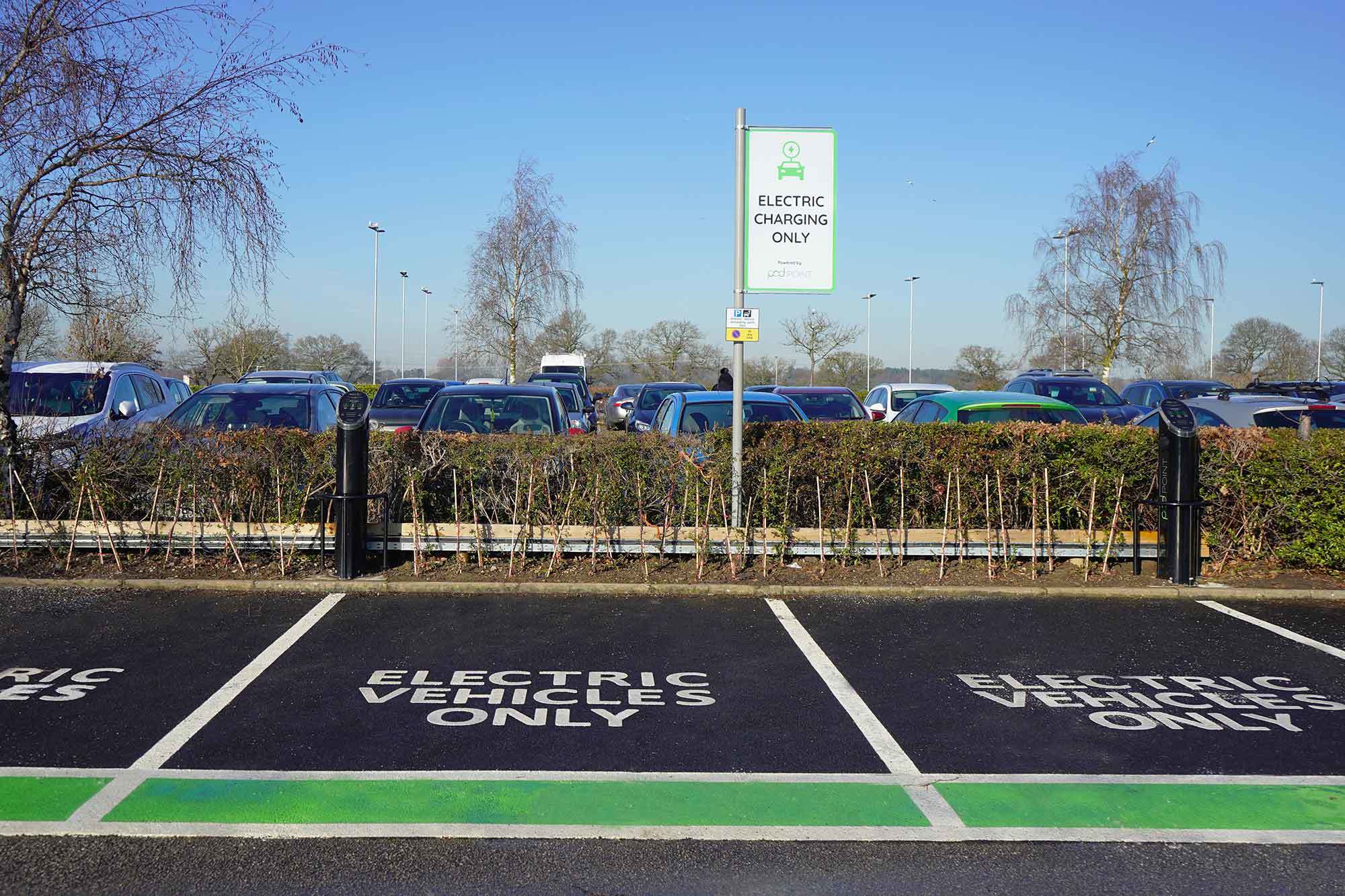 Highlights
Chester Zoo sought to install EV chargepoints in line with its environmental commitments and in response to customer demand. The zoo installed four Pod Point 7kW twin chargepoints along with the infrastructure for a further eight bays.

The installation of Pod Point's Array load balancing technology has helped overcome the car park's limited power, enabling up to three times more chargepoints to be installed without costly power supply upgrades.
To prevent the charging bays being obstructed by petrol or diesel vehicles, a dedicated EV Zone has been created in the zoo's car park, with clear signage and bay markings.
Chester Zoo is using Pod Point's back office Smart Reporting to control access to EV charging, monitor usage and have the option to set custom electricity tariffs.
Pod Point's network assurance team can monitor the Wi-Fi connected chargepoints and remotely perform simple fixes and issue over the air updates. This reduces the need for on-site maintenance and minimises inconvenience.
The chargepoints were used over 700 times in the six months following their installation, saving almost 600 kgs of carbon dioxide emissions and further boosting the zoo's sustainability credentials.
Project Overview

---
Not content with becoming the UK's first ISO14001-accredited zoo for its commitment to green tourism, Chester Zoo claimed another industry first in May 2018, when it installed EV charging for visitors. The zoo, which attracts more than 1.9 million visitors per year, knew there was demand from customers for this service, following an increase in visitor requests and the growth of EV drivers on UK roads.
Chester Zoo sought to install the EV chargepoints in two phases, starting with four twin 7kW units, which provide an average of around 30 miles of charge per hour. It planned to add to this provision at a later stage, when utilisation of the chargepoints reaches a certain level, by installing a further four twin 7kW chargepoints.
Finally, Chester Zoo wanted to ensure the chargepoints did not get blocked by non-EV drivers. It wanted Pod Point's advice on appropriate signage, along with a location for the chargepoints that would minimise chargepoints that would minimise the risk of them being obstructed by non-EV drivers.
Challenges
---
The biggest challenge for Chester Zoo was the limited existing electricity supply to the car park. The site did not have capacity to power the initial eight charging points without a major upgrade, not to mention the further eight chargepoints it planned to add in phase two of the installation.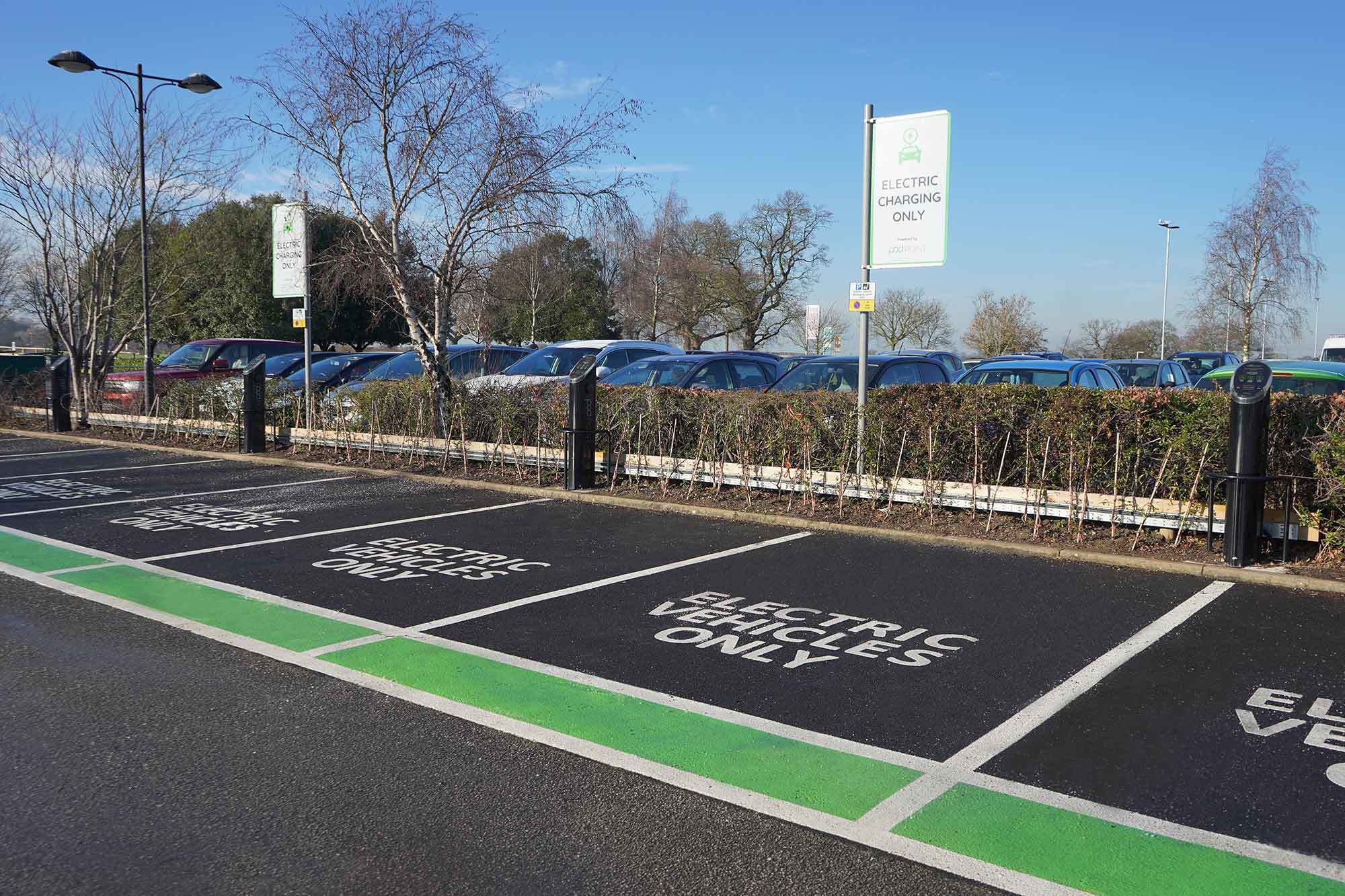 The Solution
---
Pod Point, which offers a fully managed service from initial consultation through to surveying, installation and maintenance, was able to overcome the challenge of limited power supply using its Array load balancing system.
The system distributes the available power across each chargepoint, ensuring that the electricity capacity is never exceeded. In this way, it enables up to three times more chargepoints to be installed using the same power availability, avoiding the need for costly infrastructure upgrades.
Using the Array system, Pod Point was able to install the initial four chargepoints required and put the infrastructure in place for the remaining eight bays. Installing the infrastructure in advance reduces future costs by removing the need for further site surveys. It also minimises inconvenience by removing the need for additional groundworks. An added benefit of Array is that it reduces the complexity of electric vehicle chargepoint installations and cuts down the amount of cabling required.
To prevent the parking bays being occupied by petrol or diesel drivers, Pod Point worked closely with Chester Zoo to design and create a dedicated EV Zone, with painted bays and clear signage notifying visitors that the parking spaces were for EV drivers only.
The Result
---
The chargepoints were used over 700 times in the six months following their installation and have received a wealth of positive feedback from EV drivers on social media.
Drivers have praised the clearly marked and signed EV Zone, which has meant the bays are seldom blocked by non-charging drivers. This helps enhance the customer experience both as they arrive at Chester Zoo and when they drive away in their powered up EV.
Furthermore, Pod Point's chargepoints are internet enabled, either via WiFi or 3G, which means its in-house network assurance team is able to troubleshoot many problems remotely, often before clients are aware of any issues. Problems can be resolved more efficiently, compared with 'dumb' chargepoints, as the need for on-site maintenance is reduced.
Using Pod Point's back office Smart Reporting, Chester Zoo can set custom tariffs and monitor usage of the chargepoints. When utilisation of the chargepoints reaches a certain level, Chester Zoo will begin phase two and increase provision for EV drivers.
Chris Williams, Facilities and Environmental Coordinator at Chester Zoo, said:
"We are a global conservation charity, fighting to prevent the extinction of wildlife around the world. Climate change is one of many factors affecting species extinction. As well as overseeing field work in 80 countries and delivering conservation breeding, education and research right here in Chester, we are also committed to helping our visitors take action for the planet. This is one way we can do that."
"We've had an enormous amount of positive feedback from EV drivers on our chargepoint provision and providing the chargepoints in a clearly marked and signposted zone has been extremely effective."
Learn more about the solution used by Chester Zoo: