Savills: Case Study
Savills rolls out Pod Point electric vehicle charging points for shoppers.
Last updated: Aug 29, 2023 • 8 min read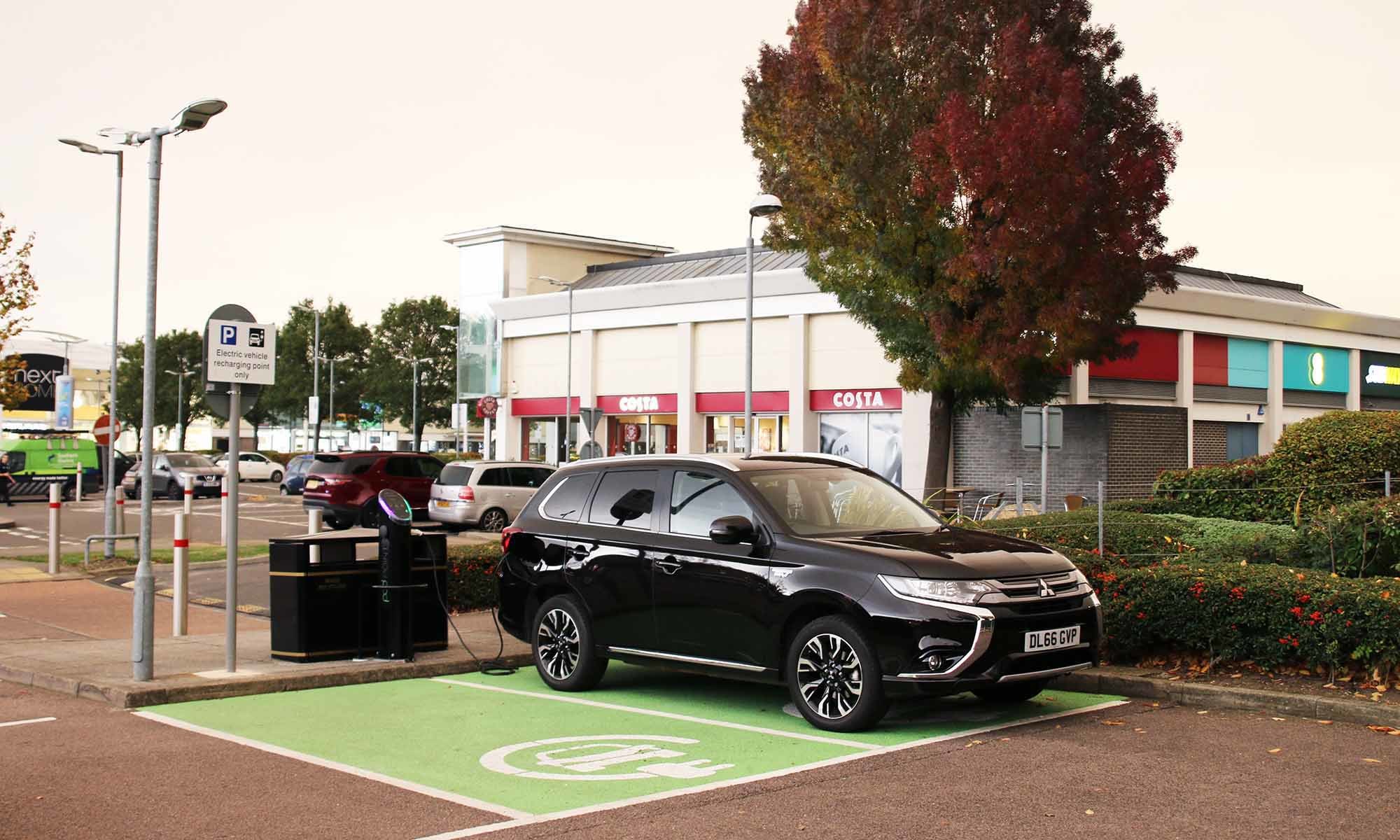 Overview
As electric vehicle sales grow exponentially, Savills has worked with ten strategic clients to roll out electric vehicle charging points across 29 retail locations. These are attracting new shoppers, encouraging repeat visits and increasing dwell times. Building on this success, Savills is working with other property owners to review the feasibility of installing charging points across their managed portfolios.
Key stats:
76 Charging Points Used 11,648 Times
Up To 50% Increase In Average Dwell Time
52p Cost Per Charge Cycle On Average
31 Tonnes Less CO2 From Visitor Travel
Situation

---
Savills is a global real estate services provider, which manages a large portfolio of retail, business, leisure and industrial space across the UK. Savills was approached by one of its key clients, The Crown Estate, about piloting electric vehicle charging points at 12 of its regional destinations.

Key drivers:
UK new sales of electric vehicles are growing exponentially, increasing by 32% in 2017 from 2016. As a percentage of new sales, electric vehicles took 36 months to grow from 0 to 1%, a further 33 months to grow to 2%, and only six months to reach 3% (Source: Society of Motor Manufacturers and Traders).
Charging points offer a new way for shopping park owners to attract and retain shoppers and increase dwell times. They also encourage sustainable travel practices.

Actions
---
Stage 1: Strategic partner for the pilot


Savills conducted a review of electric vehicle charging providers. Based on carefully considered criteria, Pod Point was selected as the strategic partner for this important pilot.

Property owner criteria for charging system providers included:
Tried, tested and reliable equipment.
Cost-effective solution and flexible financial models.
Control of decision making around charging points, e.g. monetising.
Value-add service, ensuring retail destinations remain current and attractive to shoppers.
Ability to list properties on electric vehicle charging maps, e.g. Pod Point Network.
Visibility of usage data and easily digestible reports.
Additional criteria to appeal to plug-in vehicle drivers:
Easy to find, e.g. well signposted.
Easy to use, e.g. no need for fobs or pre-loaded cards.
Consistently available, e.g. charger in working condition on arrival and space not "blocked" by an internal combustion engine vehicle.
Tip: Are you a commercial property manager that needs an introduction to EV charging? We have an EV charging cheat sheet for property managers that explains the business case for investing in chargepoints, along with key tips to help property managers find their spark.
Stage 2: Entry-level solution
The Savills Sustainability team developed an entry-level solution for electric vehicle charging, delivered by Pod Point as its approved contractor.


This solution included:

7kW fast charge Twin charger, covering two parking bays with customer signage and bay markings.
In-app authentication, so there is no need for membership or pre-loaded cards/fobs. To start charging, drivers simply plug in their charging cable and select the charge point in a mobile app.
Drivers who do not have their mobile phones can get 15 minutes of emergency charging.
Site Management Service for usage monitoring and reporting.
Option to monetise the charging solution by setting up and administering a user tariff via the management information platform.

The Crown Estate, Savills and Pod Point delivered this solution at 12 destinations.
Stage 3: Engagement
Informed by the pilot and recognising the wider opportunity across its wider managed portfolio of retail parks, shopping centres and, increasingly, business parks, the Savills Sustainability team engaged with teams across the business to raise awareness of the electric vehicle charging market and its growth. This included Surveyors, Regional Facilities Managers and Building/Centre Managers attending 'lunch and learn' sessions and presentations. The overview covered technical solutions available and recommended hardware and installation costs, financial models and their relative merits, installation and commissioning costs and solution delivery at site.

Targeted external communications and client information flyers also raised awareness amongst clients that Savills was actively facilitating electric vehicle charging infrastructure across its managed portfolio.

Stage 4: Roll Out
Savills delivered an initial roll out of electric vehicle charging points across a further 17 retail parks and shopping centres for 10 strategic 'early adopter' clients, including RDI REIT and Savills Investment Management.

Building on the success of this roll out and in the light of continued growth in electric vehicle sales, additional property owners have asked Savills to evaluate the feasibility of electric vehicle charging for their retail portfolios. This is resulting in a wider strategic roll out and a larger pipeline of installations for 2018/19, allowing scalability and diversification of the entry-level solution.

The core of the solution remains 7kW fast chargers, with the scope for rapid charging if required and appropriate, based on site profile, and the potential to install both live and passive capacity to minimise future cost and disruption as demand increases.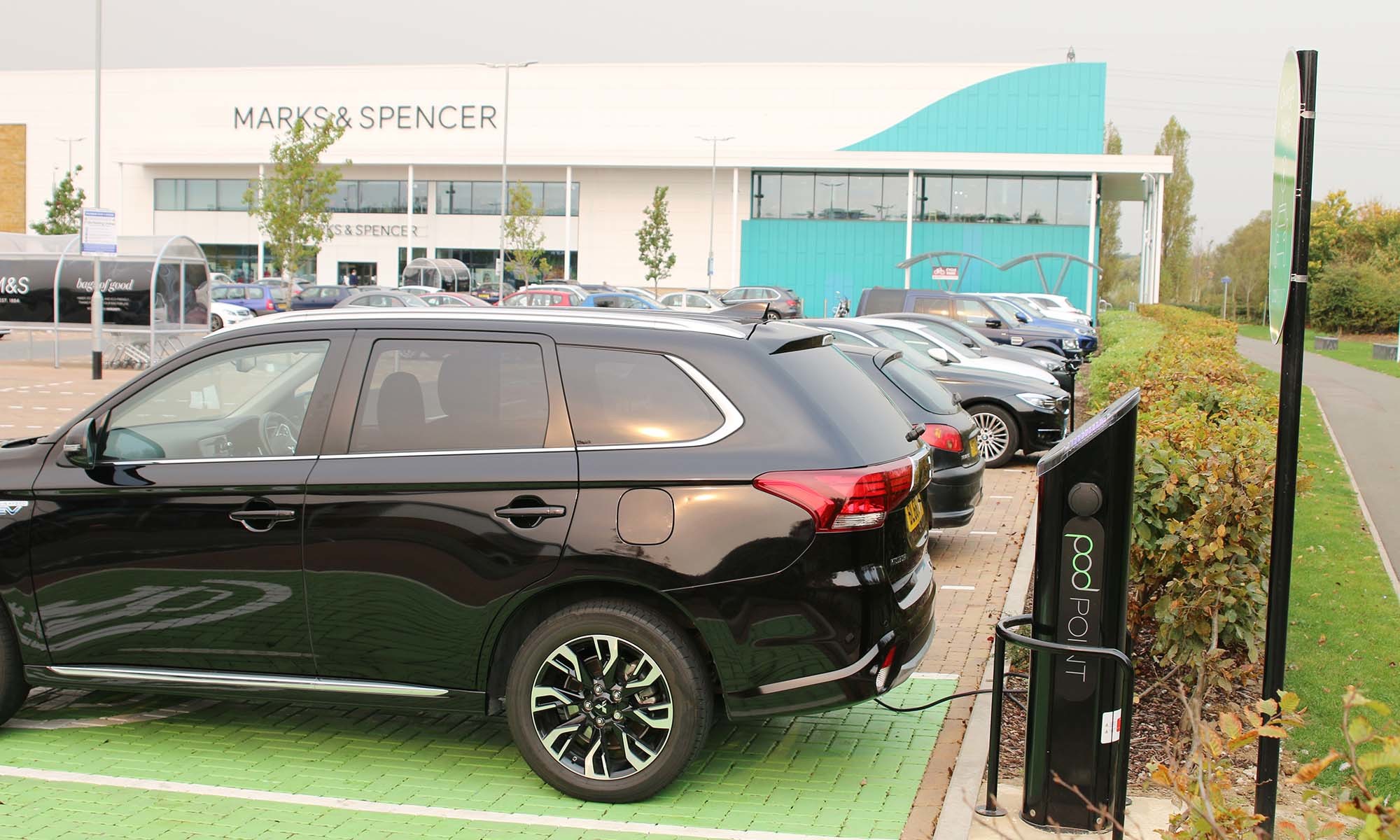 Financials
---
Most installations were funded by property owners.
Running costs across 76 charging points were £6,056 in 2017/18, with an average cost per charge of 52p. For most sites, running costs were funded by occupiers through the service charge as part of the normal mechanism for external car park electricity. Chargers can be sub metered for more granular consumption detail.
Vehicle charging is currently offered for free on most sites, as a value-add service to attract shoppers.
Benefits
Attracting and retaining shoppers and increasing their dwell time is likely to increase revenue for retailers. In turn, this can strengthen landlord-occupier relationships and, over the long term, contribute to rental value for shopping park owners and property value for investors.
2017/18 results show:
11,648 uses of 76 charging points across 29 sites, reflecting how they are a value-add service for shoppers.
Up to 50% increase in dwell time, with visitors using charge points spending 1.5 to 2 hours on site, versus under 1 hour for average visits by non-chargers.
Savills research on shoppers visiting their 'community' shopping centre shows average spend ranging from £36 per visit to £80 for longer dwell times, with 78% of shoppers typically visiting weekly. There is clearly significant potential financial value in attracting new shoppers who dwell for longer whilst charging their vehicles.
31.2 tonnes less CO2 from visitor travel, improving the sustainability credentials of each property, and in turn that of Savills and its clients, and creating PR and marketing opportunities.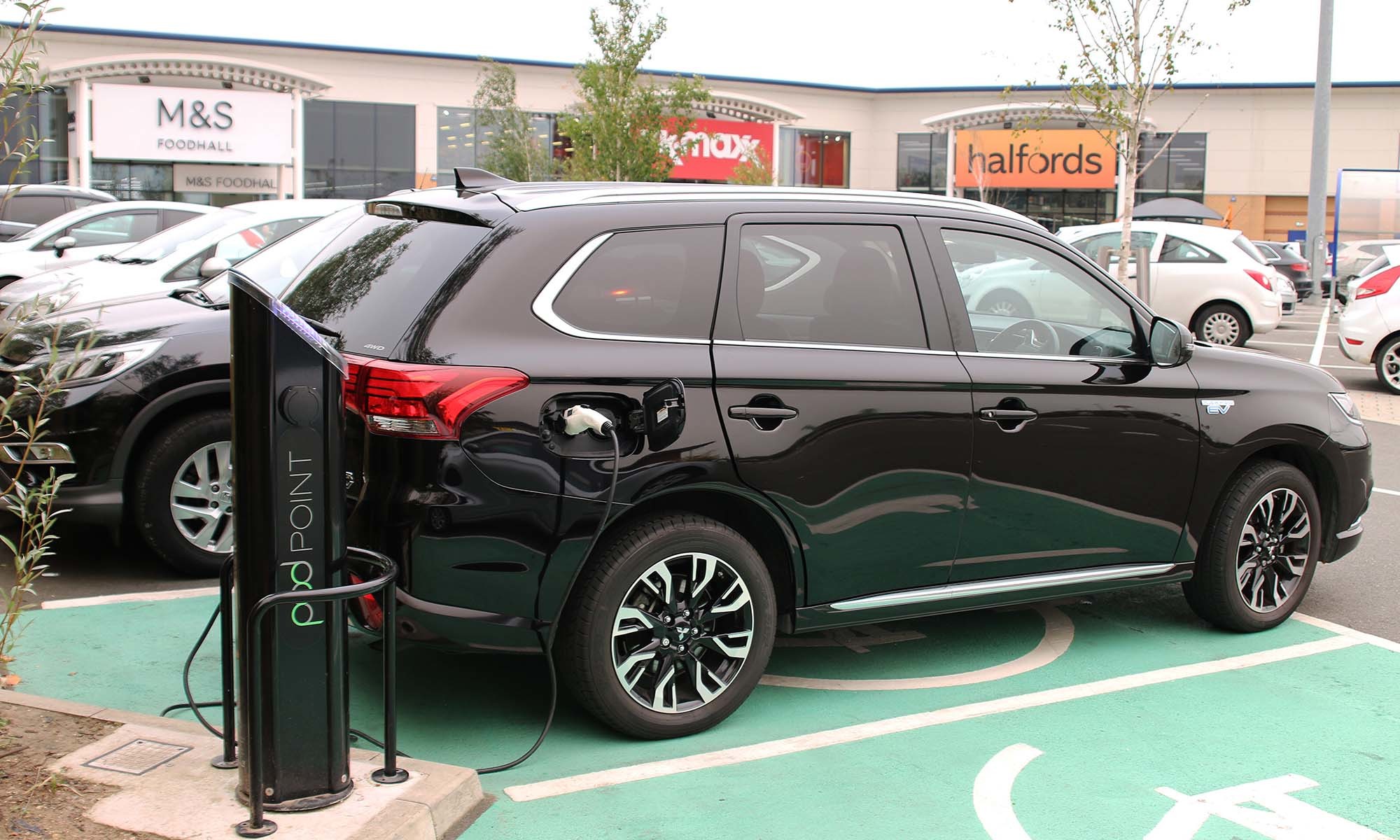 Challenges & Achievements

---
Cost vs. control: How to find the right financial model?
As the graphic below shows, there is a balance between cost and control when choosing between different financial models. Whilst many property owners are initially interested in options that require no upfront capital investment, once engaged on the potential benefits of owning charging infrastructure to offer value to occupiers and attract shoppers, and the risks of giving up control around how the service could potentially be monetised in the future, most clients opt for full or shared ownership.
This means they continue to have influence over the customer experience and remain in full control of whether visitors are charged for using the service, including the phasing in or structuring of tariffs based on occupier engagement or usage levels. Most clients consider that the benefits of increased dwell time and new visitors to the site currently outweigh setting tariffs on the charging service.
For most office and industrial sites, with car parks that are generally not open to the public, supplier-funded models monetised to recoup capital outlay do not work, as there are no public 'visitors' from which to reap potential income. However, there is growing demand from multi-let occupiers for charging points in their dedicated car park spaces, as part of their strategy to 'green' their own company car fleet and offer a charge service to their corporate visitors.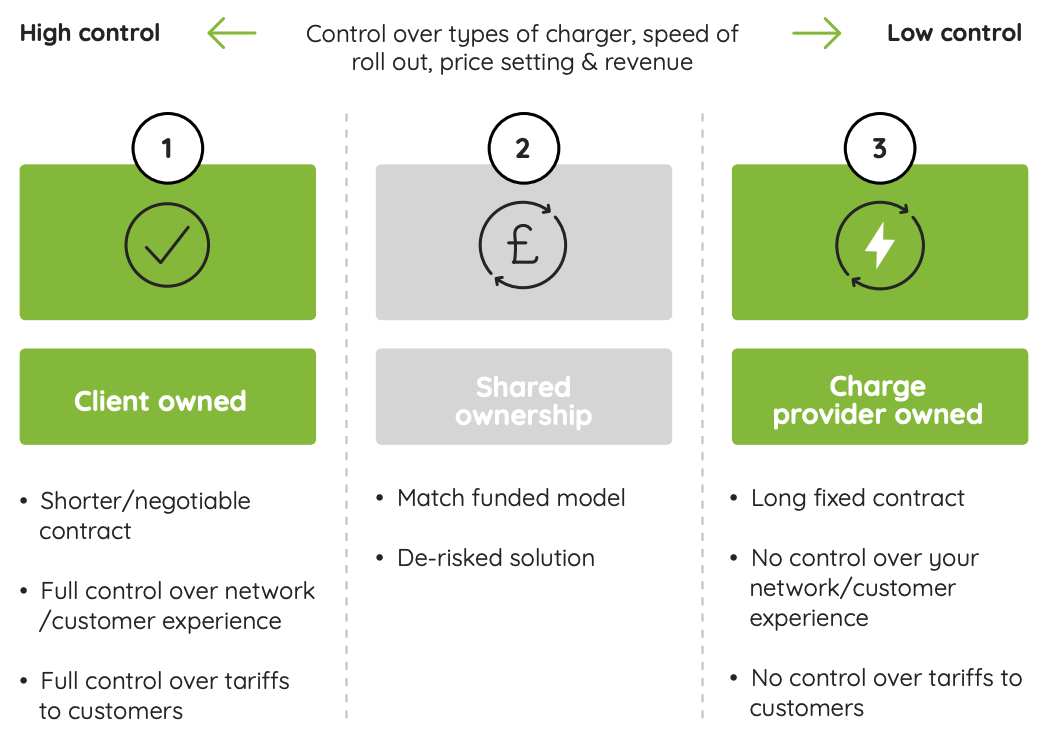 Speed: What speed of charging point works best for retail?
There are currently three main types of vehicle chargers. Fast chargers are generally the most appropriate for retail locations, with 7kW chargers providing around 30 miles of charge per hour and reasonable investment and running costs. Trickle chargers do not offer enough power to fully charge a vehicle during a typical shopping visit; these are mainly for overnight charging at home.
Rapid chargers generally involve larger infrastructure, far greater capital investment and higher running costs. They can provide full charge in around 20-30 minutes and are generally seen to be most appropriate at motorway stops where speedy 'refuelling' is required. Whilst rapid charger pricing will improve, power supply restrictions still present a real and potentially costly limitation to large scale roll out of this charging infrastructure for the foreseeable future. See the table below.
| | Trickle chargers | Fast chargers | Rapid chargers |
| --- | --- | --- | --- |
| Power | 3.6kW | 7kW to 22kW | 50kW |
| Average annual electricity cost | £300 | £800 | £2,000 |
Jo Francis, Head of Retail Operations, Regional Retail portfolio at The Crown Estate
"The Crown Estate's Regional Retail team create brilliant places where people want to shop, eat and explore. We're delighted to partner with Savills to introduce electric vehicle charging points for visitors at our destinations. Visitor experience is front and centre of our approach, and in this way the introduction of these charging points helps us to improve customer services by providing this much requested facility."