EDF launch exclusive EV tariff for Pod Point homecharge customers
Posted by Roseanne: Aug 04, 2022 • 4 min read
UPDATE: 4th August 2022 – the EDF tariff offer referenced below has now ended. Customers with existing quotes should contact EDF as soon as possible to discuss.
We're thrilled to announce that EDF are launching a new, limited edition version of their GoElectric EV Tariff, with lower prices exclusively for Pod Point customers.
Although we can't fix the ongoing energy crisis, with help from our friends at EDF, you can charge your electric vehicle (EV) from 4.5p per kWh, and avoid price inflation from the October 2022 price cap increase by locking into a dual-fuel tariff for 2 years.
Introducing the tariff
With exclusive pricing for Pod Point customers for a limited time only, EDF's new GoElectric Exclusive tariff can reduce your charging costs even more:
Cheaper overnight charging at 4.5p per kWh

1

Charge your EV for less than £5 on a 7kW home charger while you sleep

2

100% zero carbon renewable electricity

3
1 Correct at time of publication: 20/07/2022
2 EV charging based on using a 7kW home charger and EDF's GoElectric Exclusive 35 tariff at 4.5p/kWh off-peak
3 EDF's EV tariffs are backed with 100% zero carbon renewable electricity. Electricity for EDF's GoElectric Exclusive tariff comes from renewable sources like wind, solar, biomass, tidal and hydroelectric. At the end of each fuel mix reporting year, EDF will make sure they've purchased enough renewable electricity from EDF owned renewable generation to match the total volume of electricity supplied to all their customers on the GoElectric Exclusive tariff. A fuel mix reporting year begins on 1 April and ends on 31 March the following year. UK Fuel Mix disclosure information published by the Government (BEIS), recognises electricity from wind, solar and nuclear fuel produces zero carbon dioxide emissions at the point of generation. See EDF's tariff table for more information.
Better still, this exclusive tariff is cheaper than EDF's existing tariffs, so you'll benefit from their best prices. With the energy price cap due to rise again in October, now is a great time to consider fixing your rates. Plus, the tariff applies to all energy used at home, not just EV charging.
Interested? Learn more about the exclusive tariff on EDF's website.
Please note:
The financial benefits of this tariff depend on a number of variables, including when your household energy usage occurs, when you charge your car, changes to wholesale energy prices and any future price cap changes.
There is an exit fee of £150 for electric only, and £300 for electric and gas.
The features of this tariff, its availability and any prices or costs displayed were correct at the time of writing but may change in the future.
The benefits of switching now
By fixing your rates with GoElectric now, you can protect yourself from an up to £734 future increase in your energy bill (based on the expected energy price cap rises in October). 4
4 Average bill price of £3,485 for GoElectric Exclusive 35 versus the annual bill projection for a typical EV customer on flat rate Standard (Variable) prices from 1st October 2022 at an estimated £4,219 (projection as of 18th July 2022). Average bill costs are based on assumed EV and household combined usage of 4,900 kWh electricity and 12,000 kWh gas annual use. Standard (Variable) tariff bill projections from 1st October are calculated using current Ofgem price cap methodology. The calculation considers factors such as current predicted wholesale prices and non energy costs. Please note: Tariff updated on 20/07/22 due to increasing market prices.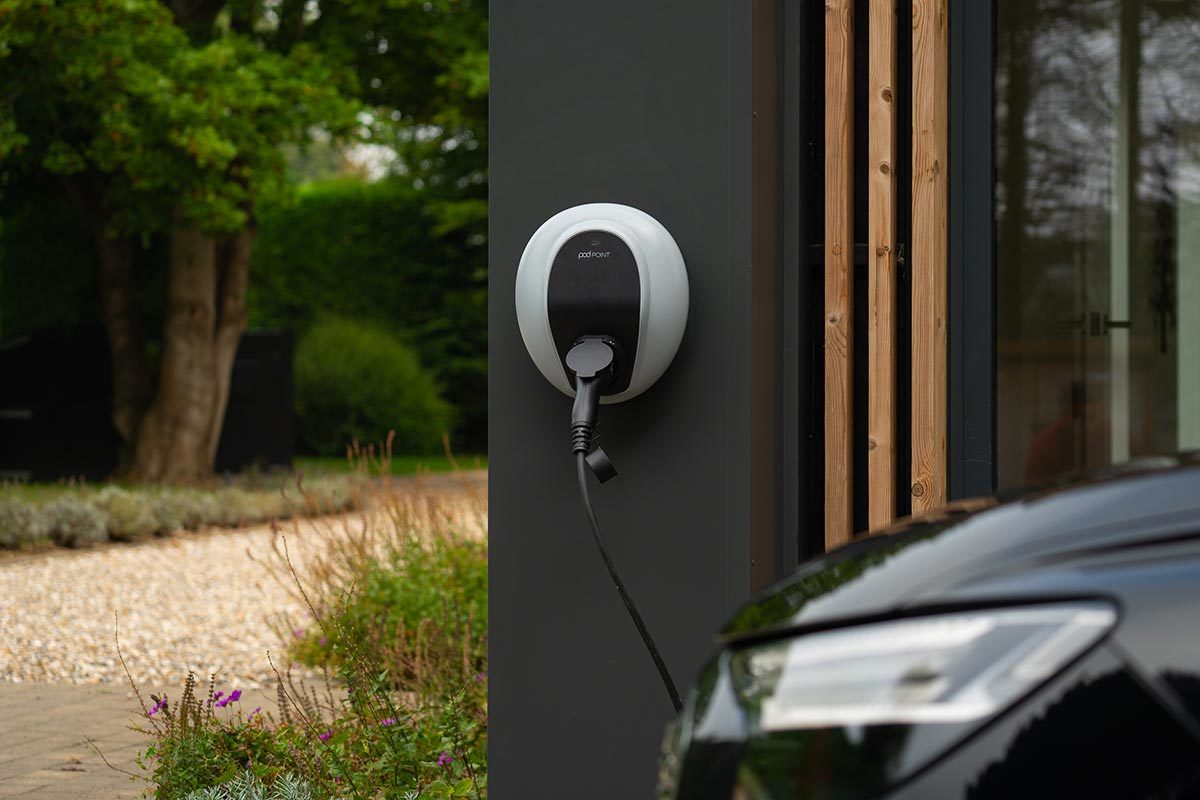 Tariff requirements
To maximise the benefits from this tariff, use a Pod Point home charger that can pair with the Pod Point App, e.g. the Solo or Solo 3. With this, you'll be able to use the Charge Scheduling feature to schedule your charging to take place overnight when the cheaper rate kicks in.
You'll also need a smart meter installed and you can book this via EDF if you haven't already.
How Charge Scheduling works
Charge Scheduling is a feature in the Pod Point App that lets you set a customised charging schedule for your EV.
Learn more about Charge Scheduling and who can use this feature.
Don't have a home charger installed yet?