EV Road Trippin' | UK: Norfolk
Posted by David: Nov 03, 2022 • 7 min read
In our latest EV road trip, we're heading to East Anglia, the home of kettle chips, English mustard, and England's most easterly point.
With so much to do and see, we're splitting the trip into two parts. First up is this ~170-mile route in Norfolk which offers some of the UK's best beaches, famous seafood, and vast open skies.
---
Ar yer orrite, East Anglia?
Driving through the East of England is like stepping back in time. Families, solo travellers and couples alike will all find something to do in this historic part of the country.
Due to its relatively low mileage, a typical electric vehicle (EV) will only need one charging break to complete the route, though there are plenty of models that can do it in a single charge!
However, there are plenty of places to stop and charge along the way if you need it. And if you don't own an electric car, you can hire a long-range EV for the trip using Onto's flexible EV subscription service.
What to drive?
Adventurous couples with lots of gear will find the Volkswagen ID.5's 549-litre capacity boot more than sufficient.
For the perfect juxtaposition with East Anglia's old-world feel, there's the futuristic and high-tech Toyota bZ4X or Hyundai Ioniq 5.
Or, if you're a family with a big budget and a love for cinema, the BMW i7's whopping 31" Theatre Screen will keep the kids entertained for hours.
No matter where you go on this leisurely drive, you'll be sure to find the right car for the trip in our extensive library of vehicle guides.
Let's take a look at the itinerary for this trip: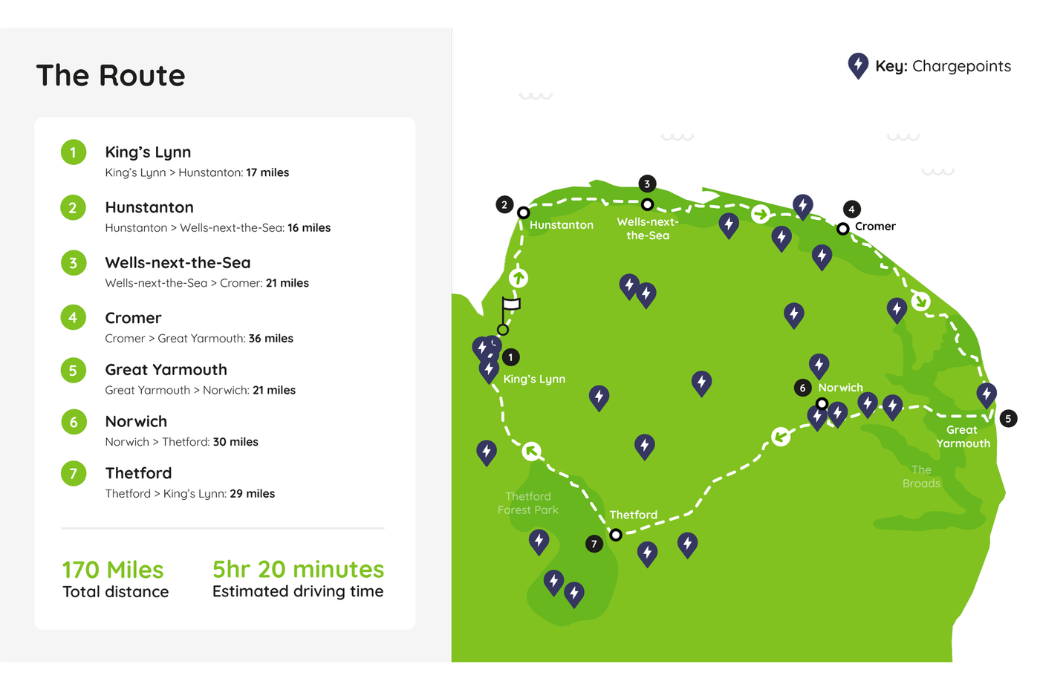 Day 1:
Our Norfolk adventure starts in King's Lynn. The town has been one of England's most important and prosperous ports for centuries, its story told in its numerous maritime museums and exhibitions. Visitors can follow the town's official trail along cobbled streets to explore its rich history.
If history isn't your thing, King's Lynn still has plenty to offer. Highlights include an award-winning gin distillery, excellent walks, and a plethora of seasonal events throughout the year including the Mart funfair around Valentine's Day and musical King's Lynn Festival in July.
If you're staying the night in King's Lynn, you can charge your electric car overnight at either the Stuart House or The Duke's Head hotel. You can also get a free charge on the 7kW chargers at Sainsbury's.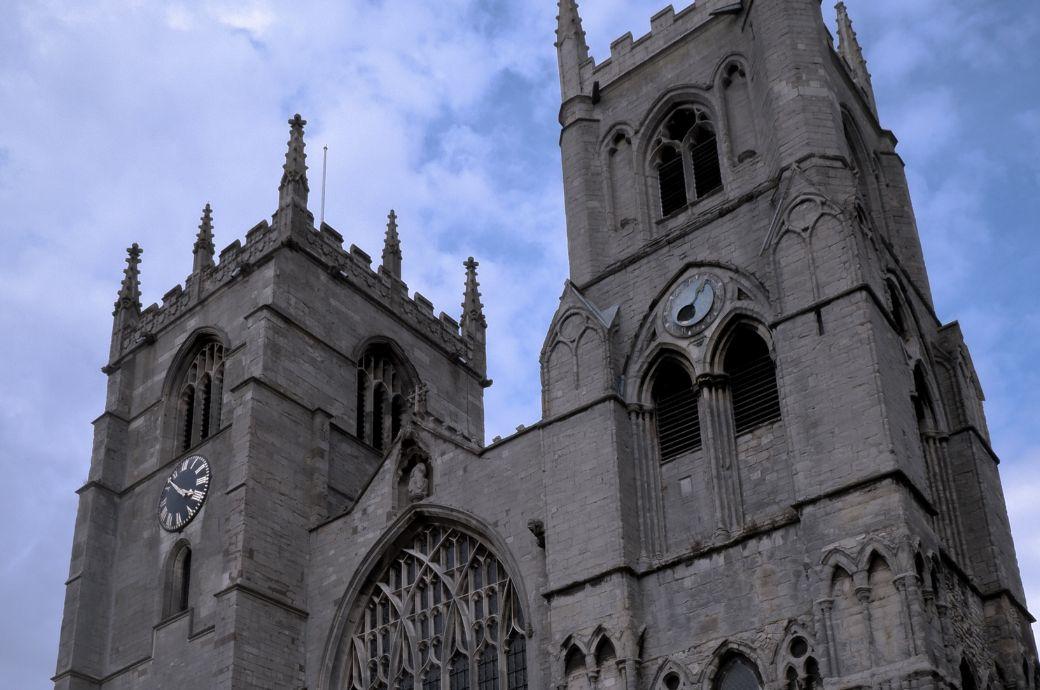 Once you've had your fill of history, it's time to hit the beach, so head north towards "Sunny Hunny" Hunstanton and the Norfolk Coast AONB. The award-winning Victorian resort town is famous for its striped cliffs made of Carstone, red chalk limestone and white chalk. It's also uniquely the only town in East Anglia to face west.
This gives its sandy beach relative shelter from sea breezes, as well as some excellent sunsets, making it a great place to spend the night. It's also a great place to see seals and their pups in Norfolk during the summer.
That said, the beach can get quite busy, so if you want to relax on a quieter beach, follow the coastal route eastwards to the small village of Brancaster, which has a fantastic sand beach.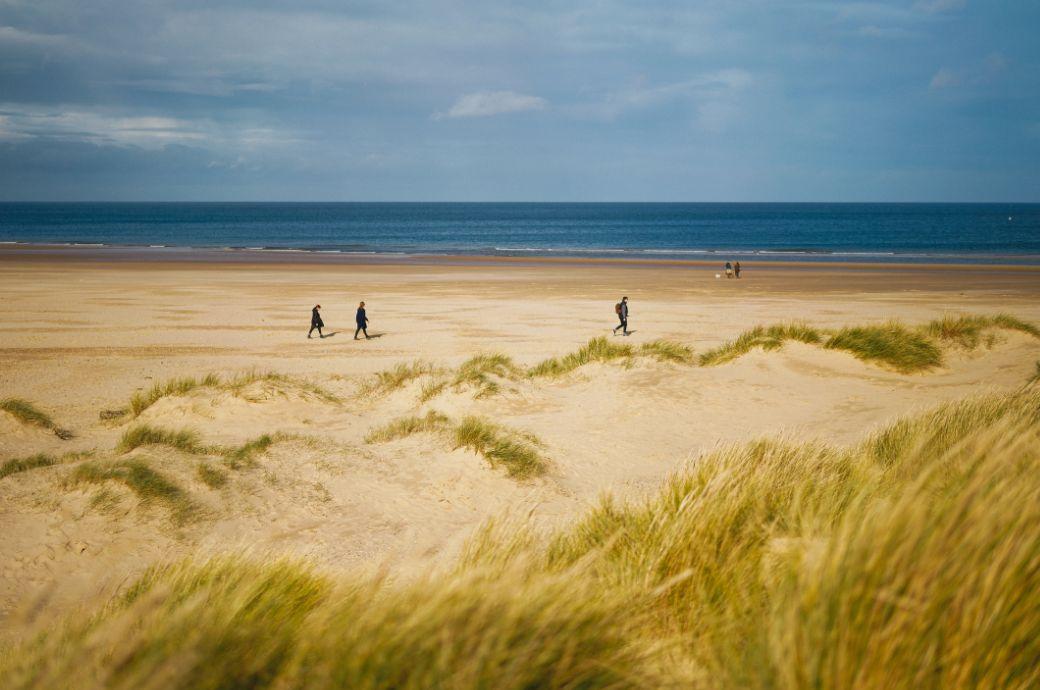 There are a few charging options if you do stop for the night in Hunstanton, including Heacham Manor Hotel, Searles Leisure Resort, and the Tesco Superstore.
If you don't stay in Hunstanton and want to make more progress on the route, carry on east to Wells-next-the-Sea. On the way, consider stopping at Burnham Market. A traditional British village, it's got plenty of excellent places to grab a bite for lunch or dinner including local favourite The Hoste Arms.
Wells-next-the-Sea is another great place to consider stopping for the night. It's a vibrant fishing town with the excellent sandy dunes of Holkham beach. Plus, you can take a ride on the world's smallest public railway, the Wells & Walsingham Light Railway!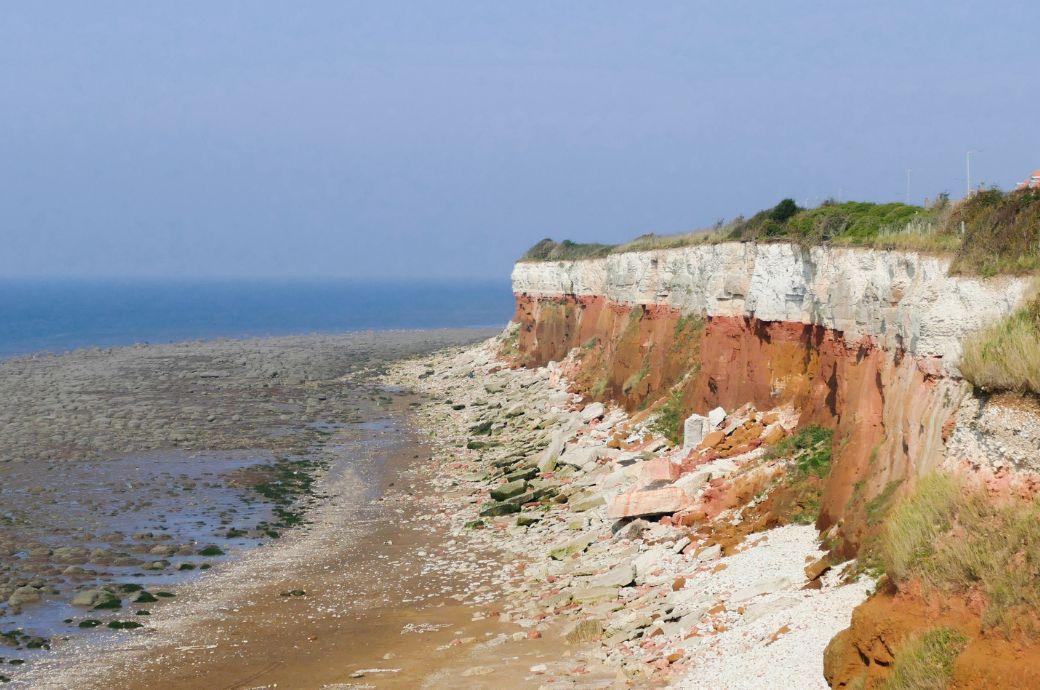 Day 2:
The next stop on our trip is Cromer, a town famous for its crab seafood, classic British pier, and two beautiful blue flag beaches.
The town itself doesn't have any EV chargepoints, but there are a few nearby to pick from if your car needs a top-up:
From Cromer, keep following the coast round and down for the longest stretch of the journey towards Great Yarmouth. There are plenty of cute villages and towns to stop at along the way, as well as some excellent award-winning beaches if the weather permits it!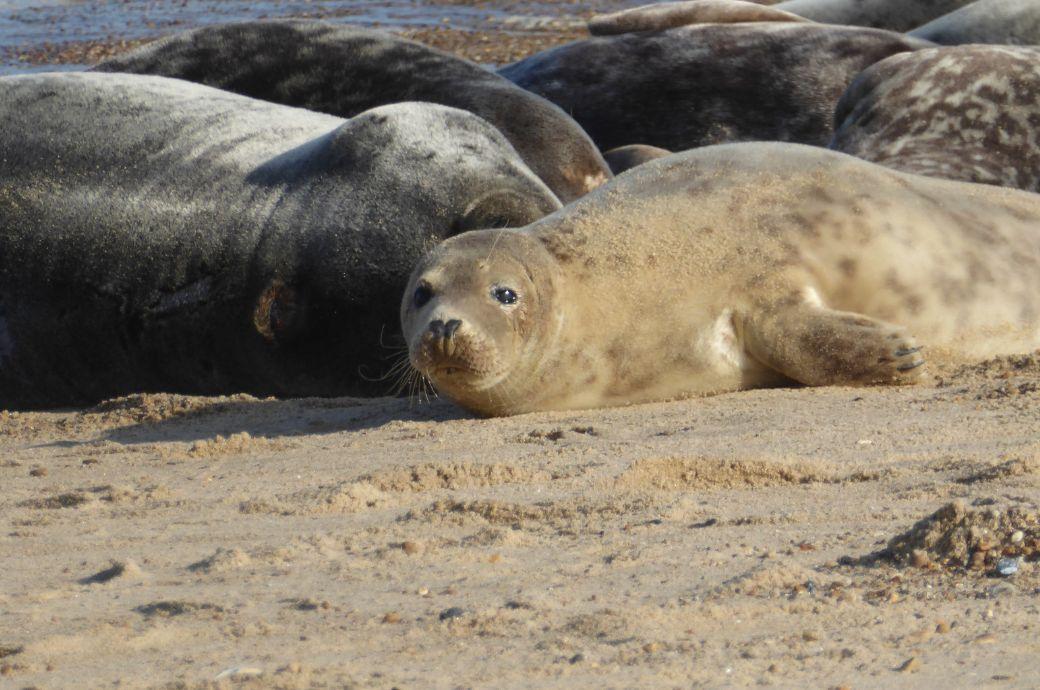 Not far from Cromer is Blakeney Point, a nature reserve home to England's largest grey seal colony. It's a great place to see some seals for most of the year, especially in the winter months when the seals give birth. Another great spot for seals is Horsey Gap, which is nearer to Great Yarmouth.
There's a lot to see and do in the surrounding area when you get to Great Yarmouth, which makes it a good place to stop for a night or two and use as a base.
The seaside resort town itself has a lot of family-friendly tourist attractions on offer. Thrill-seekers will find plenty at the Pleasure Beach amusement park, or you could head to Merrivale Model Village which perfectly captures British seaside life in miniature.
There's also 15 miles of golden sandy beaches connecting to numerous other seaside towns and villages and the Broads National Park. Or, if sports are more your thing, there are three 18-hole golf courses to choose from, as well as plenty of watersports including paddle boarding and canoeing.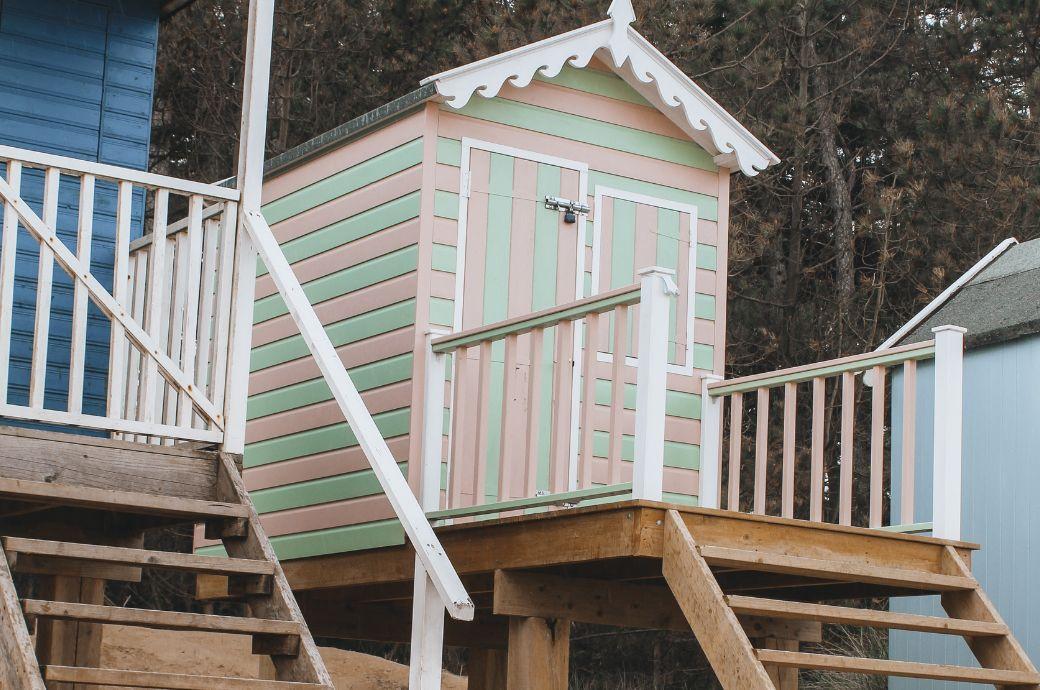 Day 3:
Once you've had your fill of Norfolk's glorious coastline, it's time to head inland to the county's capital.
The drive between Yarmouth and Norwich is only ~23 miles, but depending on your EV's battery size and state of charge you may need to double back slightly to the Tesco Superstore at Caister-on-Sea.
Alternatively, you can use the chargers at McDonald's in Witton on the way to Norwich. Once you're in Norwich, you'll have more options for chargers, including the 50kW rapids at Lidl.
Norwich is an exciting city boasting a fusion of history and modernity, known not only as the birthplace of kettle chips, but also for its heritage and medieval architecture, as well as a thriving cultural scene and vibrant nightlife.
Perhaps the best example of this is the Royal Arcade, where the city's Victorian architecture seamlessly melds with the Art Nouveau. Filled with independent retailers offering everything from vintage fashion and fine art to handmade chocolates and interior design, it's one of the city's most iconic attractions.
Other highlights include:
Norwich Cathedral
Norwich Castle
Norwich Market
Sainsbury Centre for Visual Arts
Plantation Gardens
Or, if you still yearn for the great outdoors, there's the thrilling and imaginative BeWILDerwood Adventure Park. Set in the stunning forests of the Broads, it's especially great for families as it's based on a series of children's books written by local author Tom Blofeld.
There's so much to see and do, it's well worth spending the night in Norwich and using it as a base to explore the surrounding areas before the final stretch of our journey back to King's Lynn.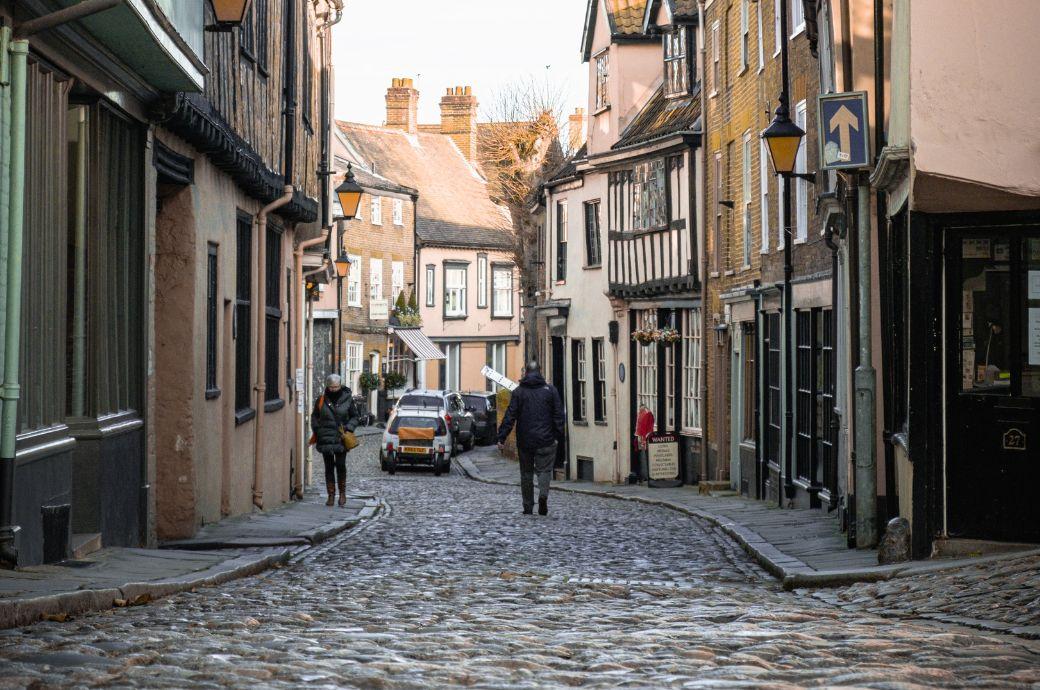 Final day
Our Norfolk adventure is coming to a close, so once you've had your fill of Norwich it's time to head back to King's Lynn.
If you're in a hurry you can take the A47, but we recommend the longer, more scenic route via Thetford Forest Park. The UK's largest human-made lowland pine forest, it offers one final chance to get lost (figuratively speaking!) in nature before returning to the hustle and bustle of urban life.
Whilst you're there, why not go mountain biking on its aptly named The Beast cycle track, let loose at Go Ape, or watch famous musical acts at one of the numerous Forest Live concerts held throughout the year.
There are plenty of nearby public chargers, as well as some at accommodation services, including:
With all that, you and your children should be sufficiently adventured-out, so there's nothing left to do but messily pack your bags and head on home!
---
If you've been on a long road trip anywhere in the UK in your EV we'd love to hear about it, so let us know on Facebook, Twitter, LinkedIn and Instagram!